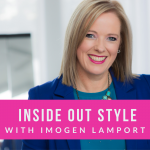 In This Episode
Camouflaging a large bust, challenges of getting older and how to look expensive.
0.08 My biggest battle issue is how to dress a larger stomach and a bigger bust without looking sloppy. The rest of my body is fine but I'm 5'1" and look bigger than I really am because of these two issues.
and My biggest struggle is that I have a HUGE bust area. It always makes me look super bulky. My limbs are quite thin compared to the centre region. I do not have a bulging tummy too. Its just that the bust stands out too much and it doest allow any piece of clothing to suit me and makes me feel conscious. Can you help me?
6.06 I am struggling with getting older. In the first place with the colors to wear with going grey and the changes in my face. Styling things gets difficult for me as i go from hourglass to rectangular shape. No waist, no belts, no paperbag…I also lost my proud posture because of the position of my schoulders. and i did not like my bigger boobs.
it makes me feel unhappy, with dull hair and hair loss and a also lost the sparkling blue eyes and the smile.
9.11 I dread the thought of looking cheap. I'd like to think I do not, but I can't know because I just do my best. What helps someone look expensive, beyond being rich (which is so subjective but I am definitely not rich)?
How to Hide Your Tummy
Your Colours Change as You Age
How Often Should You Re-Evaluate Your Style Recipe and Colour Palette
How to Avoid Cheap Fabrics
https://insideoutstyleblog.com/2017/08/shopping-tip-check-the-label.html
If You'd Like to Define Your Style and Discover Your Colours
If you're sick of wasting money on clothes that don't work and you know there is a better way, then join my 7 Steps to Style program and get the right information for you and your style.
Subscribe to my Podcast
You can now get these videos as podcasts subscribe and never miss an episode
Send me Your Questions
Please email me your questions to be included in my Q&A Lucky Dip!