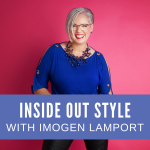 In this Episode
0.06 With cool light colouring but like bohemian style clothes are all in the warm light Spicy (autumnal) colours – what am I to do?
3.06 I have a collection of Hermes (silk) scarves and I tend towards a relaxed style – how do I use them?
5.02: I have long arms, how do I make them look less long?
Building your Wardrobe
Style Rules for Building a Wardrobe of Classic Staples When You Have a Light Ideal Value
Ways to wear your scarves
Level of Refinement
If You'd Like to Define Your Style and Discover Your Colours
If you're sick of wasting money on clothes that don't work and you know there is a better way, then join my 7 Steps to Style program and get the right information for you and your style.
Subscribe to my Podcast
You can now get these videos as podcasts subscribe and never miss an episode
Send me Your Questions
Please email me your questions to be included in my Q&A Lucky Dip!