A collection of lovely handbags is a wonderful idea if you enjoy variety and dress for different occasions (from everyday casual, and business attire to evenings out). However, having a collection can mean spending a lot of money (though these days there are many places you can purchase quality handbags at affordable prices, from thrift and consignment stores to grabbing one in the stocktake sales). But what if you don't have the cash to spend or the space to store unlimited handbags? Spend your time and money to purchase the handbag you intend to use for everyday use.
1. Match your bag to your body scale
Scale is one of the most important elements to consider when thinking about dressing your body and personality. It's one of the tools you have to create an optical illusion, you can use it to make yourself or parts of yourself appear larger or smaller (or just as you are), depending what you want to achieve.
You want to choose a handbag that is related to your body scale, so your height and weight (to a small extent)
A tall person over 170cm / 5'7″ or taller should choose a larger scale handbag
If you are petite so 160cm / 5'3″ or under, chose a small scale handbag.
Anywhere in between those heights, go for medium scale handbags.
Of course, it also needs to relate to the occasion – so for evening wear you can scale down your bag!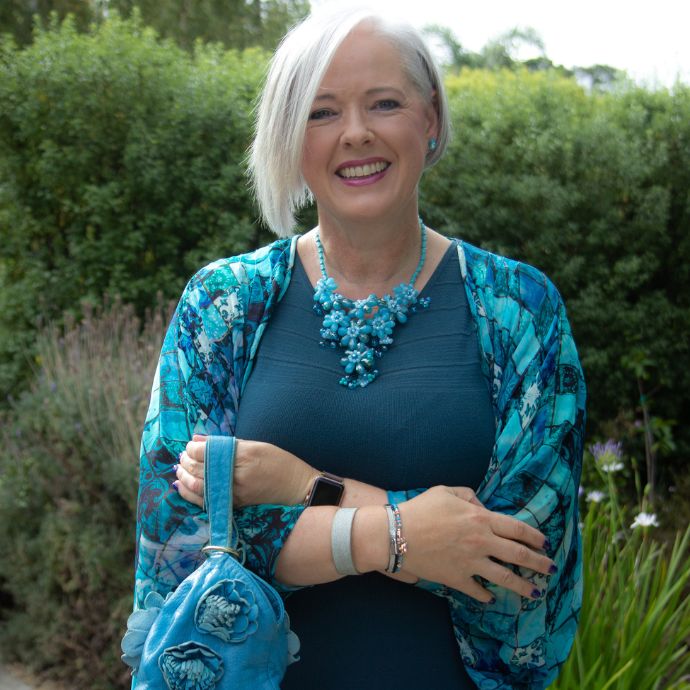 2. Select a bag to compliment your body shape
When selecting your handbag, it's important to consider the drop length of the bag – where the body of the bag sits in relation to your body. The length of a handbag – where the bottom hits the body – emphasizes that area of your body. This comes from the principle of co-ordination, Related Shapes – where the shapes of the elements of garments and accessories need to work together in harmony with your body shape.
If you carry more weight on your hips and thighs, such as A shapes, you want to create a balance, by making your shoulders appear broader. Look for bags with shorter straps as they will suit you best as they hang higher on your body to create a more balanced overall appearance.
For X shapes and 8 Shapes, avoid crossbody bags that sits at your hips as they will make you look heavier waist down. Your handbag needs to sit near your natural waist and it's better if it isn't too close to your bust.
Bags with long shoulder straps and cross-body bags sitting around hip height are great for creating balance for anyone with a V shape.
Undefined waisted shapes such as H shape and O shape should stay away from bags that end at your waist as they will make you appear wider and shorter and highlight your lack of waist. Structured bags with short handles are ideal for you or one that sits right under your armpit, or a cross body can all be options (though make sure the bag isn't too large and bulky).
I shapes should use their bags to create the illusion of curves. Satchels, clutches, and hobo bags are great choices for this body type. Keep the drop length of the bag so that the bag finishes around your hips.
3. Choose a bag to coordinate with your colouring
Gone are the days when style meant matching your shoes and handbag perfectly to each other . Matching your handbag to your outfit or shoes or choosing to contrast your bag is all down to personal preference. You can find creative ways to make bags and shoes feel cohesive in an overall ensemble without following hard-and-fast rules. Personally, I'm not one for style rules, I'm a firm believer that they should be style guidelines.
I recommend choosing bag colours within your color palette, colours that match you in both intensity and warmth or colours that you find yourself wearing more often.
If you're a one handbag girl, a solid choice is a handbag that matches your hair colour is a good choice. You are always wearing your hair and it creates a visual loop. By choosing a bag in your hair colour, the eye travels down your body to your bag, the bag colour relates to your hair, which then draws our eyes back up to your face, thus completing a circle, making our brain realise that there is some similarity occurring and creating a visual looping effect.
I wear a lot of blue. I also own a blue handbag. It's a very easy color for me because I wear it a lot of the time but sometimes I will swap it out for a hair color handbag.
Select a coloured neutral (rather than just black, brown or grey). Other coloured neutrals such as burgundy, olive, navy and camel are great options too, match to your eye colour, hair colour and lip colour, a signature colour is always a fantastic choice. For more information on coloured neturals, read Neutrals – What are They and How to Wear Them
A multi-colored purse can often go with everything in your wardrobe when it comes to matching colors. Whatever solid color you wear, that color will stand out in your multi-colored purse. If you go shopping for a multi-colored purse, think about the various colors in your wardrobe and then choose a purse that has the most colors represented in your wardrobe. You'll find this easy to spot if you have a colour palette from a personal colour analysis, as it's then simple to select the perfect coloured purse to go with lots of your outfits.
Further Reading
6 Top Tips for Choosing a Handbag That's Both Practical and Beautiful