I have an organising mantra, and that is, out of sight, out of mind. So if you can't see it to access it, you won't wear it. From layering items onto the same hanger (don't do it) to shelves of clothes that you can't even access what's at the back. This is why I love to hang all my jewellery where I can see it – so that I actually am reminded to wear it!
Do you find that the small things that you may have multiples of in your wardrobe are hard to keep organised? I've tried a few different ways of organising my underwear, socks and scarves in a few ways over the years and have found for me that having an ability to make a drawer or shelf into smaller compartments is the easiest way of keeping them tidy.
4 Organising Tools for Your Wardrobe
Here are a few products I've sourced that may be helpful for you in your wardrobe too!
When you click the video to play it will take you to my Shopshare TV account and you can find out more about each product I've selected.
Separating Type of Items
If you find that you're trying to find different sizes of scarves, or long leggings as compared to shorter ones, being able to divide up the space you store them in can really help make this so much easier.
From using shoe boxes and boot boxes (if you have them lying around) to special storage boxes you can make a larger space easier to keep organised.
I love using boxes with dividers to keep my scarves stored on shelves - as shelves are terrible for storage of most wardrobe items as things generally just get lost at the back of them (I can tell you this from experiencing many "finds" when working with clients in their wardrobes as they discover items they'd forgotten they had at the back of a shelf. By using some sort of basket or box you can turn that shelf into a drawer which allows you to access the things at the back as well as the front.
Bonus 5th Simple Storage Tool for Your Bras
And then the other day I came across this ingenious way to store bras (if you don't want to put them in a drawer).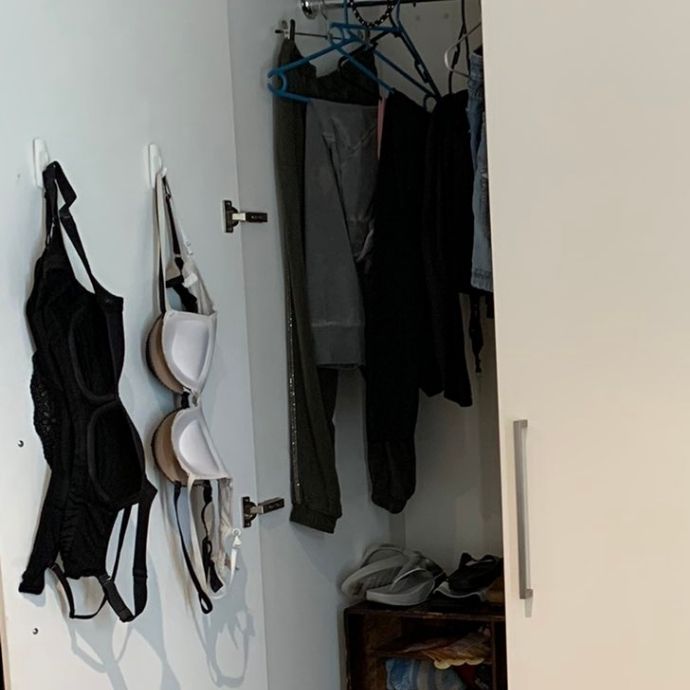 A simple trick of hanging them from hooks on the back of your wardrobe door! Removable hooks are brilliant if you are renting or don't want to damage the door!
Do you have any simple organisation hacks for your wardrobe? Please share them with us in the comments!
Find more wardrobe storage ideas here.
More Wardrobe Organisations Tips