In my later teenage years, I loved watching the Saturday afternoon black and white movies on the TV. Particular favourites were the Fred Astaire and Ginger Rogers movies, or anything with Audrey Hepburn in it, plus a Cary Grant or two.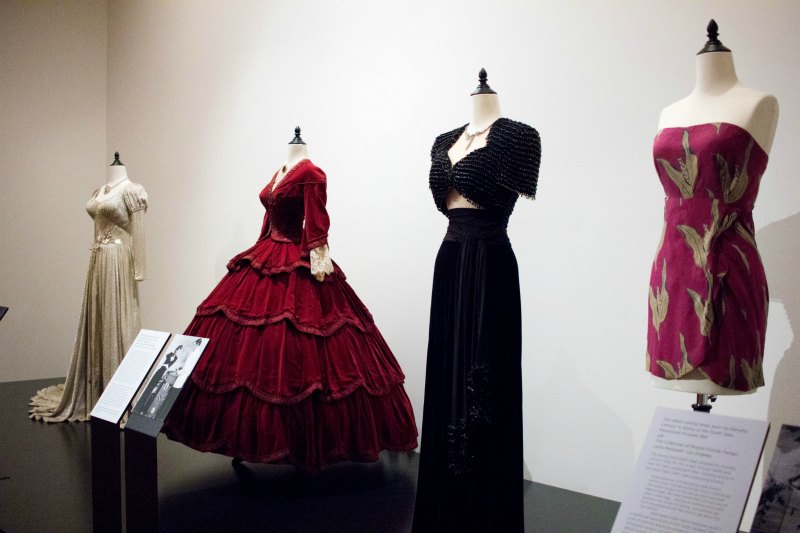 One of the reasons I loved these old movies were the clothes, the glamorous outfits that were from another era. This is why I was so excited when I found out that Academy Award-winning costume designer Edith Head's costumes would be on exhibition at the Bendigo Art Gallery.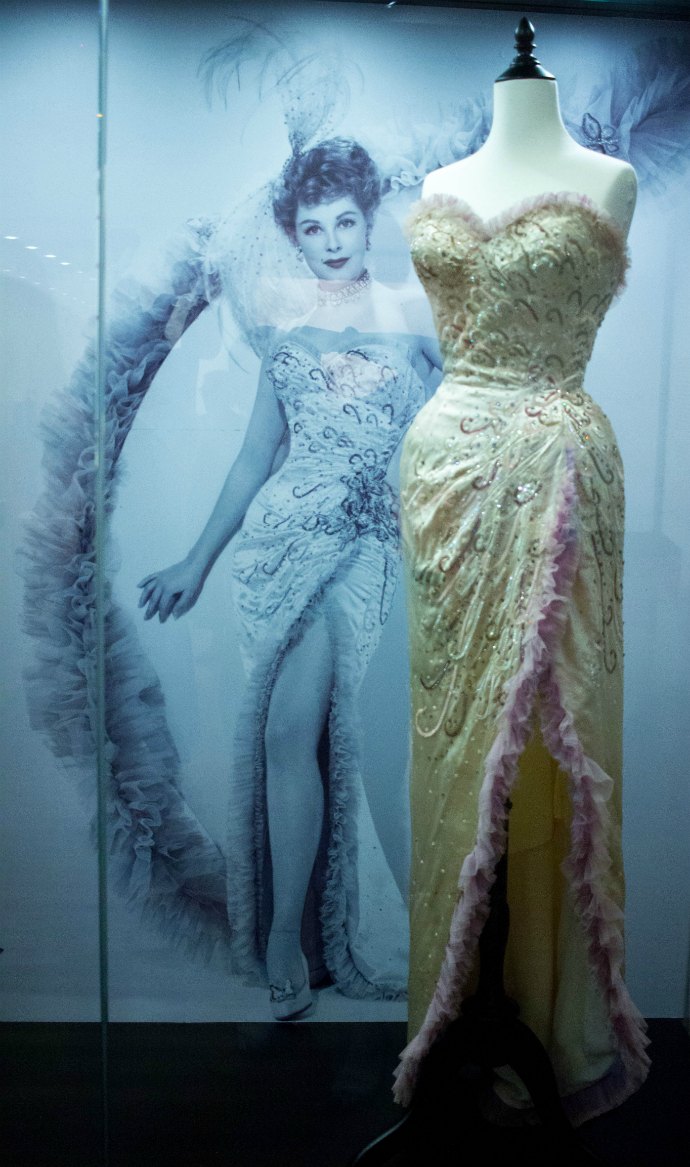 Edith Head is considered the most significant costume designer in film history. Over her fifty-year career in studio costume, she worked closely with many of Hollywood's brightest stars on close to a thousand films. Her greatest skill was her ability to recognise and camouflage 'flaws' in the bodies of those she dressed using drape, cut and pattern to disguise these imperfections and highlight their assets (and isn't that partly what you come here to learn for yourselves!).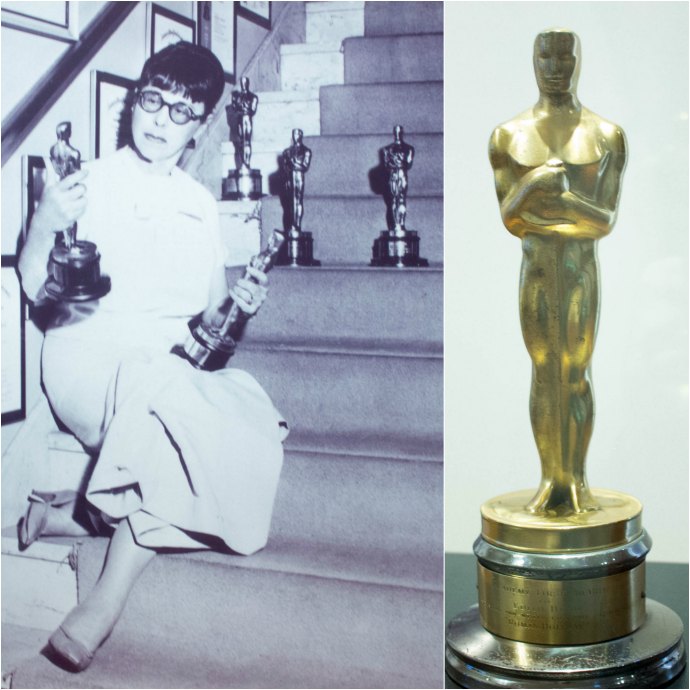 Edith Head won eight Academy Awards, the largest number ever by a woman and this exhibition brings one of these statues along with more than 70 costumes that date from the 1930s black and white movies through to the 1960s.
"There is a fine line between clothes that will help her become the character and clothes that are a clumsy disguise". Edith Head, the Dress Doctor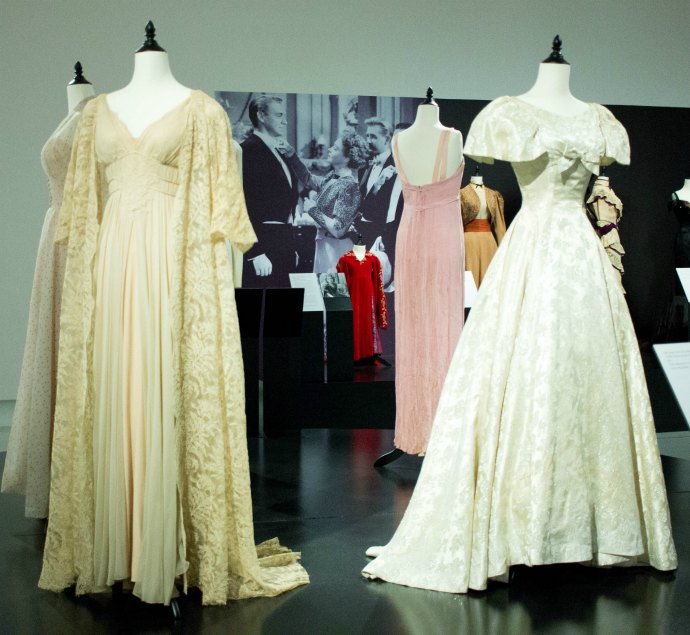 The role of the costume designer in a film is not only to ensure that the costumes were correct for the period and appropriate for the social status of the star, but also to flatter their body shape. Edith Head knew how to make legs appear longer, waists slimmer, and bottoms higher.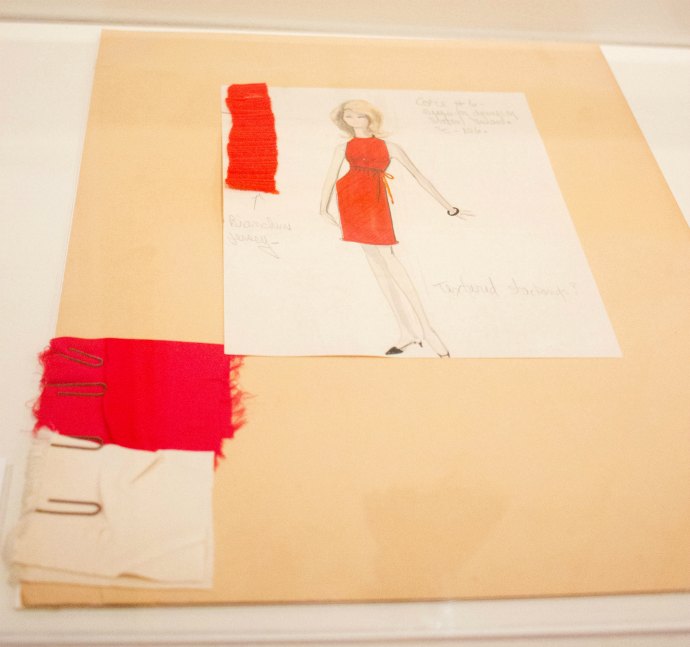 From her ideas and sketches, sent to the director and producer for approval, to the finished products, this exhibition shows you behind the scenes in this fascinating process.
Edith Head was recognised for her beautifully tailored women's suits and daywear. These included some stunning embellishments and construction.
"What a costume designer does is a cross between magic and camouflage … We ask people to believe that every time they see a performer on the screen, he's become a different person." Edith Head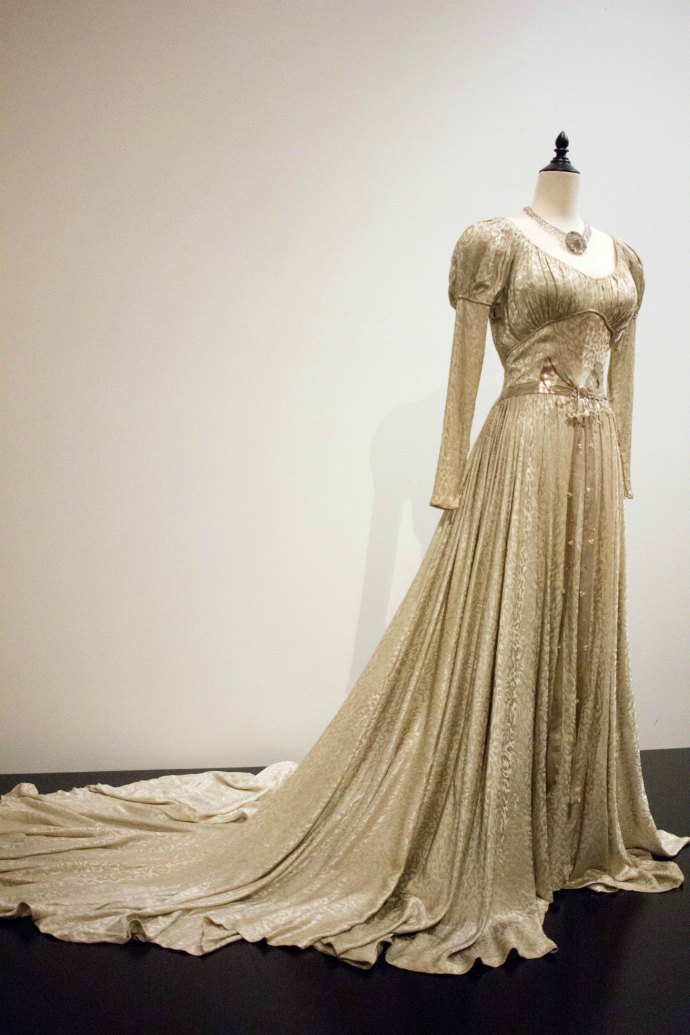 InterestinglyEdith Head shied away from using lots of bold patterns and textures as it was necessary to avoid creating an outdated costume. By the time a film was released, a pattern may have been several years old and had become dated during this time.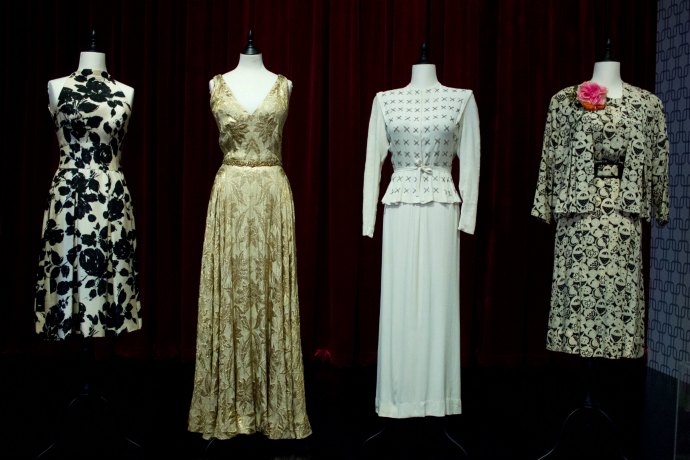 Nevertheless, she did use some patterning in her design to create interest and form. This cream suit (above) worn by Veronica Lake in Duffy's Tavern has a cross pattern on the bodice.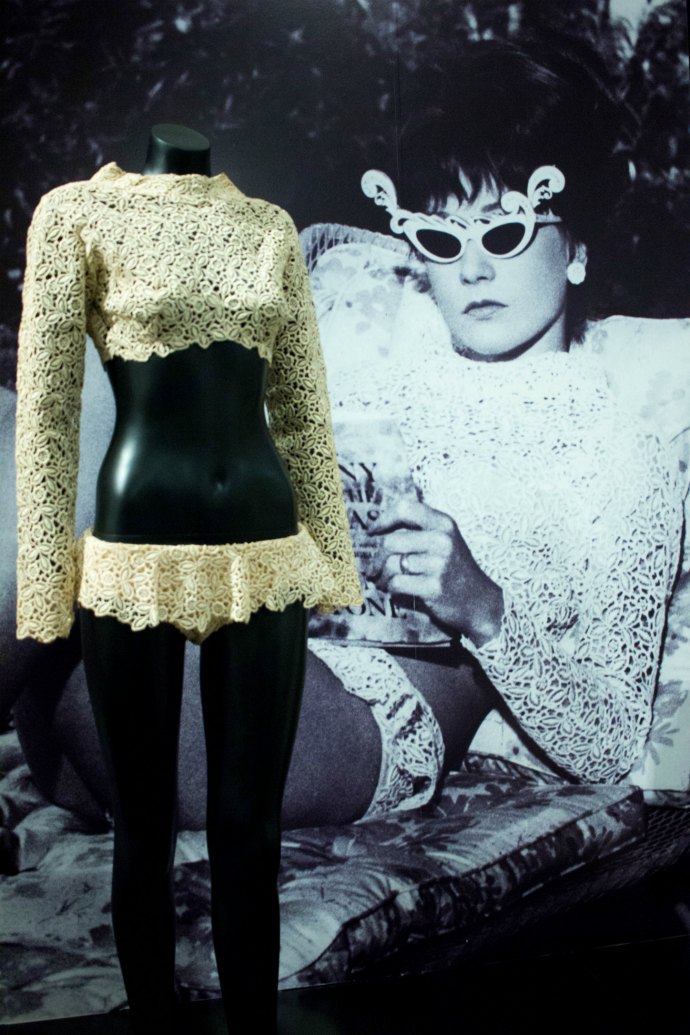 As pure white looked too start on the screen, off whites like this bathing suit above worn by Shirley Maclaine, were used to give the appearance of white.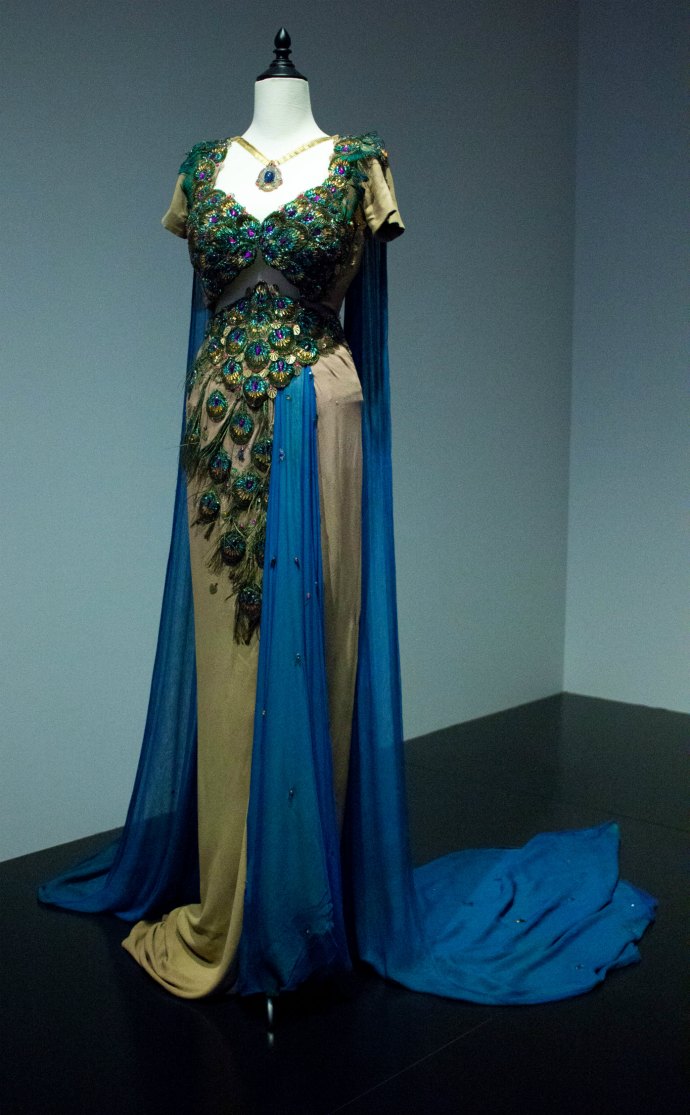 To make costumes more interesting and dazzle on the big screen in a close-up, sumptuous fabrics and embellishment like this handmade bugle bead fabric in the green dress below on the right.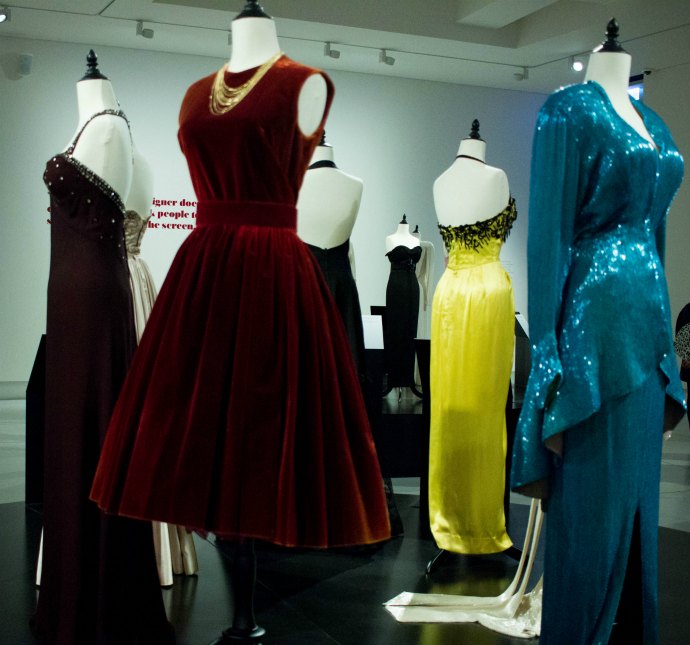 This exhibition runs at the Bendigo Art Gallery until 21 January 2018 – I highly recommend taking a trip there if you can to see it! Find out more here and book your ticket.
Let this exhibition and Edith Head's work be an inspiration for your own wardrobe. What would your character wear in the movie of her life?