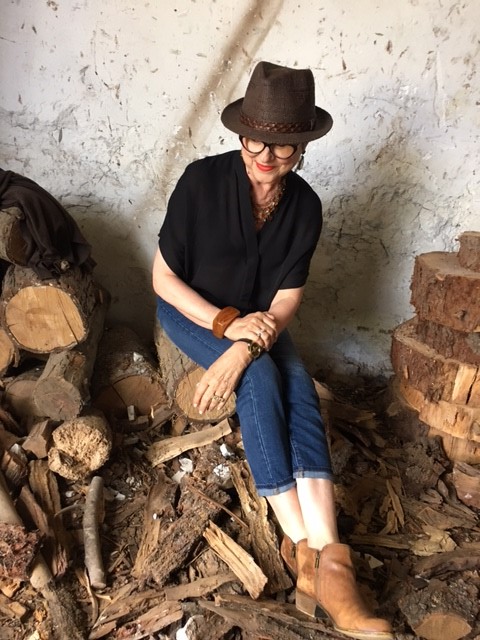 Today it's my great pleasure to be sharing the Stylish Thoughts of my friend and accomplished author, blogger and image consultant Brenda Kinsel.
What is the secret to great style?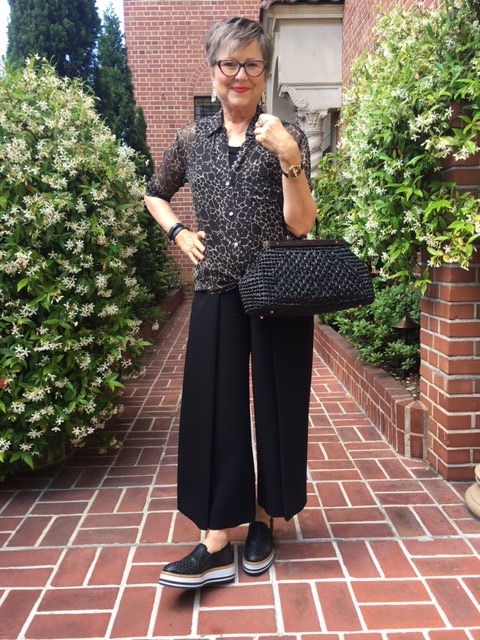 Great style comes from interacting with life, being open, and using your creativity. To keep your style refreshed visit museums, jump onto Instagram and be inspired by women from all over the world, visit museums, be in nature. Being engaged with your personal style is the antidote to aging or worrying about aging.
What is the one thing you would spend a lot of money on?
I just did this. I'm really good at buying less expensive items and putting them together to look like they were expensive.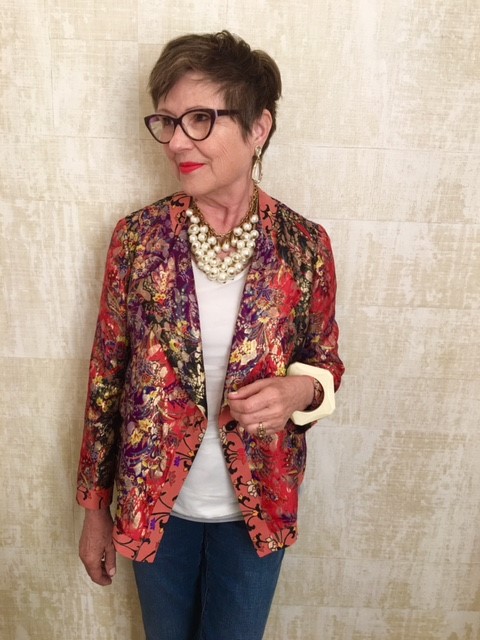 I've been a fan of Etro for years but not a fan of the price points so when I spotted this jacket and it was marked down (and still a lot of money for me!) I gave it serious consideration.
I took a style workshop from Tziporah Salamon this year and I felt like she was in the dressing room. (She has a book out called The Art of Dressing: Ageless, Timeless, Original Style.) She's a major thrift store shopper but she keeps an eye on designer items she loves and waits for them to go on sale. She has her timeless treasures and wears these pieces forever.
That's how I felt about this Etro jacket. I'd wear it to art openings, weddings, and even make it more casual by wearing it with jeans. I felt glorious in it. I couldn't stop smiling at myself in the full-length mirror. I splurged on it and am so glad I did! I've already worn it several times.
What is the one thing you wouldn't spend a lot of money on?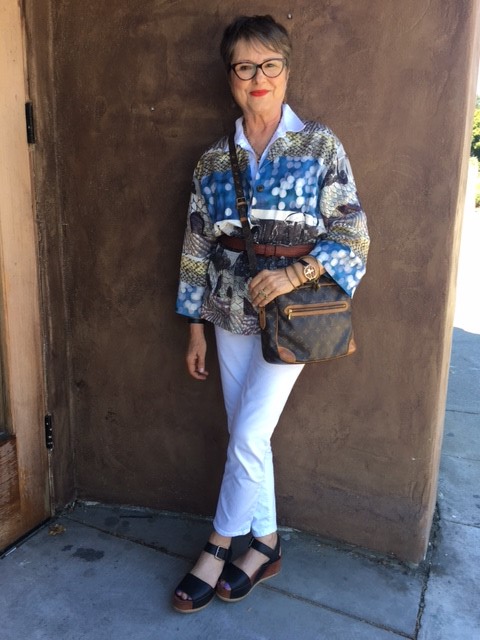 It's getting easier and easier to buy what I call support pieces for less money, those pieces that are the workhorses of your wardrobe.
Pants are not hard to fit for me so I can find pants at lower price points that look great while still being less expensive.
White shirts are something I'd not spend a lot of money on. They're in and out of the laundry so often.
What are your top tips for looking stylish when travelling?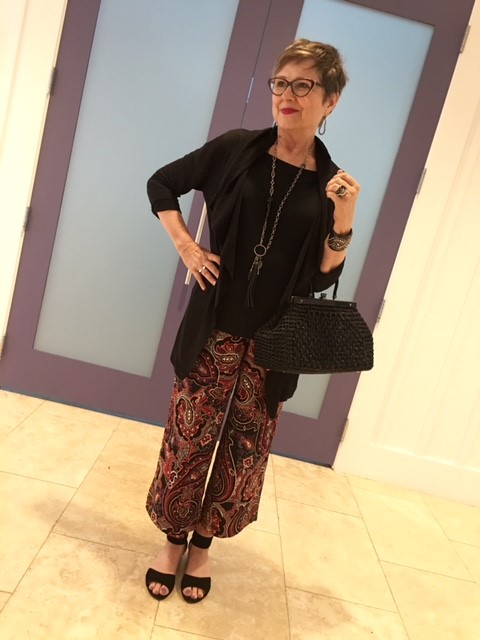 Don't wait until the last minute to plan a travel wardrobe! I do a lot of travel packing for clients as well as myself and I always plan out every outfit for the trip and write it on a chart. That way you can feel totally comfortable that you've done your best to be ready for anything.
I always travel with scarves, well-thought-out jewelry, and handbags that are lightweight but still stylish.
I always get on a plane looking great. I'm old-fashioned that way!
What's the secret to looking polished?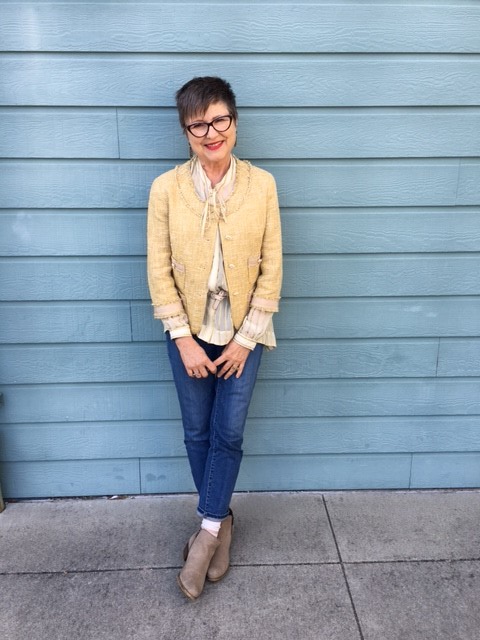 When putting an outfit together, be sure that someone's eye has a reason to travel up and down your body. It's like connecting the dots.
One thing I use a lot is what I call Beauty Bundles. I discover which accessories look great together (bracelets, necklaces, earrings) and that's a bundle right there. I can use that bundle combination with all sorts of outfits, dressy or casual.
Or a Beauty Bundle could be centered on a color. A shoe, belt and hat that share tones of the same color will "connect the dots" and move the eye up the body.
Think of outfits as characters in a movie. Is the character a demure romantic? Is she dramatic in a sophisticated, cool way? Or does she have a great sense of humor and tons of flair? Is she a rebel with a heart of gold? It's best to dress that character and not mix characters in the same outfit. You'll have a stronger presence. And that helps you look polished.
How do you balance new trends with a more timeless look?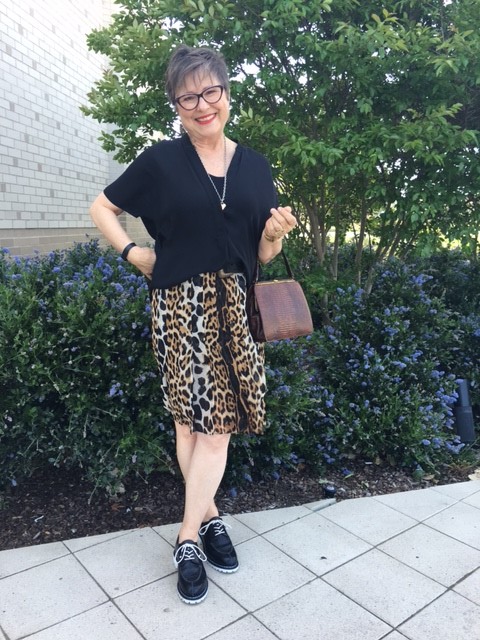 The balance will be different for everyone depending on their style. For me I'd use a formula of 20% new trend with 80% classic look.
I think trends are enormously important to investigate. It's a way to keep our fashion feet moving. If a color pops up as a trend and you wear it well, it may be the season to pick up several pieces of it. Because for you, this trend could be your classic!
The secret of your style could be unlocked by a current seasonal trend! Just think when Boho fashion came on strong. If you were someone who is Bohemian at heart, this would have been a bonanza year for you. If this is your style personality, you could pick up pieces and not have to shop for a long time because you'd feel so satisfied with what you have.
Who inspires you?
I get lots of inspiration from Instagram. It's so easy to have instant visual access to people from all over the world who are enjoying getting dressed. I love following people from parts of the world I've never visited. I get ideas all the time. Tziporah Salamon inspires me but so does a sales associate at Nordstrom! Her name is Mariam and she's always looking so great. She has fun with fashion. I think I could be inspired by anyone having fun with fashion.
What's your secret to making yourself stand out?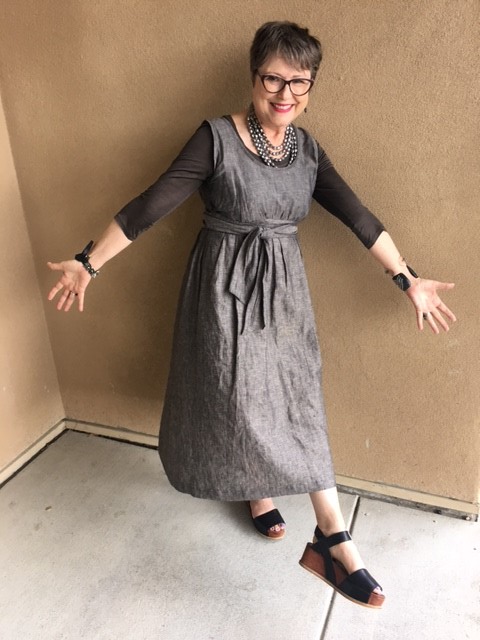 The secret to standing out is to be yourself on purpose and you can do this with your choices of clothes, hair, and makeup. Pay attention to all of the details head-to-toe. Don't leave the house until you can look in the mirror and be totally pleased with what you see.
Dressing confidently will make you stand out. I call it showing up.
Don't be afraid to show up in life.
If not now, when? It's a mental and emotional decision we can all make. For some, standing out can seem scary but what happens is people smile at you, greet you, and compliment you. They get energy from seeing you expressing your style and they give you energy in return.
It's really a powerful tool for life.
The one piece of advice most women need but don't get?
Please yourself.
Take time for yourself.
You're worth it; you always have been.
Use that as motivation to get into your wardrobe and put a few outfits together that really pleases you.
Most women have lots of clothes but they're not wearing them. A simple style session will result in outfits you can depend on. You'll feel confident and ready for whatever the day brings you. If this is hard for you, hire a style and wardrobe consultant. It really is a life changer!
How would you describe your personal style?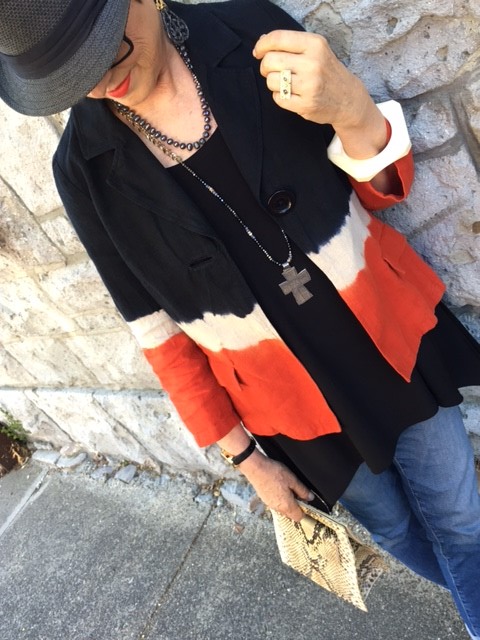 It evolves! Currently, I'd say feminine dramatic; modern; playful; elegant organic; happy.
Discover all of Brenda's books here.
Find her on Instagram here.