Hi, Imogen. I love reading your blog posts. Please use an upcoming post to address this "puzzle" for me–multiple formal looks from one dress.
We'll be cruising the Panama Canal in February and there will be 3 to 4 formal nights. Being gone 2 weeks, I have to get multiple uses from what I pack. How can I make one black cocktail dress have at least 2 different looks and still pack lightly?
My Level 1 jewelry is small, so it won't have much impact on changing the look, especially from a distance. Cruise ships are quite cool in dining rooms and theaters. I'd like to take only one pair of footwear for dressy evening, one pair of casual black sandals for day/casual dinners.
Jan
The key to making a neutral item like your LBD (Little Black Dress) work for many occasions is that you want it to be neither too naturally dressy (not made of satin or silk) or casual (made from cotton). Something that is cocktail length (not floor) is also easier to style in multiple ways.
Remember, on a cruise everyone is in the same boat (pun intended) and nobody has their full wardrobe with them (plus, nobody really remembers what you wore unless you're a celebrity with the paparazzi following your every move and documenting it!).

How to Dress Up Your LBD for Formal Dinners
Add a touch of sparkle and your evening shoes.
I generally advise against travelling with your expensive 'real' jewellery in case of loss or luggage theft! Instead, why not pair some fun costume pieces that have dazzle or sparkle with your LBD to give it a little more eveningwear oomph.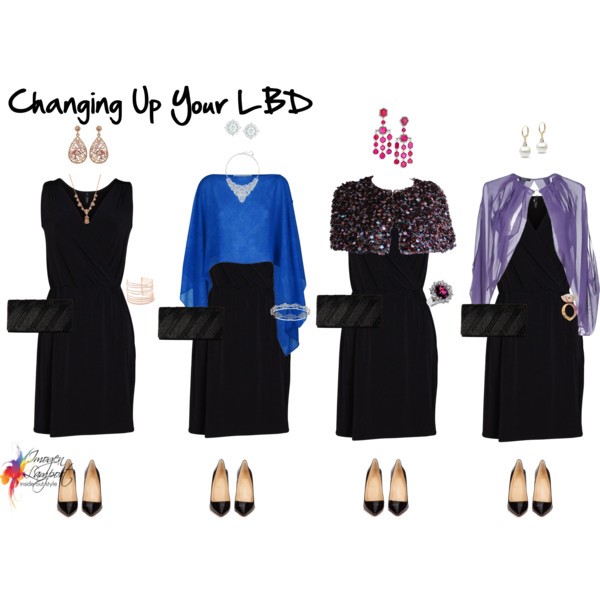 Taking some pashmina style shawls in a few colours will give you the option to make your outfits look more different and there are lots of ways to tie them (check out this video for 13 different ways). By taking different colours (as colour is what we remember most) it will make your outfit appear more different each time you wear it.
Add a little sparkle with a sequin shrug, this really dresses up your LBD.
Change up the look with different coloured costume jewellery.
Dress Down Your LBD
So for more casual dinners and events, you can dress your LBD down so it feels like a different outfit completely.
Pair with your more casual sandal or espadrille to take it down a level of refinement.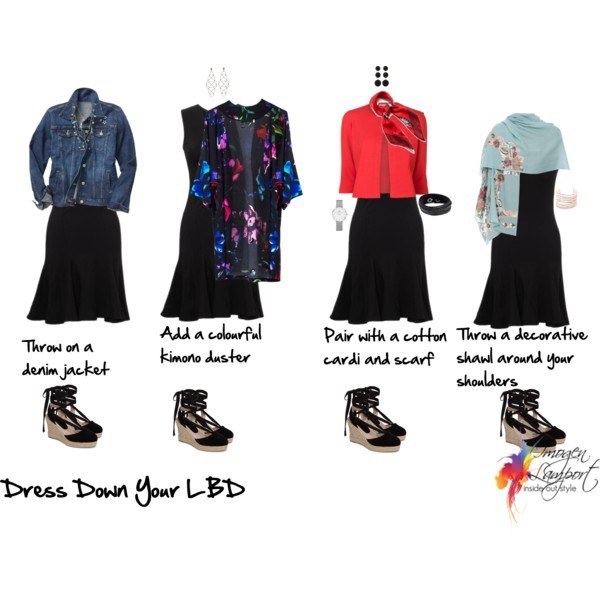 Throw on a denim jacket
Add a colourful kimono duster
Pair with a cotton cardigan and scarf
Add a decorative shawl or scarf in a colourful pattern
These are just a few ideas on how to change the look of a single garment quickly and easily.
Been on a cruise? Any suggestions from your experiences you can share?