2016 was my year of renovation. We added a second story to our house (4 bedrooms and a bathroom, plus living area for the kids) and gutted the entire house (except for my office), remodelling it, moving every room's location, except for the laundry. It's been huge. So many decisions to make on the fixtures and fittings.
It was a seriously major renovation and I'm super glad that it's finished now, even though my builders were fantastic, it's just nice not to be living in a rental house and working in the dust and noise anymore.
One of my favourite parts of the reno was adding a large outdoor living area which was sorely missing from the house previously.
From an open space (that used to house the trampoline), there now stands a fabulous covered deck with room for both eating and lounging.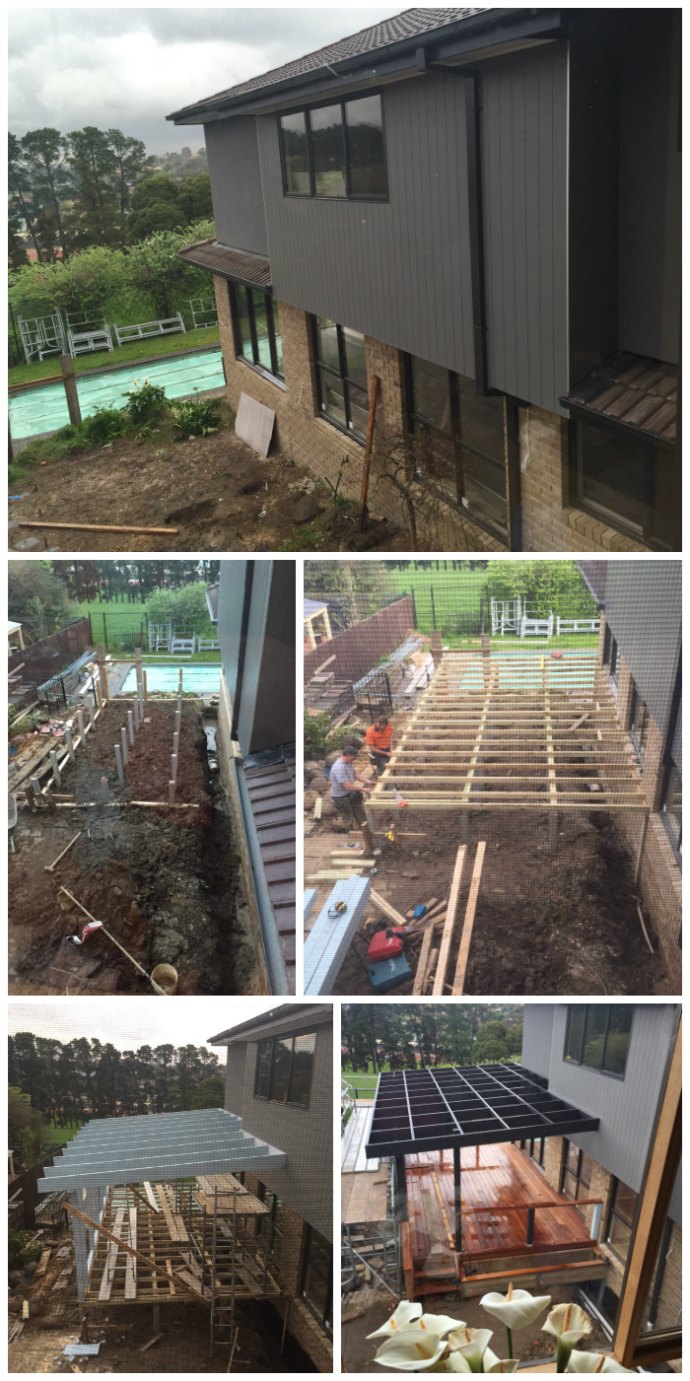 I've always loved throwing barbeques in summer so our new outdoor living space is perfect for entertaining as it overlooks the pool.
Once it was built, there have been a myriad of decorating choices to make.
We already had an outdoor dining setting, so we chose a lounge that would work well in the space and that included similar elements of design.
Then, onto the soft furnishings. Here Carpet Call has come to my rescue with a great range of designer outdoor rugs, perfect for any outdoor living space.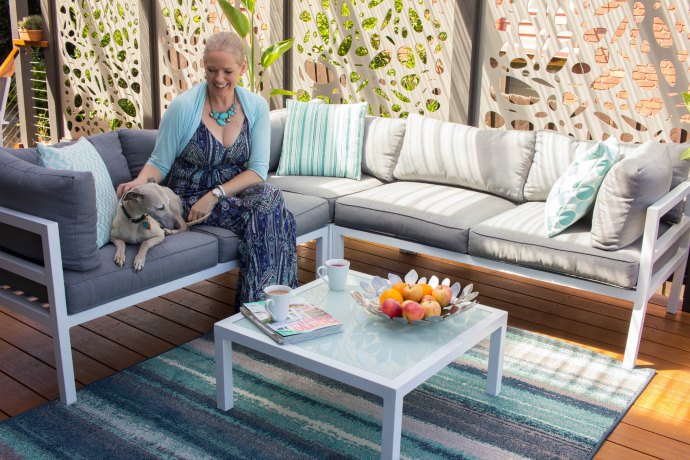 Here I'm loving the blues and turquoise of this Summer rug which works so easily and calmly as a colour scheme. It works perfectly with the greys of the couch and privacy screening.
Cleo and I love sitting out on the deck having our lunch most days, and my assistant Kate loves to get outside for a breath of fresh air and sunshine when she's with us too.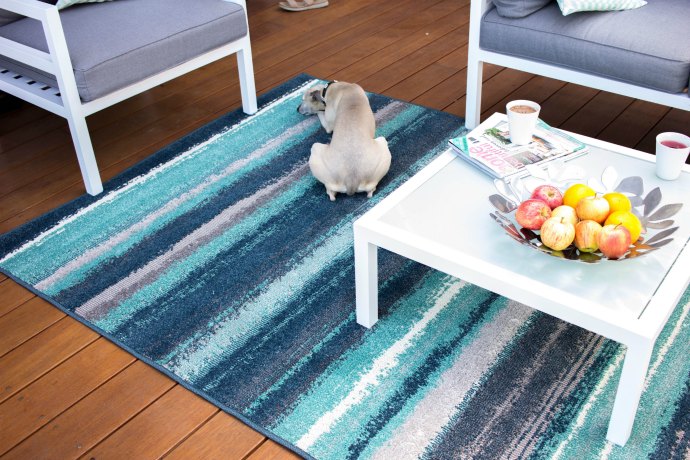 Cleo is more than happy about this new rug addition to the deck as it gives her one more soft place to lie down (which is how she likes to spend her time when she's not running at full pace or pleading with me for treats!) and I love how soft underfoot these rugs are too. They just make the outdoor space more cosy and comfortable.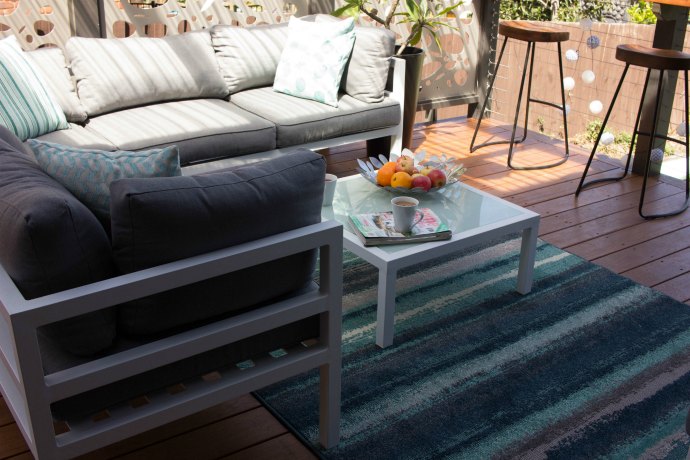 I also like to gather the family for a meal on the deck on a balmy summer evening.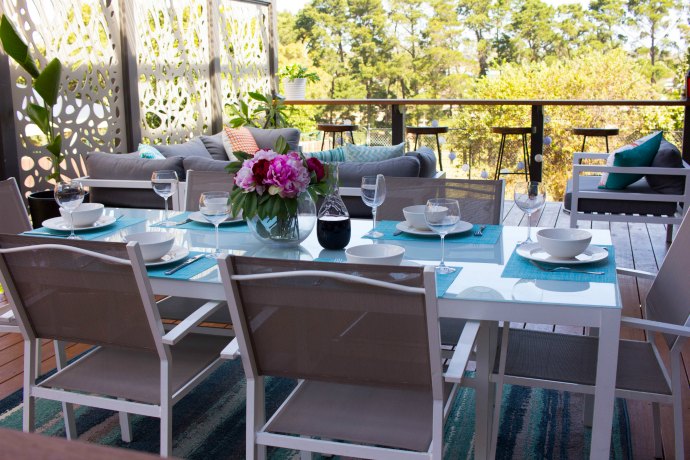 And it's easy to use a rug to delineate your spaces. Here I've used the rug to anchor the eating zone.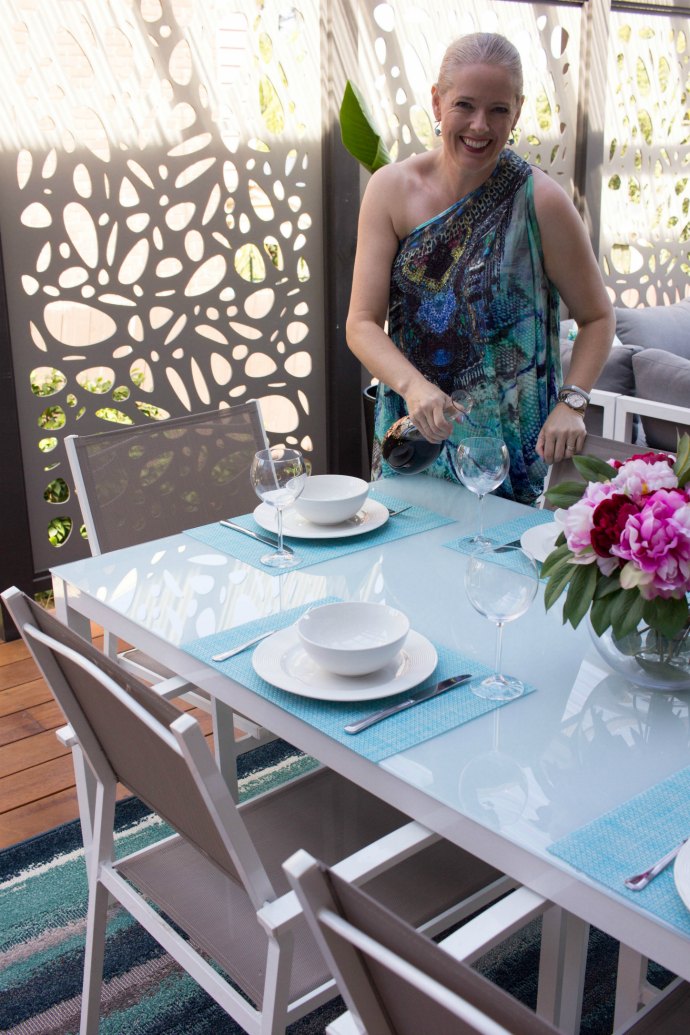 In the mornings it's great to be able to breakfast at the breakfast bar (or champagne bar, depending on the time of day) overlooking the garden and pool!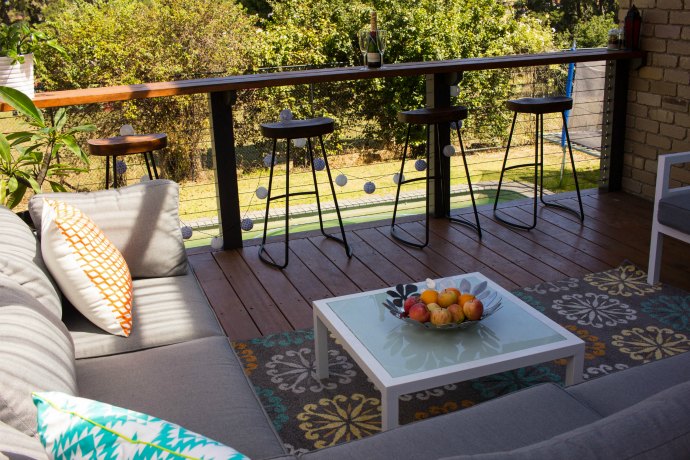 Now adding some more colour really makes it feel more like a party.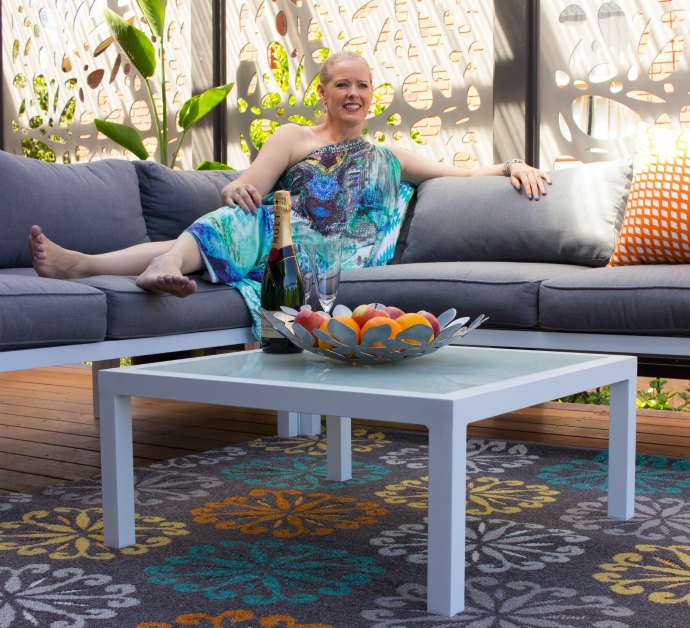 Here I'm styling a more colourful option, this Summer rug with it's fun pops of yellow, teal and orange on a background of grey, that again works perfectly with my outdoor lounge and the painted screening.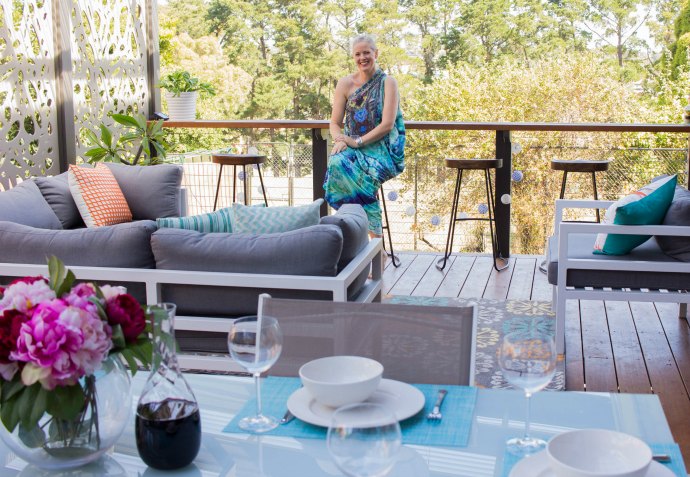 Outdoor rugs really help to create a more comfortable feeling to the deck and provide great inspiration for other decorating choices, from table placemats to cushion colour schemes.
Outdoor living spaces are something of great value in our temperate climate and I love the opportunity to get outside for lunch most days and dinner too (we included an outdoor heater in our plan so that we could use the outdoor living space more of the year.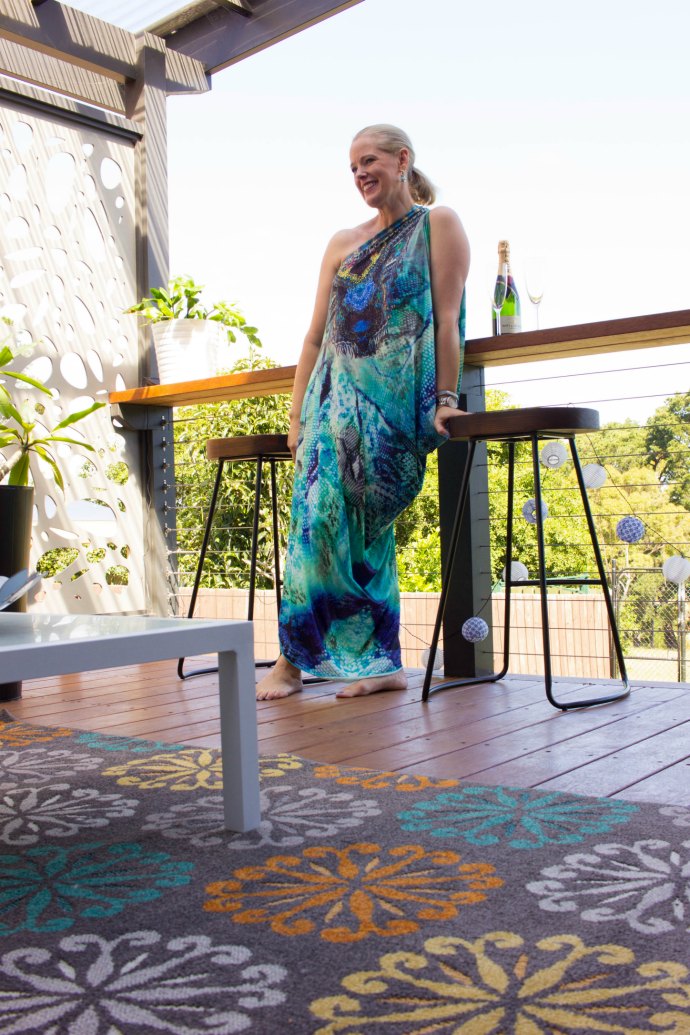 I love that you can browse for rugs online (Carpet Call's online collection is huge) choose one of their many affordable rugs, which will be delivered to your local Carpet Call store so you can pick it up, and you can try it out in your space for 5 days, returning it within this time if it's not the right colour or size for your space.
Why not brighten up and add some comfort to your outdoor living area, you can buy online or go into one of the many Carpet Call suburban stores around Australia. They have so many high quality rugs for both indoor and out in a huge range of materials, colours, styles, shapes and sizes. If you're not sure what will work best in your space, just ask one of their knowledgeable and friendly staff for assistance who can help you with all of your flooring needs. They helped us choose the carpet for our bedrooms as well, and we just love it.
So, tell me, which styling option do you prefer? Shall I go with the calm, serene blues or the fun multi-coloured rug?