Many, many years ago I came across a coffee table book of British artist, David Hockney prints and immediately fell in love with his art. I adore his use of colour and what appears to be a quite simple, natural style.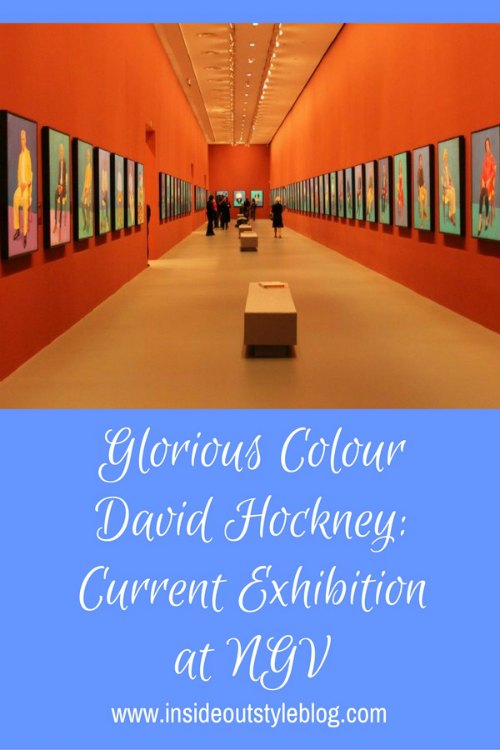 So I was excited to go to the opening of the new David Hockney: Current exhibition showing a the National Gallery of Victoria and listen to the artist talk about his work and how he now does much of it on the iPad (and before that the iPhone). This technology makes it possible for us to be able to see exactly how he creates – you watch his drawing process as the exhibition includes many multi-screen installations that show his drawing process and how layered his art is.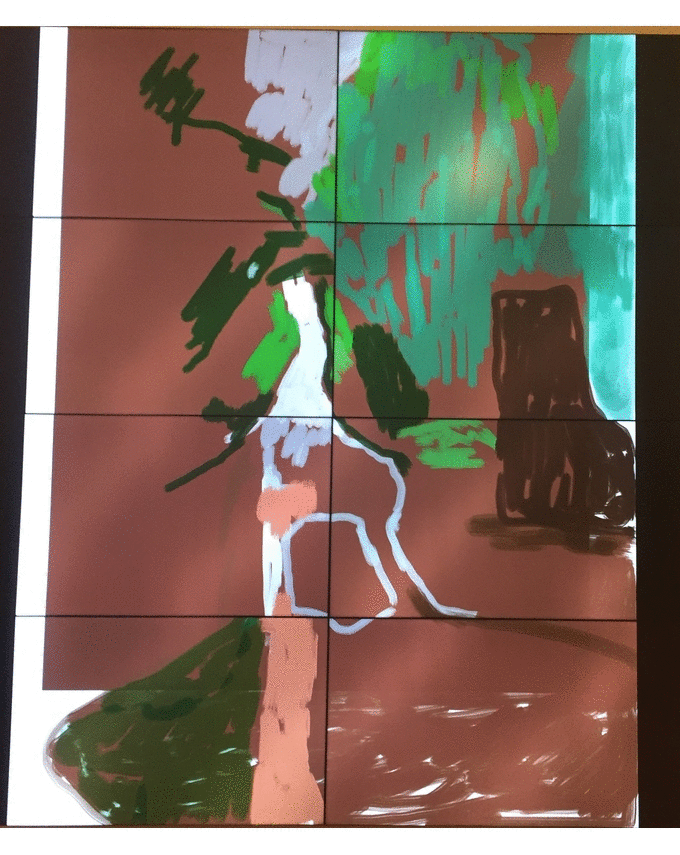 I took a series of photos of this one installation and ran them together so you can see how he adds colours and layers the painting from the distance forward. Seeing it actually drawn before your eyes at the exhibition is fascinating and mesmerising.
This exhibition features more than 1200 works from the past decade of his career including many works never exhibited before.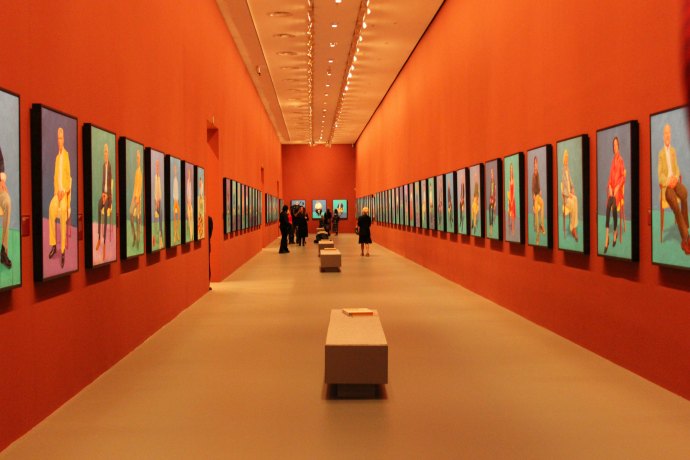 David Hockney: Current also features a 60 meter long portrait hall which houses his recent body of painting work titled '82 portraits and 1 Still Live' depicting the artis's family, friends and notable subjects including Barry Humphries, Frank Gerhy and John Baldessari, plus a still life that was painted when that day's subject didn't show up.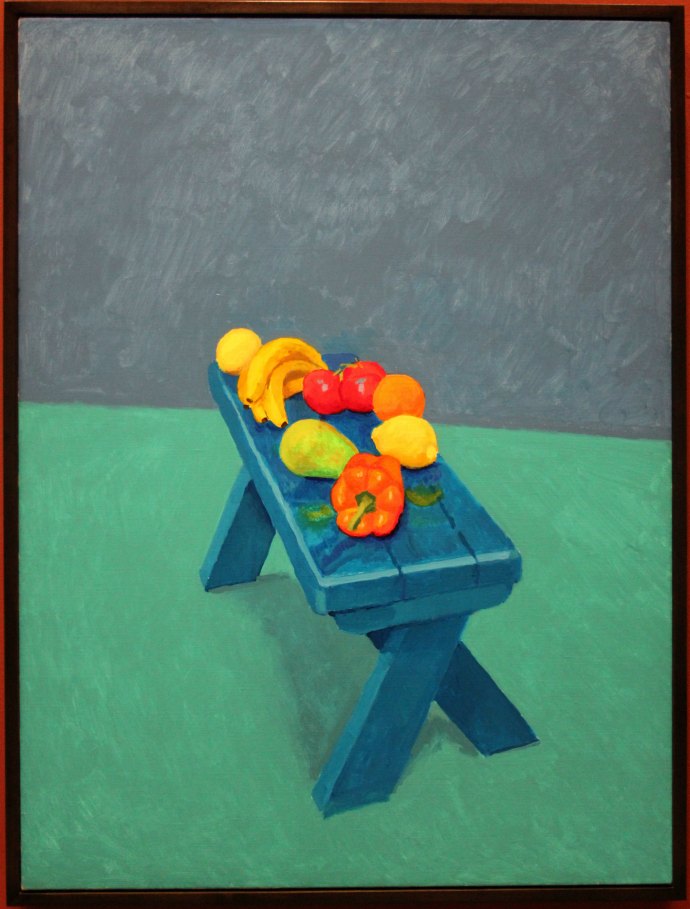 Room after room are lined with so many artworks, the colours inspire, and delight and if you look carefully as you wander the exhibition you will even see paintings of some of his tools used in creating other artworks.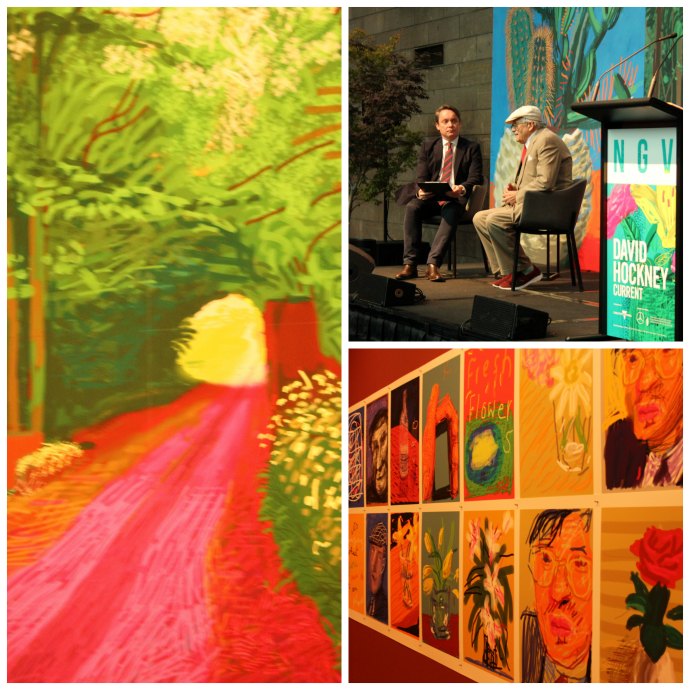 4 Seasons
One fascinating part of the exhibition is the room which contains Hockney's 4 seasons work – where he has videoed on 9 cameras the same piece of road in the UK in each of the seasons as he drives slowly up that road, then joins the images together digitally.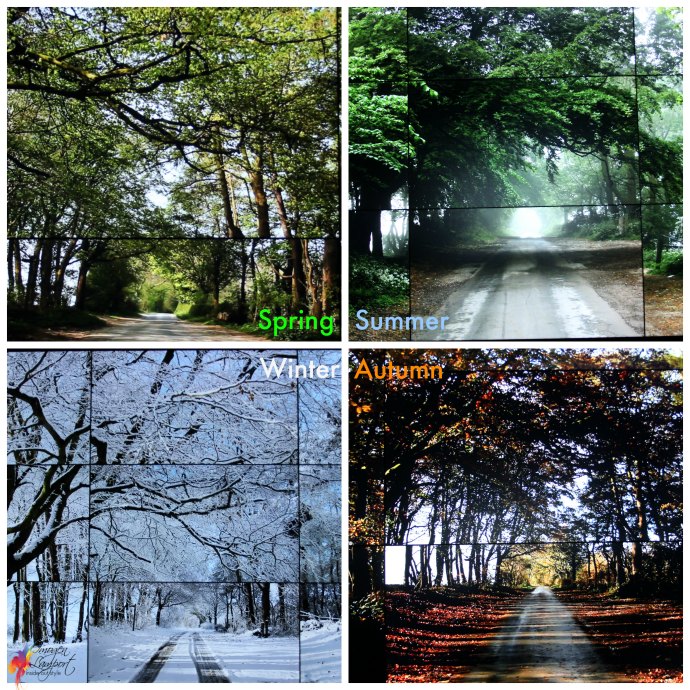 As someone who trained in colour analysis and the original 4 seasons colour groups – this shows exactly the inspiration for naming the seasons.
Spring: Warm, light and bright – as the new growth unfurls and the spring bulbs appear
Summer: Cool light and soft – the summer haze softens the light (this is very different from Australian summer colours which are intense and bright!) and the leaves have turned a cooler green.
Autumn: Warm, dark and toasted – as the leaves on the deciduous trees change to those toasted autumnal oranges, russets and browns.
Winter: Cool, dark and bright – the snow falls and the leaves are gone, we see the wood as dark and the snow so white and bright with the chill in the air.
For someone in a country that has very different colouring in their natural environment in each of these seasons (apart from Autumn) it's great to actually experience what the originators of the seasonal colour system were thinking about as colour properties for each of those 'seasons', even though they only apply to a small percentage of the world.
David Hockney: Current is showing at the NGV International (St Kilda Rd, Melbourne) until 13 March 2017. You can find out more about programs and events here.