I received an email from Maria of Colour Me Happy who was asking on behalf of one of her readers about choosing Makeup Foundation Colours. It's a tricky task, and I see so many people with the wrong colour, so here is my guide to help you choose.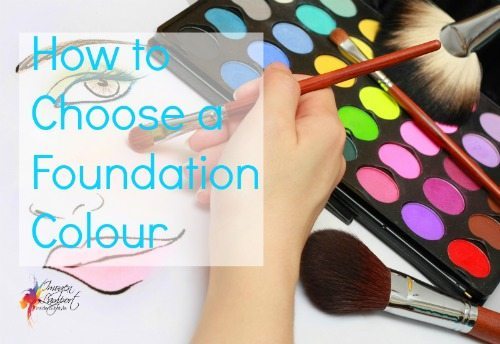 Undertone and Overtone of Skin
The undertone of your skin (whether you're warm or cool) is not the important factor about what colour foundation you choose. We actually match the foundation to the overtone of your skin, as foundation sits on top of your skin, and if you want it to look natural rather than mask like, choose a colour that appears to disappear into your natural skin colour.
You may have a cool undertone, but the overtone of your skin is more yellow, or alternatively, a warm undertone and a pinky skin. This is why you should ignore what the cosmetics companies tell you about shades and try them on your skin for yourself.
Unless the colour of your skin on your chest is very different from the colour of your face, I don't recommend wearing a foundation to match your chest, instead look for one that blends with the skin on your cheek/jaw area.
What you can see from this short film is the differences in colours that foundations can be. Interestingly I've found that each of these colours has suited someones skin tone.
Remember to:
test your foundation on your face not your hand or wrist (as your skin colour may be different)
check the foundation colours in daylight (not under artificial lighting such as in a department or cosmetics store), you need to go outside, with a mirror and see how the foundation looks in daylight.
test lots of colours, then you'll get a much more accurate picture than if you just test 2 or 3
test the colour on your jawline
Only if your decolletage is a very different colour (say tanned) compared to your face do you match your foundation to your chest skin colour.