To celebrate Australia Day (which is today) I'm sharing with you my quick pictorial dictionary of some of the most commonly used Australian clothing terminology. Just so you know when I use these words what I really mean!
Thongs: flip flops
G-string: thong underwear
Jumper: pullover or sweater
Singlet: camisole or vest
Cossie: bathers or swimming costume
Togs: bathers or swimming costume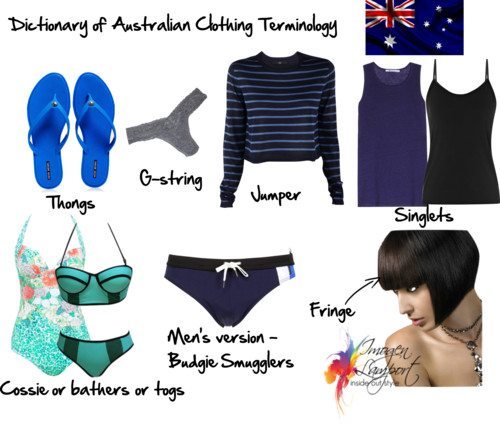 Polo neck: turtle-neck
Skivvy: turtle neck thin cotton long sleeve top (think what the Wiggles wear)
Pants: trousers
Vest: waistcoat
Shirt: cotton collared, button up worn mostly in business
Tell me what are the words that you've heard or read Australians use that you have no idea what they mean?