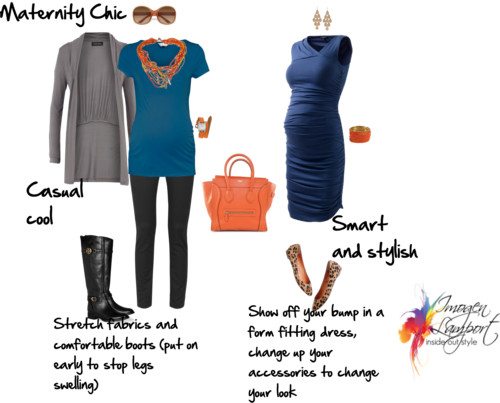 Looking stylish when pregnant can feel like hard work. You don't want to buy a huge maternity wardrobe. But a few essentials plus accessories can really get you through your pregnancy.
A great pair of maternity jeans are worth investing in. You can pair them with jersey tops, then throw over a cardigan (doesn't have to button up or be maternity wear). Adding a necklace that makes a statement will dress up a more casual outfit. A fabulous handbag finishes your outfit.
Another great investment is a stylish jersey dress that will stretch as your baby grows. You can dress it up with more glamorous jewellery, or wear it around and about with more fun accessories. A cute pair of flat shoes will keep you comfortable and still look stylish.
Check out how to put together a workable maternity wardrobe capsule.
Some more pregnancy dressing tips can be found here.
And once you're past the pregnancy, you may want to think about a post-pregnancy wardrobe til you can get back to regular wardrobe.
What was your favourite maternity outfit?