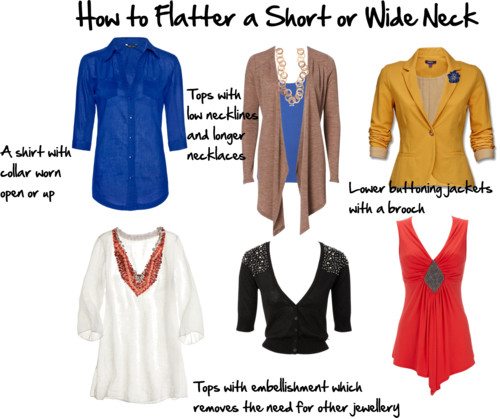 If your neck is a little shorter than average (less than a hand's width) or wider than you'd like, you may feel that you look a little squat. So here are a few tips to flatter.
1. Find your balance points and make sure your necklines sit at the first balance point.
2. Wear open necklines
3. Wear collared shirts, open, with the collar turned up.
4. Wear longer necklaces.
5. Wear jackets that close lower.
6. Wear brooches rather than necklaces
7. Wear pendants on very fine chains (so you can barely notice the chain and it doesn't define the edge of your neck.
8. Wear tops that have embellishment around the neck area so you don't need to add a necklace for interest.
9. Avoid chokers and high necklines.
Do you have any tips to share on how to flatter a shorter or wider neck?