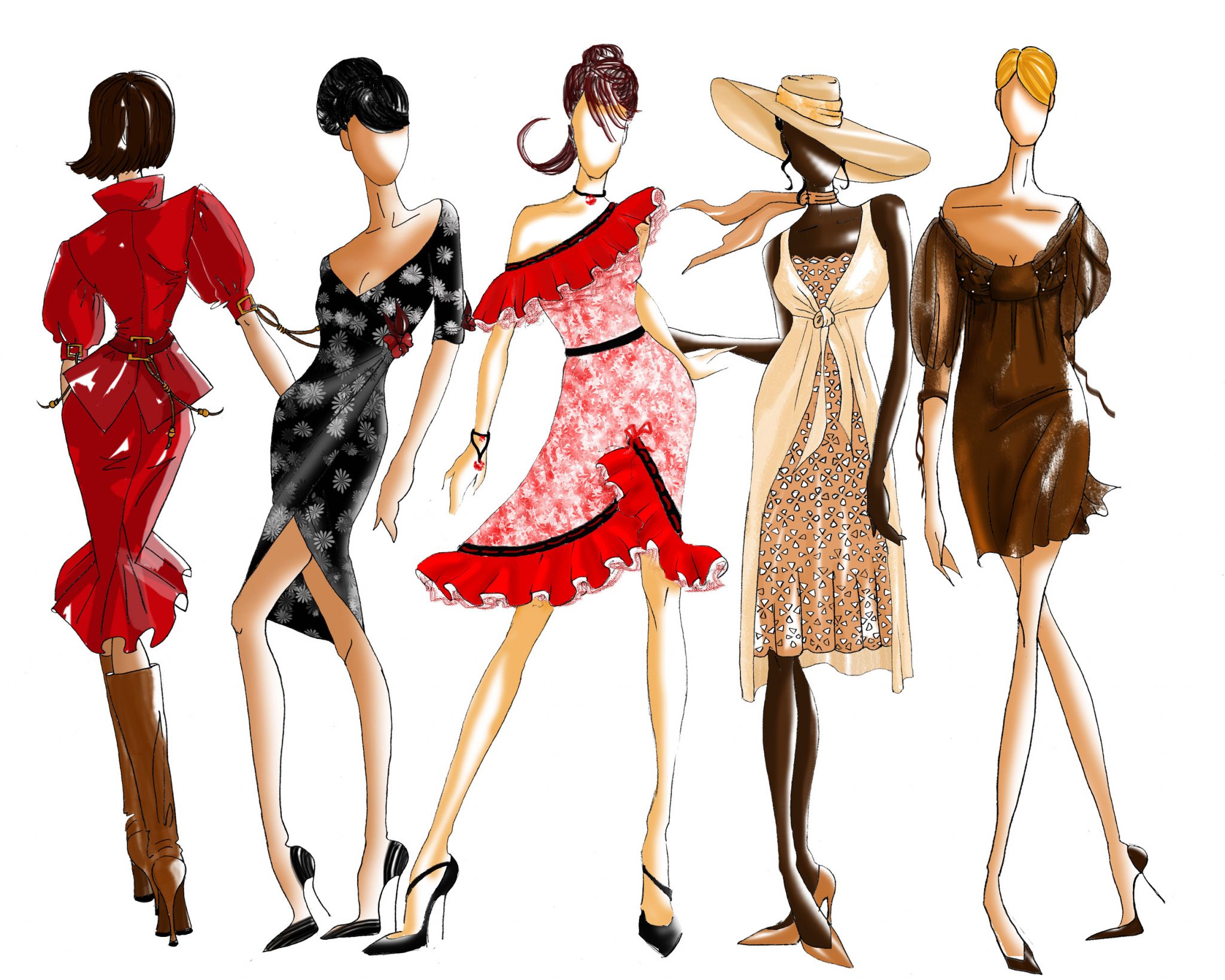 Style is not about being traditionally beautiful. We can all be stylish. Style is an expression of our best authentic self.
6 Secrets to Style
1. Personality – your clothes must express who you are, without this you won't appear confident (and without confidence, you won't be anywhere as near stylish as you could be). Your personality is the most important factor in finding and expressing your unique style.
2. Physicality – your clothes need to work with your body and colouring, not against it. You want to be the focus, rather than your clothes. They need to suit your body shape and proportions, your colouring and your unique features. If you choose to go against these elements it's because it's a pure expression of your personality.
3. Currency – fashions move and change over time, silhouettes transmogrify. Being aware of fashions changing and adapting your style and adding a little of the new will make your style modern and youthful. Unless of course, you are a vintage maven, then see point 1.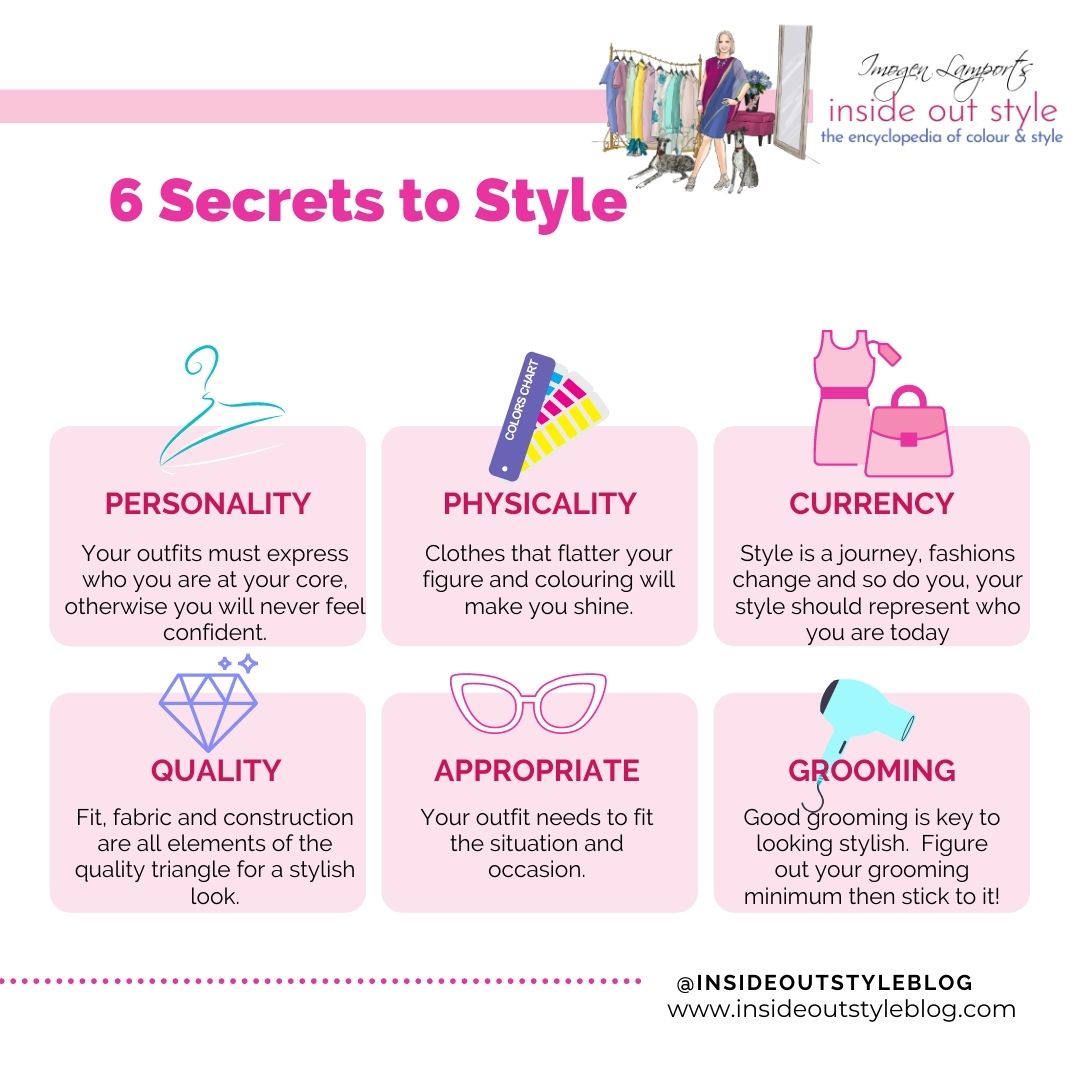 4. Quality – the elements of quality come down to fit, fabric and construction. If your clothes don't fit you well, it doesn't matter how expensive they are, they won't look high quality on you. We all need alterations to off-the-rack clothes to have them fit our unique body shapes and proportions, those clothes weren't made specifically for you, it's not a failure on your part to need to make some changes. Fabric – worn out, pilled, stained, stretched, faded fabrics make you look old, worn out, and sloppy. Great fabrics last longer and hold their shape better, but nothing lasts forever. Well constructed garments will sit better and last longer than poorly sewn clothes.
5. Appropriateness – do your clothes suit the situation and occasion? Jeans have become such a staple in most of our lives, but they're not appropriate all the time. Many worry about being overdressed, but isn't raising the tone of an occasion better than being the worst dressed person in the room? Being appropriate makes the people around you feel more comfortable.
6. Grooming – good grooming, from your head to toes is often the hardest element to maintain. What's the first thing we can't be bothered to do when we're sick or tired? Groom. Look at many who you would consider stylish, they may not be conventionally beautiful, but their attractiveness is multiplied exponentially with grooming. It may not be a controlled coiffed appearance, but there will be attention paid to grooming.
Style is …
US Vogue editor Anna Wintour said "Fashion's not about looking back. It's always about looking forward" but what is the difference between fashion and style?
Designer Kym Ellery says "It's an increasingly prevalent idea that a garment is obsolete if it's not the current season. I hate that. A beautiful piece is a beautiful piece whenever you bought it. Why shouldn't a dress still be relevant six months after it was shown? Or a year after? Five Years? I guess that's where fashion and style depart from each other. Fashion is fabulous, but style is what lasts."
I find it interesting that people in the fashion industry would dismiss a garment after 6 months – most of us expect to get at least a couple of years from our clothes ( and more like 5+ years).
Boutique owner Eva Galambos said "Personal style is both the ultimate form of self-expression and a reliable path to escapism. Every generation has its own battles and tough times, but fashion is always there as a creative outlet."
Terry Kaljo (a former Fashion editor and now hotelier) believes " To look stylish you do have to be aware of trends. A stylish woman might look classic, but she never looks dated."
To find your style you need to know what suits you physically as well as your personality, then put it all together in a way that fits your lifestyle and works for you. This requires a style education and is why I created my 7 Steps to Style program so that you can start defining your style, step by step, so that you can build a wardrobe full of clothes that you love to wear, that make you feel more confident and look stylish every single day. Find out more here.
What is style to you? What have you done to become more stylish?