Today the lovely Deja Pseu of Une Femme d'un Certain Age who is located in LA California is sharing her thoughts on style.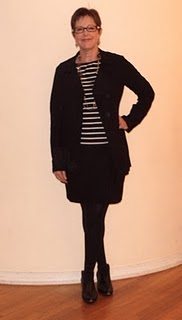 What is the secret to great style?
Gosh, I wish I knew! Seriously, though, for me, the most important thing is that the style fits the person, both physically and emotionally. When the inside and the outside sync up, you're going to look and feel your best. Style is a wonderful vehicle for self-expression, and the most stylish people understand this.
What is the one thing you would spend a lot of money on?
Anything that is iconic, classic, meaningful, and that you'll use for decades. Custom jewelry, a classic Chanel black flap bag, a rope of pearls.
What is the one thing you wouldn't spend a lot of money on?
Tee shirts. Buy inexpensive ones and replace yearly. If I can sneak a second category in, I also never spend large amounts on anything I perceiveas trendy.
What are your top tips for looking stylish when travelling?
Knits, dark neutrals, simple styling. Use accessories to change up the look.
How do you balance new trends with a more timeless look?
I tend to be wary of most trends, though I don't want to look like I'm stuck in a time warp. Shoes, bags and jewelry are a great way to update a look. If you keep your basic pieces simple and classic, it's easier to incorporate an updated piece or two.
What is your favourite current trend?
One trend I'm loving right now is the Breton/nautical striped top. I'll keep wearing them long after the trend wears off; to me they're classic.
What's the best piece of style wisdom you've ever received?
It was from you, Imogen! Learning my body shape (H) and how to dress it helped me to hone in on the long-over-lean silhouette that works best for my shape and proportions.
What's your favourite short cut to style?
Shoes or boots with a little bit of attitude.
How would you describe your personal style?
I've been trying to suss that out for a while now. For a while it was "classic with a twist," but everyone has a different take on what that means. Simple with interest? Understated with a hint of whimsy? L.A. meets Rive Gauche?