Pauline, the English Organizer, who is based in San Fransisco, California, USA today shares her style tips with us. She runs an organising business too, so if you need some help to get yourself organised and are local to her, why not find out more.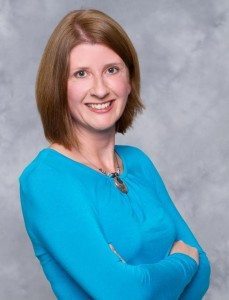 If I could afford made-to-measure shoes, I'd buy them in a heartbeat. The softer, the better!
What is the one thing you wouldn't spend a lot of money on?
I've never felt the need for an expensive handbag. Cheaper ones are fine by me, but I try hard to get rid of them once they become tatty.

What are your top tips for looking stylish when travelling?
Find comfortable fabrics with stretch – they're great for planes and wash easily, too. Use the opportunity to experiment with colour combinations and you'll be surprised what works. Take some fabulous accessories with you… these are also great things to buy at your destination.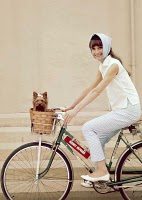 Audrey Hepburn
Who inspires you?
Dame Judi Dench, Diane Keaton, Audrey Hepburn: actresses with style and staying power
Susan Boyle: singer who's proved it's never too late to live your dream
Delia Smith & Nigella Lawson: TV chefs who keep it very real
The one piece of advice most women need but don't get?
We all have far too many clothes, most of which we don't love, or don't flatter us. Weed out your wardrobe to include only items you love, and you'll be surprised how much easier it is to get dressed and how much better you feel.
What's the best piece of style wisdom you've ever received?
Invest in your hair: you wear it every day.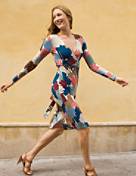 Boden Jersey Dress
What's your favourite short cut to style?
Wearing a dress – specifically if made from heavy weight jersey fabric. All you need to add are shoes and a few accessories, and people automatically assume you've made an effort. In summer time, the right dress can be wonderfully cool and comfortable.
…Again, if an image is helpful, I own 2 Boden jersey dresses:
http://bit.ly/dMeVeG
How would you describe your personal style?
Colourful, comfortable and cozy.
As a Professional Organizer, I need practical clothes which allow me to bend, lift and crawl with dignity. They need to look stylish, but go in the washing machine at the end of the day.