Today Audi from Fashion for Nerds (who also has a fab Etsy shop, check it out Audra Jean Accessories) is based in San Fransisco and has a fabulous personal style that she shares with her daily outfits on her blog.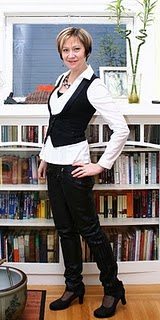 What is the secret to great style?
In a word: confidence. Confidence in your body, confidence in taking risks with your style, and confidence in how your style is perceived by others — or not. Not everyone will love what you wear, no matter how "safe" or appropriate you think it is, and accepting that fact is really the first and most important step in dressing for yourself and owning your style. And that, in turn, is how you can develop a style that is truly personal and represents you at your best.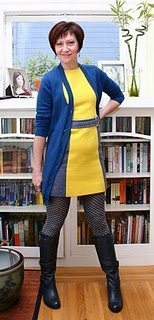 What is the one thing you would spend a lot of money on?
Shoes; they're one thing I never skimp on because they take a lot of abuse and they have such a profound effect on the overall comfort of an outfit. Not only that, but the quality tends to be really evident in shoes, much more so than other clothing items, so a great pair of shoes can elevate the style of an outfit even when the other pieces are relatively basic and inexpensive.
What is the one thing you wouldn't spend a lot of money on?
Actually there are a few things. Basics for sure; things like layering tees and tanks aren't worth spending a lot of money on because they don't last anyway. I also don't like spending a lot on knits, because it usually doesn't take long before they start to pill and lose their shape, even if the fabric is good quality. Finally, if there's a new look or trend I want to try out but I'm not sure it'll be a lasting component of my style, I might look for something inexpensive for my first experimental piece. Maxi dresses are a great example; I recently bought my first maxi dress for $10 and it was a great way to give the look a try without investing much money. Now that I'm convinced it's a style I can work with, I'd be willing to spend more for a higher quality dress when I find one.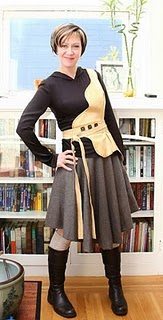 What are your top tips for looking stylish when travelling?
The first is taking along a good assortment of accessories; things like scarves, jewelry and belts take up little space in your luggage and can completely transform an outfit. I love to bring along several lightweight, colorful scarves that I can use to create unexpected color pairings; even a fairly basic, jeans-based outfit can look stylish with the right scarf. The other thing I do is to choose a color theme for all the clothing I pack, that way I can create a lot of different looks with a few pieces. If I'm going somewhere that I know I'll be shopping, my travel mantra is, "Pack light, shop heavy." Travel has a way of opening your mind to new looks, so a vacation is a great way to evolve your style, and many people who hate shopping at home find that when they're relaxed and have plenty of time, it becomes a lot more fun.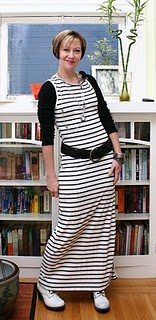 How do you balance new trends with a more timeless look?
I tend to avoid trends that I feel won't come back again, whereas the fervor for a general design feature like animal prints, military detailing, or sequins may die down for awhile but will eventually come back. Some items can simply be styled in a different way and far outlive the trend they rode in on; for instance, wearing your skinny jeans tucked into boots rather than with flats will make them look totally current, even though the jeans trend is leaning toward boot cuts right now. My other strategy is along the lines of what I mentioned above; if I'm not sure about a trend's staying power, I'll avoid spending a lot of money on an item if I do decide to give the look a go.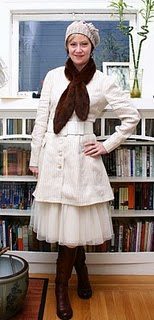 What's your secret to making yourself stand out?
Oh, I don't think it's really much of a secret; I'll wear pretty much anything and I think that naturally makes me stand out. I've never subscribed to the philosophy of the signature style; my style is constantly shifting and I really never know from one day to the next what era I might conjure up or what persona I might put on. I'm a bit of a style schizophrenic, and over the years I've learned to embrace the fact that sameness is just not for me. Many people in my workplace have commented that they look forward to seeing what I'll wear next, and that to me is fun; I love being able to surprise people and keep them guessing.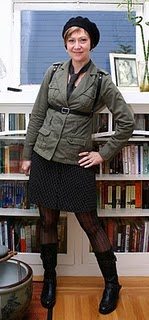 The one piece of advice most women need but don't get?
Always dress to accentuate your best features, rather than obsessing about trying to hide your "flaws."
What's the worst current trend?
It's got to be open-toed boots; I wish they would go away already.