I have a friend who has sturdy calves, she is so embarrassed by them she won't wear a skirt, and suffers through our hot, hot summers in pants every day.
Sure, you can do that, and pants and jeans are an easy way to cover up your calves, but why not think about some alternatives.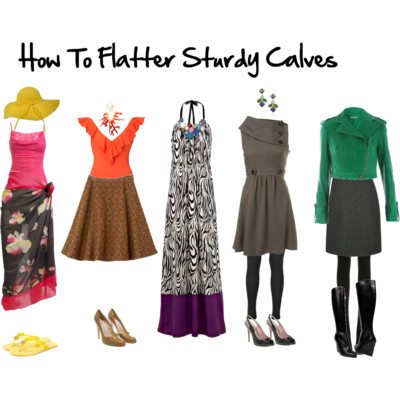 Avoid gladiator sandals, any shoes that cut across your feet or ankles, skirts that end at mid-calf.
Instead why not think about:
Sarongs and thongs (flip-flops to you non Aussies, not talking underwear here!) for the beach.
Flared skirts in a skin-neutral tone so that you don't notice the difference between skin and skirt, then add a nude pump and a coloured top with an interesting neckline and/or some jewellery to draw attention up to your face and away from your calves.
The Maxi-dress and skirt are in fashion right now, if that's a look you like, go for it – easy!
Knee length where the dress ends at the crease of the knee bend (at the back of your knee) are a great length, team them with ankle length leggings and a similarly coloured shoe so that you create a column of colour on your lower half, then add some bright jewellery or a scarf close to your face.
For winter, a dark a-line skirt with opaque tights and boots in a similar colour (as close as you can get) are a brilliant choice. You CAN get boots to fit over your calves, why not check out the ranges at DUO boots – 30 styles, 21 calf fittings also you can try www.widecalfboots.com.au.
With one of these strategies in place and some distracting jewellery, an interesting neckline or other bright colour near your face, nobody will notice your calves, and you'll get to stay cool in summer.