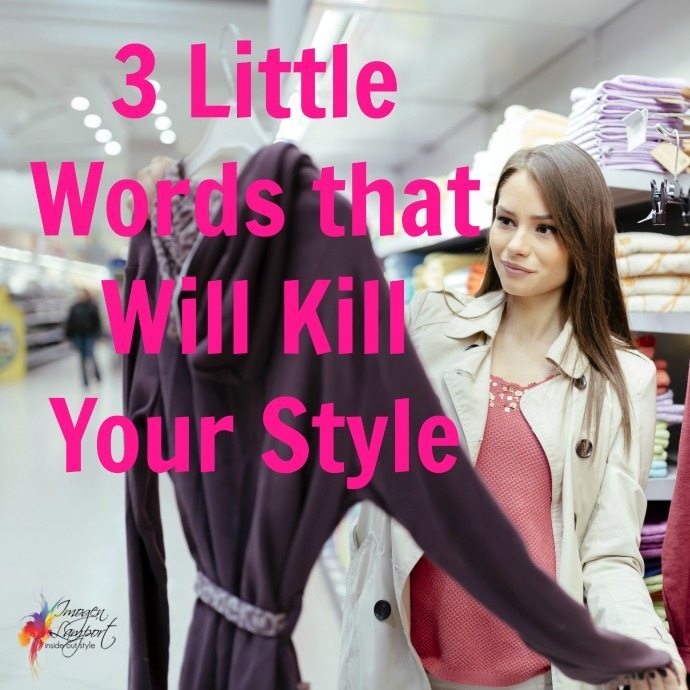 The Three Little Words That Will Kill Your Style
How often have you been shopping for clothes and choose to spend your hard earned money on clothes, not that you LOVE, but ones that you think to yourself "It'll do" Is this attitude to purchasing clothes making you happy? Do you look in your wardrobe and feel inspired by the choices you've made, or does it all feel lackluster, dull and boring? Do you feel frumpy or dowdy or mumsy and dull?
It'll Do … You Say to Yourself
Chances are, if you're buying the it'll do clothes, then you are not feeling great about your choices. So how do you get out of this style rut?
Go to your wardrobe and pick out 3 or 4 favourite pieces, then look at them and describe what you love about them – is it:
the cut
the way the fabric feels against your skin
the comfort level
the colour
the versatility – can you dress it up or down
the pattern
Then, put on the garment, look in the mirror – how would you describe the way you look and feel when wearing the garment – does it:
make you feel smart
make you look slimmer
make you feel a little different, out of the boring and ordinary
make you feel feminine
make you feel elegant
make you feel stylish
make you look approachable
make you look professional
make you look successful
make you look
After you've done this process with a few garments, notice if the same words keep creeping in.
If you are all about comfort – then don't ever buy something that is not immediately comfortable.
If you love clothes that make you feel feminine, then get rid of the boxy and boyish or boring, look for clothes that have some feminine detail.
If you love clothes that make you feel bold or dynamic, then look for clothes that also speak to you in this way.
Just because it's what your friends wear and you think you don't want to stand out from the crowd, don't go there, don't let those 3 little words kill your personal style.
No more It'll do – don't waste your money on clothes that don't speak your language. Get rid of the clothes in your wardrobe that aren't making you look and feel great. From now on, if you ever find 'it'll do' sneaking into your mind when choosing a piece of clothing, stop immediately, put it back where you found it, and keep looking. It's better to leave empty handed than clutter up your life with clothes that aren't fabulous for you.
Want more tips on upping your style? Then grab some of my free guides and ebooks here.