I was in the supermarket the other day and noticed that many women carry the same handbag everywhere, to work, to the gym, to the supermarket, out for an evening, never stopping to consider that this one-size-fits-all solution may be doing then an injustice.
So is it time you thought about your handbag, and whether or not you may need more than one to create that overall stylish look you are trying to create?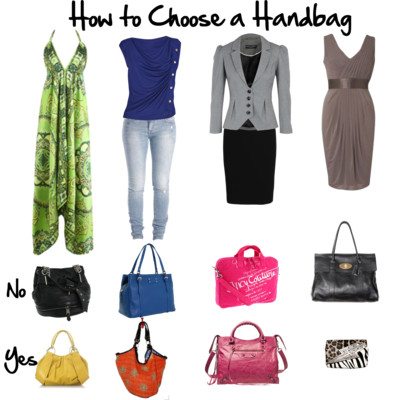 Relate the colour – it doesn't have to match exactly, but it needs to relate to your outfit. A little floral sundress does not suit a large black bag. A pair of jeans does not work with a briefcase style bag. A suit does not meld with a sparkly clutch, nor a graphic bag suited to a pair of jeans. An evening dress needs a smaller, more refined bag than you everyday variety.
So in brief:
Match the formality, satin works for formal, but not casual.
Relate the colours, or choose colours that don't clash to provide an accent colour.
Relate the size for the purpose, day bags are larger and more roomy than evening bags.
And unless your personality is very conservative, don't match your bag to your shoes, unless they are both black or brown.
If you find moving all your bits and pieces from one bag to another hard work, why not try a bag insert

to save you time and effort.