So often people want to know what their hairstyle options are – what will suit their face shape is the most often asked question. But before that is answered, there are other factors to take into consideration on what will be the best hairstyle for you.
1. What is the texture of your hair – no matter what your face shape, your hair texture will determine what cuts will work with your hair. Fine hair is often limp and lacks body, whilst coarser hair has more body. Curly hair has its own shape, and I always feel that there is no point in fighting nature every day. Go for a cut that works with your hair, not against it. Mick (my hairdresser from Biba Doncaster) told me that he'd had someone in who had asked for the same haircut as I had in the video, yet they had tight spiral curls – my hair., which is slightly wavy naturally, is also medium fine, and easy to straighten, her hair was not, so my cut was not suitable for her.
2. How much time are you prepared to spend doing it? As you may have seen in my How to Blow Dry a Bob in 3 Minutes video, my hair takes next to no time to do, but it still takes 3 minutes. If you're not prepared to spend any time doing your hair, you expect to wash and wear, then that will also limit the style options open to you. Also, your texture will determine how long it takes to do your hair, plus the volume of hair you have.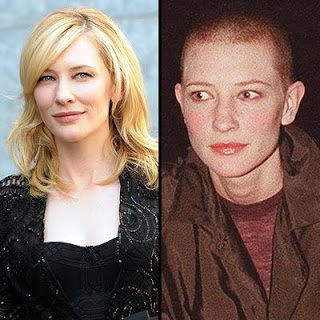 3. Prominent features – say you have a nose that you don't want to draw attention to – then don't have hair 'pointing' at it, or no hair at all so that it becomes the largest feature of your face. For example, Cate Blanchett's nose appears larger when she has a shaved head, but much less noticeable when she has voluminous hair.
Only now is the time to start looking at your face shape and taking that into consideration.
Tomorrow I'll post on how to figure out your face shape.