How to wear leggings seems to be a highly googled question, and what sorts of shoes work with leggings is a hot topic, so here is my 2c on the subject.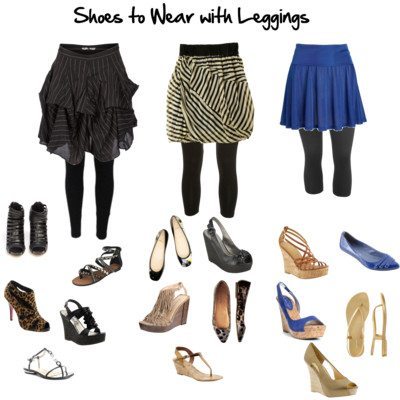 Here are some ideas:
1.Ankle length (left) – work best with
high vamp shoes and sandals
, either in a colour that is similar or slightly darker than the legging, or if you have lighter hair, a lighter colour can work well too for some visual grouping.
2. 7/8 length (middle) – work best with
a low vamp shoe
(that's a shoe that exposes the top of the foot with no interruptions) or a high vamp skin-toned shoe so they don't interrupt with too many horizontal details which can be very leg shortening.
3. Calf length or just under the knee (right) – work best with low vamp shoes unless you have long legs or very long calves. Ideally a 'nude' shoe is ideal as it blends with your leg colour and makes them look longer. If you want to wear an alternate colour look for a wedge or high heel to lengthen.
4. As leggings are hoisery they work best with lighter shoes such as ballet flats, peep toes and sandals, rather than heavy 'trouser' shoes such as loafers or sneakers. Given that leggings don't cover the feet, wearing an open shoe such as a sandal or peep-toe highlights this and gives them a more summery feel.
Further reading on Shoes: