Have you ever heard of the term Visual Grouping (we group like with like to make it easier for our brains to work through all the millions of bits of data it has to contend with second by second)? This principle can help you when deciding on a shoe colour to wear with your skirts and dresses.
For example, in the polyvore below, I've chosen a mid-blue dress. I've then chosen shoes in a variety of shoe colours that will complement each hair colour.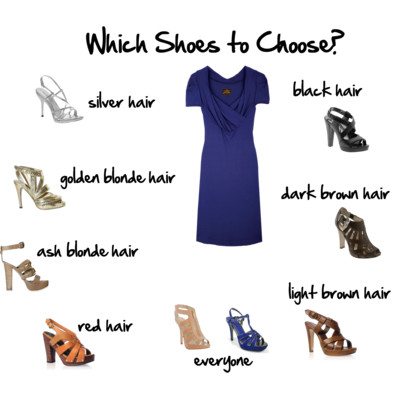 By choosing a shoe in your hair colour, when the eye travels down your body to your feet, the shoe colour relates to your hair, which then draws our eyes back up to your face, thus completing a circle.
For someone with blonde hair, if they wear a black shoe, this is unrelated to their colouring and so we are likely to get stuck at the shoe and not be drawn back up to your face.
Of course you can always tone the shoe to the skirt or dress, or alternatively wear a 'skin colour' shoe (whatever your skin colour is – pictured here assume a more fair skin), to create a longer leg line.
This is a particularly good tip for skirts, dresses and cropped pants, or something to think about as an alternative when wearing jeans or trousers.