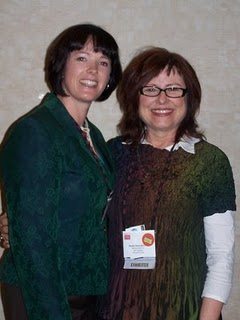 At the AICI conference I got to meet the fabulous image consultant and author Brenda Kinsel who shared these tips with me, so I could share them with you.
I asked Brenda for 5 tips to help you improve your wardrobe and image
1.  At the change of season, when you swap your wardrobe over (from Winter to Summer), try everything on, some of your clothes will have expired and be past their use by date.  You may not have noticed the state of your clothes when you put them away at the end of the season, but you will see them with fresh eyes after they've been out of your daily gaze for a few months.    If you don't love it anymore, it's old and tired,  it doesn't fit or it doesn't work, let it go.
2.  When you're over 40, you must invest in great jeans, if you wear them as part of your lifestyle.  If you're lucky like Brenda, you might get away with a pair that cost $36, but if not, put some extra $$$ toward them as you'll get the value from your investment.
3. Look at clothes as fun – not just something to cover your body.  What can you buy to express yourself?  If you've lost who you are, reacquaint yourself with your personality (there are some great exercises in Brenda's books including her latest Brenda Kinsel's Fashion Makeover) to help you  discover your style.  Brenda herself still does the activities described in her books to make sure she doesn't get stuck in a style rut.
4. What you have the hardest time buying, is the first thing you should look for when going on a shopping trip, otherwise you'll never get complete outfits.  So if pants are a problem for you, start fresh looking for trousers, only when you've found them can you look at the tops, that are easy for you to buy.
5. Decide on  your minimum daily requirement of beauty products and never, ever go out without them.  Brenda's minimum to wear if she's running out to the shop to buy milk at 6am is lipstick and eyebrows, she never goes out without them on. You never know who you'll run into and you need to be prepared.
What are your tips to creating a great style?