When I take a client shopping, it's worthwhile suggesting an outfit, as we want to make it as easy as possible to get changed repeatedly.
Having spent many hours/days/months shopping with clients over the years, I've learned that what you wear can make a huge difference to your shopping experience.
Here are my recommendations.
What to Wear on Your Next Clothes Shopping Trip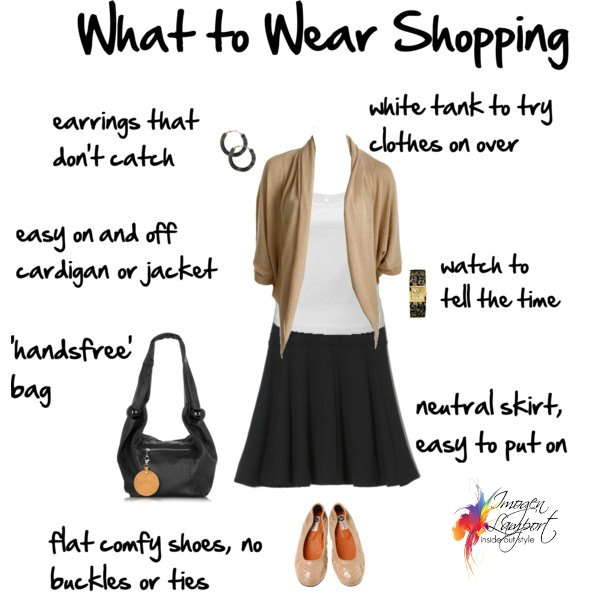 Earrings/Jewellery: Wear jewellery that won't snag or come off when you're trying on clothes and pulling them over your head. In general – avoid necklaces and earrings, bracelets, statement rings and bangles. Otherwise, you'll need to remove repeatedly each time you get changed.
Wear your best, most supportive nude underwear – there is nothing worse than trying on something and being really distracted by your underwear.
Neutral colours: wear clothes and shoes in more neutral colours, so that you can try on coloured clothes with them and they won't clash.
White tank: wear a white or cream tank so that you can try other clothes over the top if necessary, such as tops with lower necklines that you would layer over a tank.
Avoid buttons and difficult to fasten clothes: make it easy to take your clothes on and off, so that you aren't tempted to not try on clothes before you buy.
A skirt can be a great option as they're often easier than trousers to get on and off.
Elastic waists or any sort of pull on and off clothing is ideal.
Ballet flats or any sort of slip on and off shoe or sandal are the best kinds of shoes to wear. Make sure you can walk in the shoes – flats are often more comfortable.
A watch is essential – make sure you don't overstay your parking limit. No point in getting a parking ticket – that won't make your day.
Make sure your handbag is easy to carry – a messenger style that can be slung across your body so your hands are free for rifling through racks of clothing. Empty it of clutter and heavy bits and pieces before you leave home!
Carry a bottle of water so you don't dehydrated, and remember to eat before you go, and stop for a snack to revive when necessary.
Avoid wearing
Dresses or jumpsuits – they will make it tricky to try on just a top or bottom (without having to find a top or bottom to go with).
Jeans are not the answer as they take effort to get on and off.
Fabrics that snag easily
What else do you need to know before you go shopping?
Do your hair (a bad hair day spent looking in the mirror) makes for a terrible shopping experience. You want to like what you see on your head!
Wear the makeup you'd normally wear – but avoid the red lipstick (as you don't want it to rub off on the clothes you're trying on
What do you wear shopping?