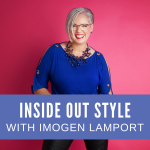 Let's talk about shopping for clothes.
Watch the Video
People are going out again or back to the office after years of staying at home.
Not everyone loves to shop. Some ladies find it stressful and frustrating. We all want to look good, but sometimes it's difficult to find the right clothes. Sometimes too, the current season trend is minimal. And if you want something specific, it's not out there. Everything is just casual and has limited colours.
Without realising it, even though you're an intelligent woman you're most likely making common style and shopping mistakes that are stealing your style and holding you back from feeling like the most confident and attractive version of yourself.
Having style education will give you an added boost to finding and developing your style. It will help you need on the "what suits me" element of style, discovering the colours, contrast, and other physical elements, as well as giving you detailed assistance in understanding how your personality influences your style choices.
There is so much fluff in fashion it's hard to know what's great advice and what should be avoided which is why I've put together my new style masterclass to share with you.
A Personal Invitation…
I'm inviting you to join me at a special online event where I will share with you how to overcome the annoying fashion mistakes that are holding you back and finally look and feel like the most confident version of yourself. To learn more, sign up here now!
In this Masterclass, you'll learn:
1. Why shopping for clothes is so frustrating and exactly what you're doing completely wrong when you're in the stores (or online) and coming home with either "it'll do" clothes 😫 or empty-handed.
2. Which of your current clothes shopping strategies are really harming your style and making you waste a heap of money on all the wrong things!
3. Exactly why you should ignore most of the fashion advice you ever see, hear or read about regarding what you need in your wardrobe and why that advice is making you waste a lot of money.
4. One thing you may be overlooking that is holding your style back in a big way.
5. Why this one common thought is the reason you have problems with your style and how you can change your perspective and think about it in a few easy steps!
I can't wait to share my insights and decades of experience with you to get your style back on track! See you there!
If You'd Like to Define Your Style and Discover Your Colours
If you're sick of wasting money on clothes that don't work and you know there is a better way, then join my 7 Steps to Style program and get the right information for you and your style.
Subscribe to my Podcast
You can now get these videos as podcasts subscribe and never miss an episode
Send me Your Questions
Please email me your questions to be included in my Q&A Lucky Dip!