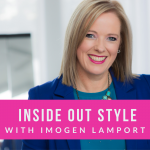 One reason there are so many mistakes are made shopping for clothes, and why so many have a wardrobe full of clothes yet nothing to wear, or just feel dissatisfied with our style is that we haven't defined the starting point to your style. Just like when you plan any journey, you need to know your starting point before you can plan your route. The same can be said for your style, if you don't know where you are now, and what your criteria are that you need to focus on to make the best shopping decisions.
If You'd Like to Define Your Style and Discover Your Colours
If you're sick of wasting money on clothes that don't work and you know there is a better way, then join my 7 Steps to Style program and get the right information for you and your style.
Subscribe to my Podcast
You can now get these videos as podcasts subscribe and never miss an episode
Send me Your Questions
Please email me your questions to be included in my Q&A Lucky Dip!