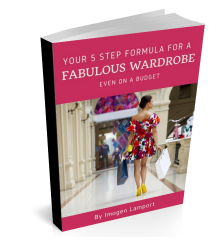 Thank you for signing up to receive your copy of Your 5 Step Formula for a Fabulous Wardrobe and for Inside Out Style Weekly. We promise to never sell or pass on your details to anyone and respect your privacy.
You will recieve your copy of Your 5 Step Formula for a Fabulous Wardrobe via email shortly (don't forget to check you Junk/Spam/Clutter folders if you cannot find it in your inbox).
Please don't hesitate to contact Imogen if you have any queries or problems downloading your free ebook.
Also, if you'd like me to answer any questions in my newsletters please don't hesitate to let me know.
What else can I help you with?
If you want lots of tips and articles on how to enhance your figure, why subscribe to my Inside Out Style and you can access hundreds of articles many with pictures to help you look great.
If you're interested in reading some of my other ebooks – take a look at my ebook store.
Don't live near me but want colour and style advice for you?  Why not try my DIY (with a little help from me) style program 7 Steps to Style
I love helping both men and women look and feel their best, from colour analysis through to wardrobe therapy and personal shopping, I'm here to help you.
Looking for a suite of services?  Check out our package deal prices to help you choose what's best for you.
Do you think you'd like to be an image consultant or personal stylist?  It's a fantastic career.  Find out more by visiting my Academy of Professional Image website and sign up to receive information.  We provide both classroom and online/distance learning opportunities.
Is it time to discover your personal style and figure out what works for your body today?  You'd benefit from a Your Body Your Style consultation which guides you right to the core of what fits and flatters you both on the inside and outside.
Do you have a group of friends who'd love an image workshop?  Talk to me about what you'd like and I can arrange it for you.
Are you after a speaker for a networking group event, fundraising event or something else?  With our fun and informative presentations and workshops we're here to help you.
Does your business need assistance with staff image?  Are the employees representing your brand well?  Do you want to develop your high potential employees aiding them in developing key communication skills which will also improve your bottom line?  Find out more about my Executive Finesse workshops and coaching by contacting me here.