Wouldn't it be wonderful to step out of your house every day, feeling confident and radiant in an outfit that perfectly reflects your unique style?
How often do you find yourself standing in front of your wardrobe, feeling utterly perplexed about what to wear?
Are you tired of resorting to clothes from the laundry basket, hoping they'll do the trick? Or perhaps you've experienced the frustration of trying on and discarding countless outfits, only to be left unsatisfied with your choice for the day.
If any of these scenarios sound familiar, you're not alone. So many women struggle with the belief that style is something innate, a mysterious talent that they just don't possess. But here's the truth: style is something you can learn. And that's where the Outfit Masterclass and Integration Week Challenge 17-21 July 2023 come in.
The Missing Piece – the Right Information
It's time to debunk the myth that style is reserved for the fortunate few who possess a hidden "style gene." The reality is that if you often find yourself at a loss when it comes to putting outfits together, it's simply because you haven't received the proper education in creating stylish ensembles. But fear not! I'm here to share a secret with you: style is a skill that can be cultivated and nurtured through guidance and knowledge.
Unlock Your Fashion Confidence with My Outfit Masterclass
Imagine a world where getting dressed is a breeze and every outfit you put together reflects your unique personality and makes you feel incredible. With my Outfit Masterclass, this dream becomes a reality. Imagine having a personal stylist at your fingertips, ready to guide you through the art and science of putting together stylish ensembles that reflect your individuality, rather than simply copying someone else's style. Through engaging video lessons, a comprehensive workbook, I will reveal the simple principles and techniques that will revolutionize your approach to fashion. No longer will you feel overwhelmed or uncertain about your outfit choices. Instead, you'll gain the confidence to effortlessly create stylish ensembles that turn heads and leave you feeling like the best version of yourself.
Integration Week Style Challenge
But that's not all! In addition to the Outfit Masterclass, you'll have the opportunity to participate in the Integration Week Challenge from 17th to 21st July 2023. This is where the magic truly happens. For five days straight, I'll be right there with you, providing daily teachings, tips, and answering your burning style questions LIVE on Zoom for 30 minutes each day. Imagine having direct access to a seasoned fashion expert, ready to assist you in real-time and help you improve your outfits immediately.
I'm dedicated to providing you with unparalleled support and guidance throughout your style journey. Additionally, you'll join a vibrant and supportive community of like-minded individuals in the Outfit Masterclass Facebook Group. Here, you can share your outfits, receive feedback, and draw inspiration from others. It's like having your own personal stylist and cheer squad in your pocket, ready to assist you whenever you need it.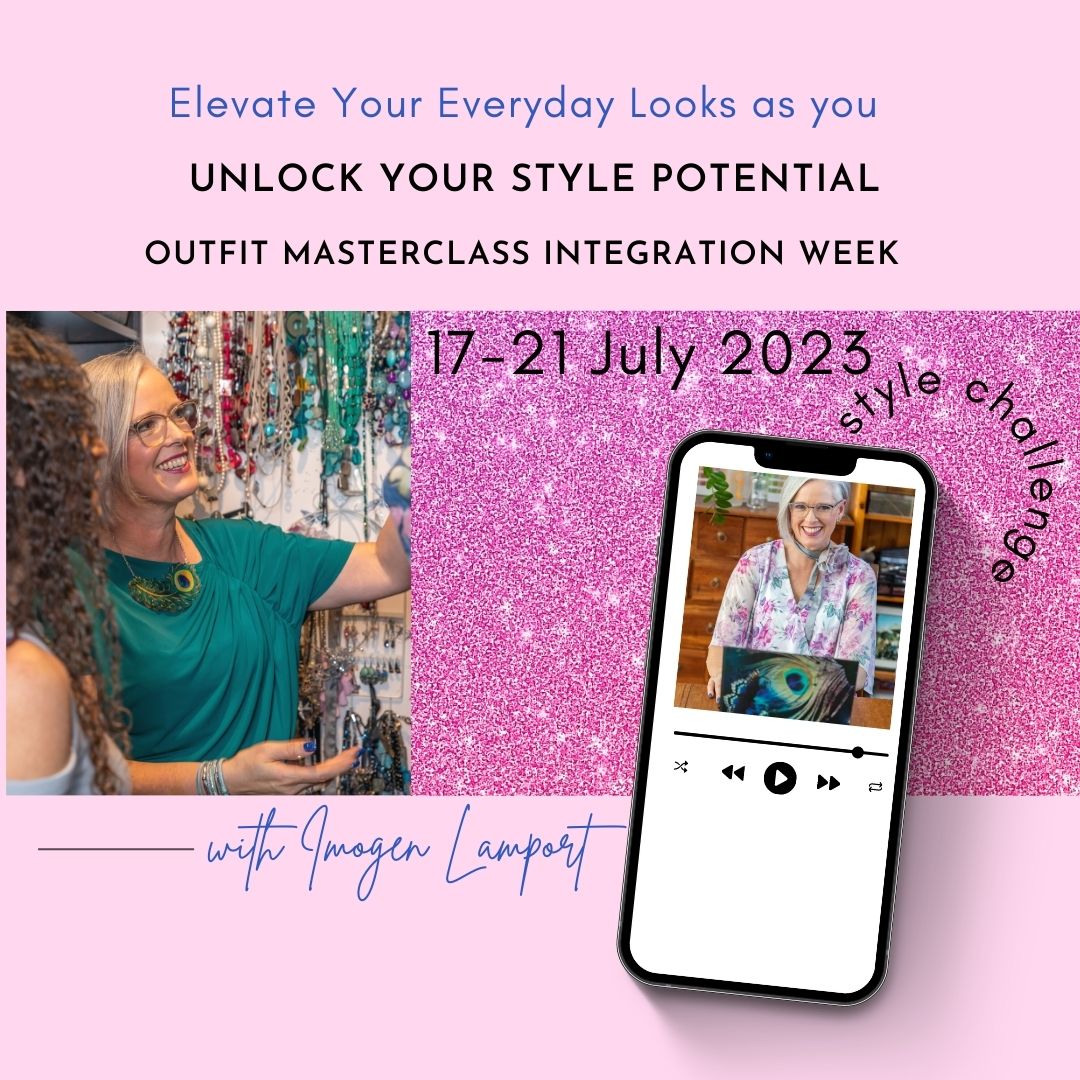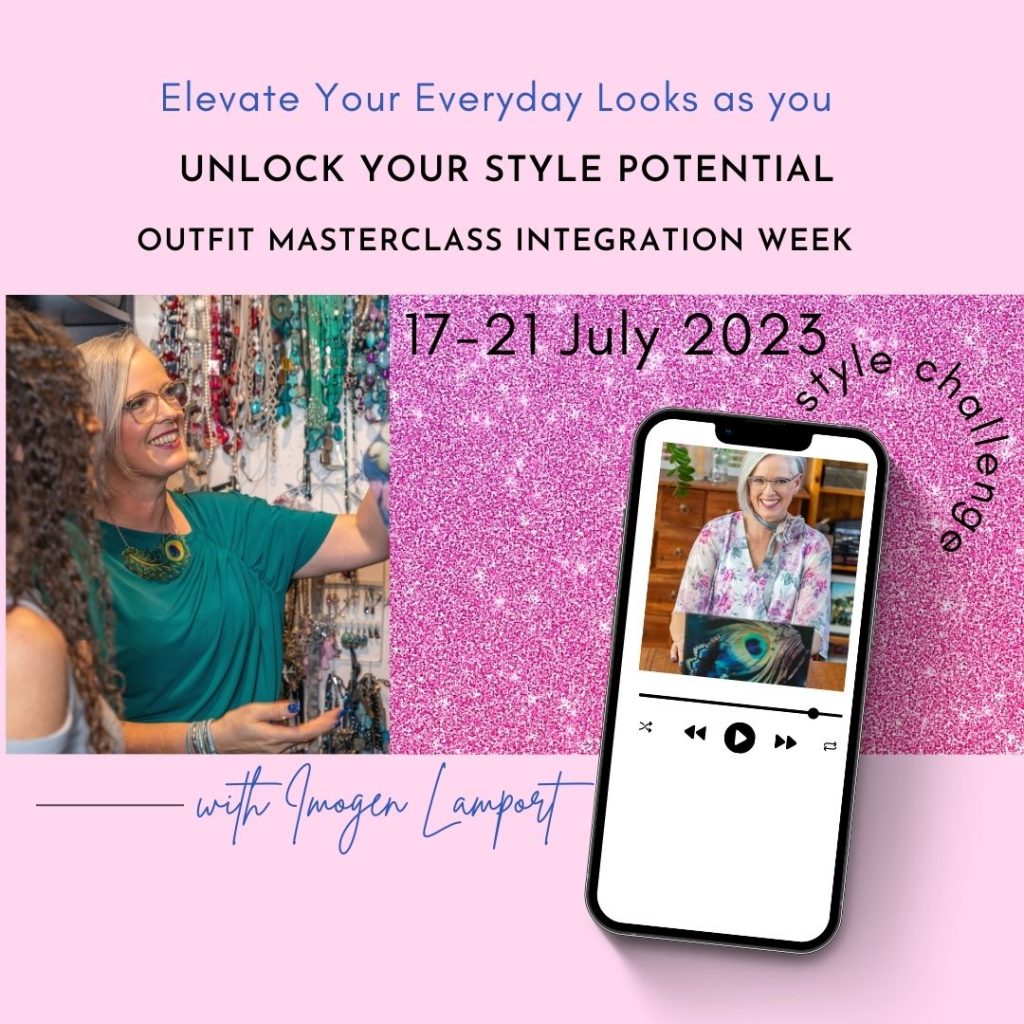 Lifetime Access to Empowerment
Investing in the Outfit Masterclass and accompanying free Integration Week Challenge for only $47 means gaining lifetime access to all the valuable content. This means you can revisit the video recordings at any time, ensuring that your fashion education remains evergreen. With ongoing access to the materials, you'll continue to refine your style and stay ahead of the fashion curve.
Take the Challenge and Join in the Fun
No more wardrobe dilemmas. No more feeling like your style potential is out of reach. If you're tired of feeling like your outfits are holding you back from fully expressing your true self and you yearn for the confidence that knowing you look your absolute best every day then the Outfit Masterclass and Integration Week Challenge are your keys to unlocking your fashion confidence and transforming your wardrobe woes into moments of joy and self-expression. Embrace the fact that style is a skill you can learn, and take the first step toward elevating your everyday outfits.
Sign up now for the Outfit Masterclass and Integration Week Challenge for only $47, and discover the power of education, guidance, and community support in unveiling your true style potential. Get ready to conquer the world with your unique and impeccable fashion sense!
Already got a copy of my Outfit Masterclass and want to join in the Integration Week Challenge? Check your emails for one from me where you can sign up free to be kept informed of the challenge week Zoom links!