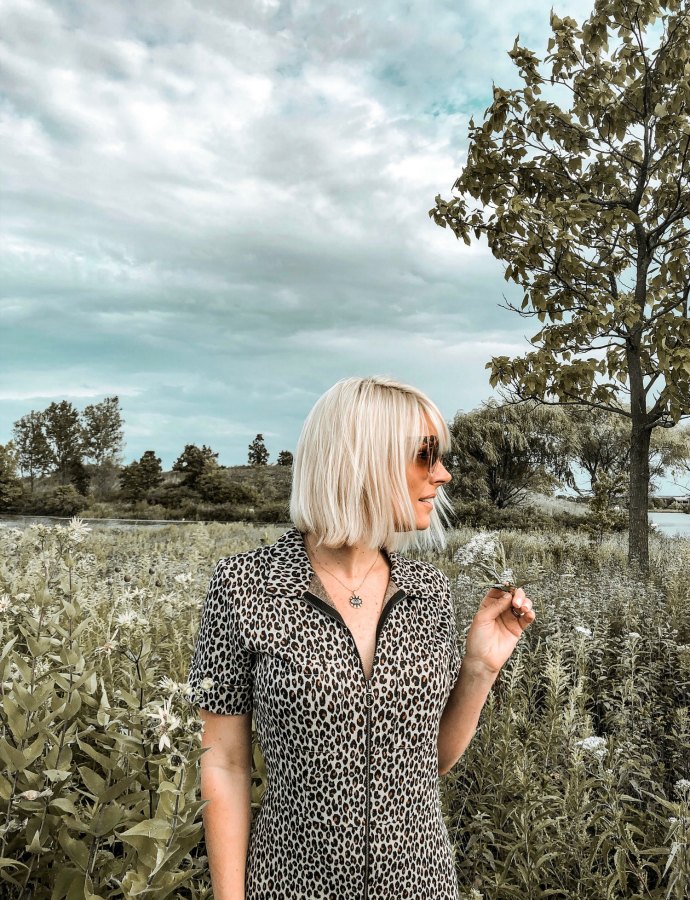 I'm delighted to share the Stylish Thoughts of Johanna Grange who lives in one of my favourite US cities, Chicago Illinois and writes her eponymous blog Johanna Grange.
What is the secret to great style?
Invest in the basics and neutral colors. You can go anywhere and you can mix and match. Classic silhouettes mixed with a side of rock n' roll paired with modern accessories – that is my style philosophy.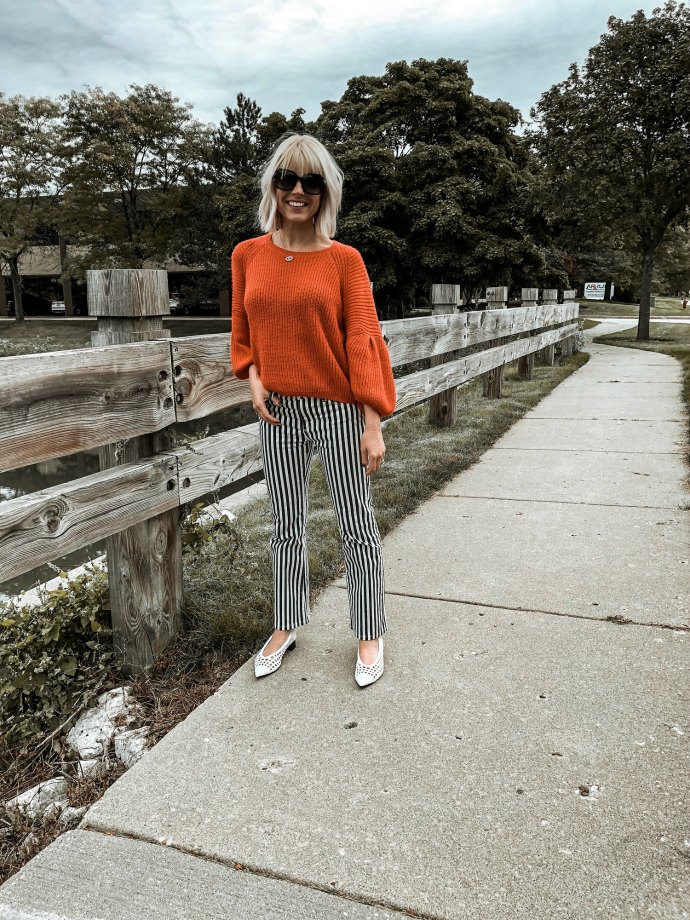 What is the one thing you would spend a lot of money on?
Shoes and handbags….and travel. Travel = #1.
What is the one thing you wouldn't spend a lot of money on?
My car.
What are your top tips for looking stylish when travelling?
All black and white! I develop new outfits on the fly to suit my mood…or food baby. Whichever comes first!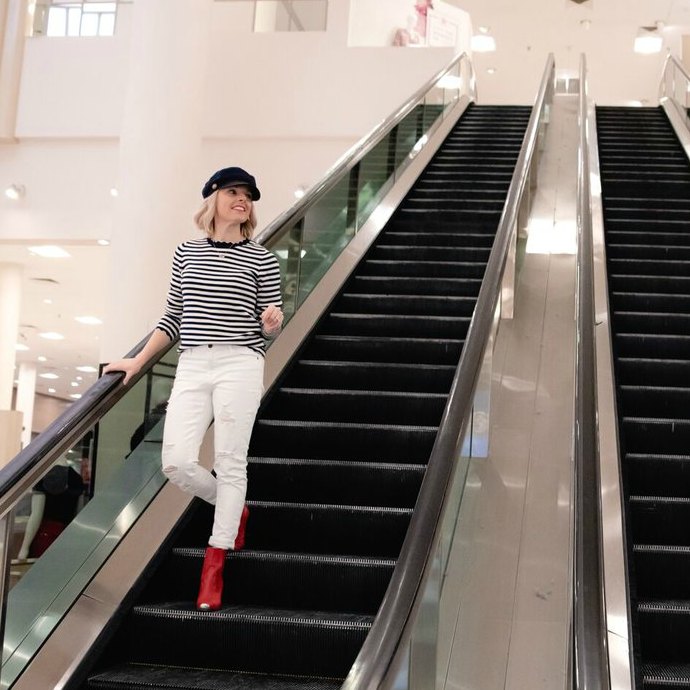 What's the secret to looking polished?
Do you makeup and always walk in the room with a strong lip. A good hat for 2nd day hair helps, too!
How do you balance new trends with a more timeless look?
Trends come to me in the form of my accessories. And when I tire of them, I sell them. You will find more button-down white shirts in my closet and more pairs of denim than anything else. I know I can style those a zillion different ways so I stick with it. Structured blazers are another item that I hoard. I am not looking to recapture my youth, I am refining my style to fit my age and my lifestyle. The younger babes can rock that better than I so stay in my own lane!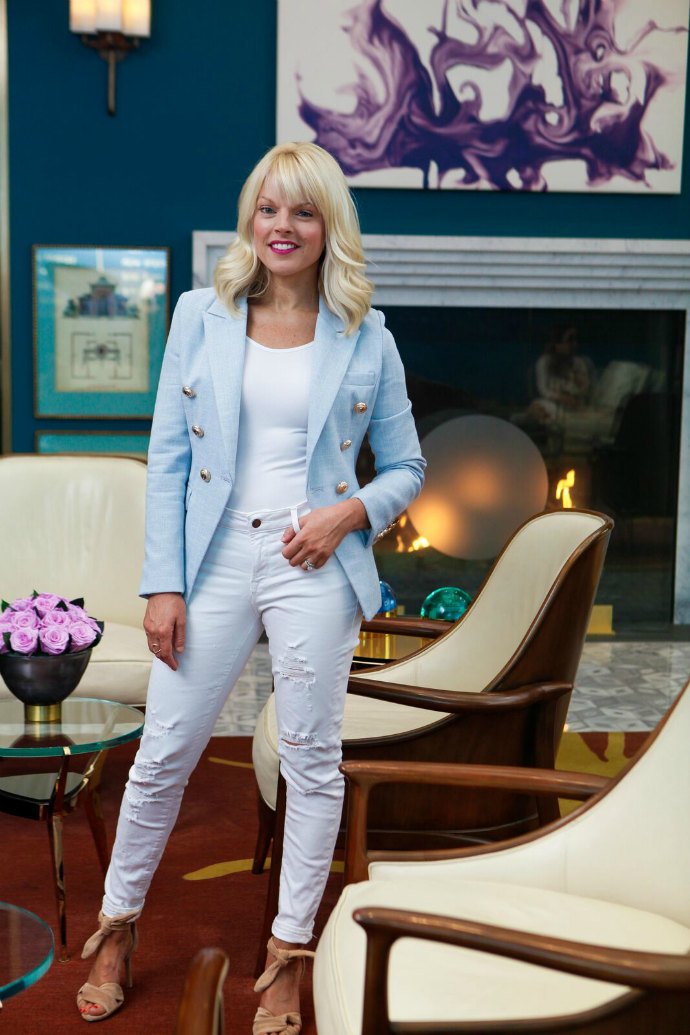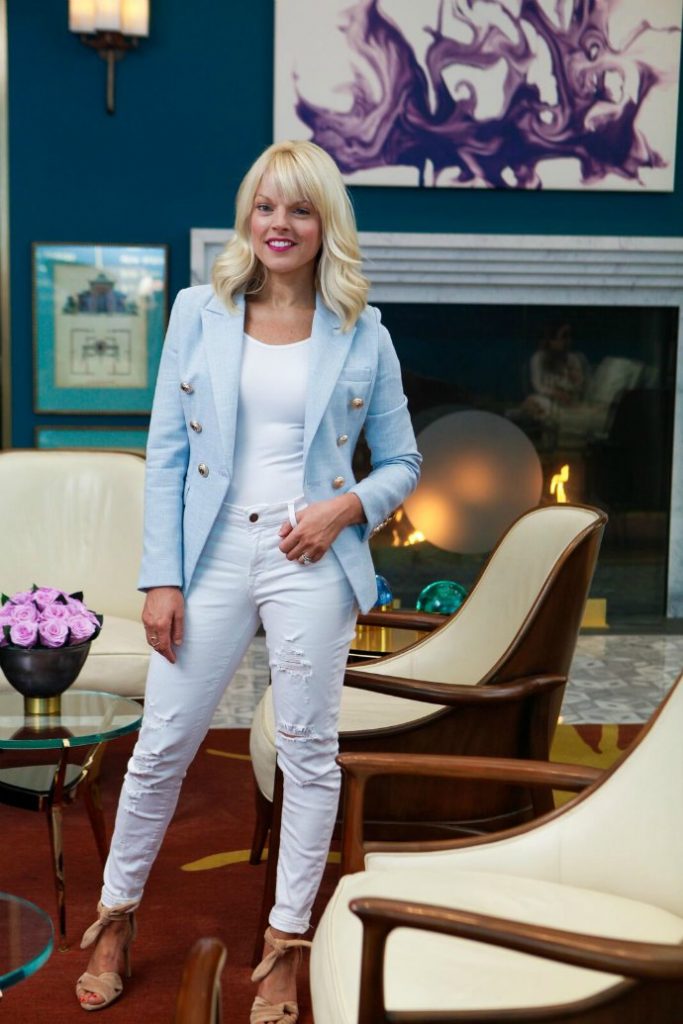 What is your current obsession?
Everything Bottega and Fendi. This season is so so good. And combat boots.
Who inspires you?
Anine Bing, Blake Lively, Gwyneth, JLo
Do you have a signature piece or style?
Yes, a blazer, a rocker tee, strong denim with just enough distress, cowboy boots or mules. It's my uniform.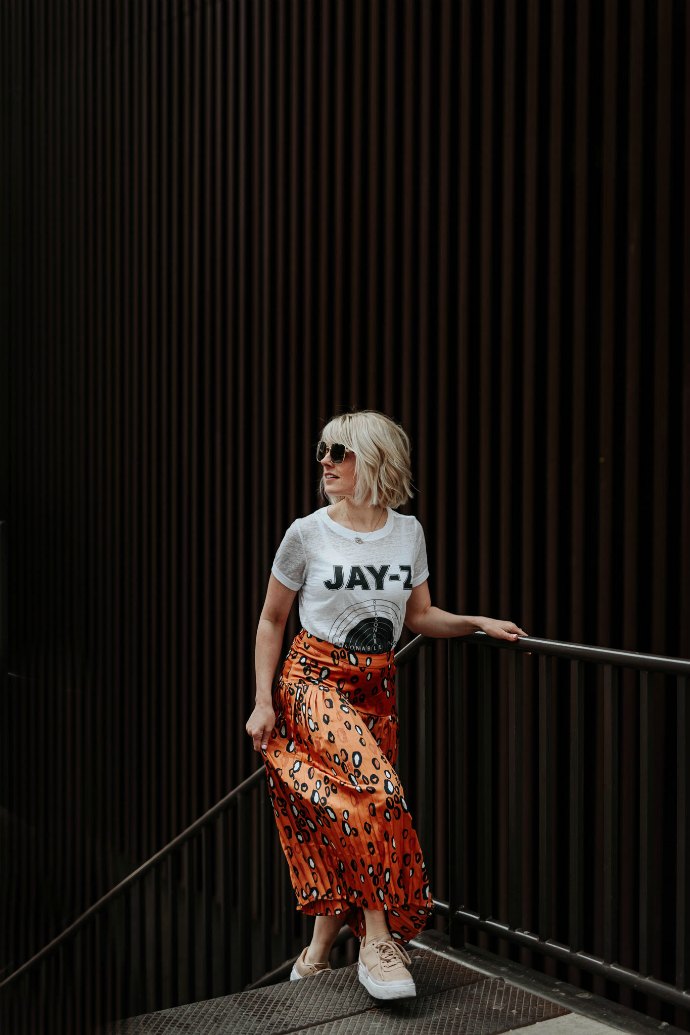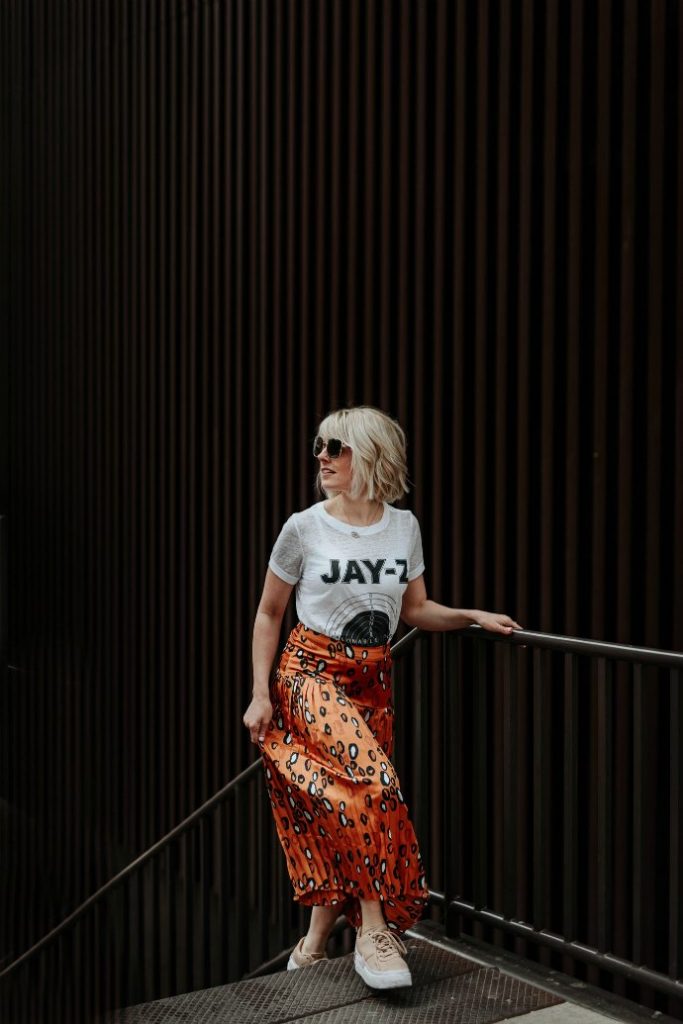 What's your secret to making yourself stand out?
Perfectly imperfect bedhead and a strong lip. I always wear a collection of evil eye jewellery pieces, too. It's my thing.
The one piece of advice most women need but don't get?
Take one thing off before you leave the house. Too much is too much.
What's the best piece of style wisdom you've ever received?
Less is more. I don't need to show cleavage and bare all to be sexy. A little sneak peek leaves some mystery and we all love mystery!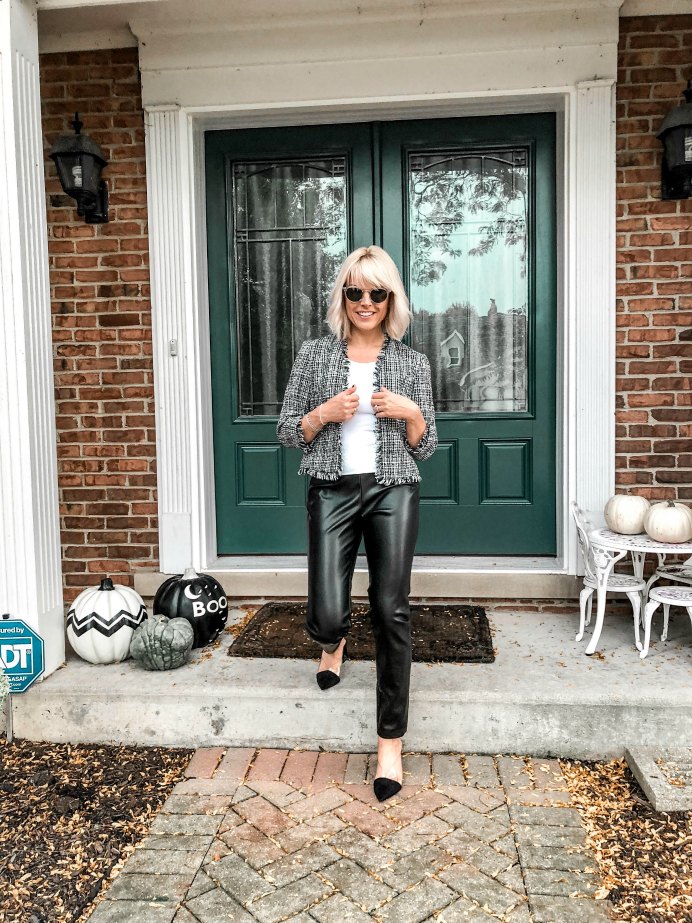 What is your favourite current trend?
The belt is bag and it's bigger than ever, ruched or strong shoulders and I will always love animal print. It literally has come back 86 times since I've been alive.
What's your favourite short cut to style?
Just add denim! Denim that hugs your body in all the right ways. Forget the trends.
What's the worst current trend?
Sweatpants in public. Period.
What are your favourite websites
Who What Wear, The Zoe Report, Harper's Bazaar
How would you describe your personal style?
Urban meets classic meets rock n' roll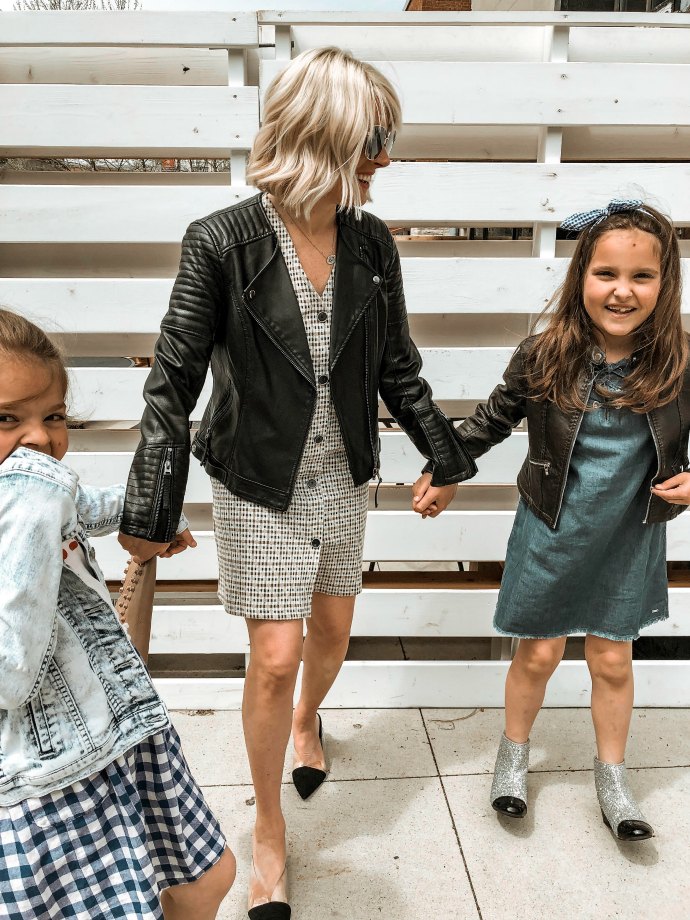 Who are your style icons?
Linda Evangelista, Anine Bing, Rachel Zoe, Caroline Vreeland, Kate Moss, JLo, Tom Ford
You can also follow Johanna on Instagram here.