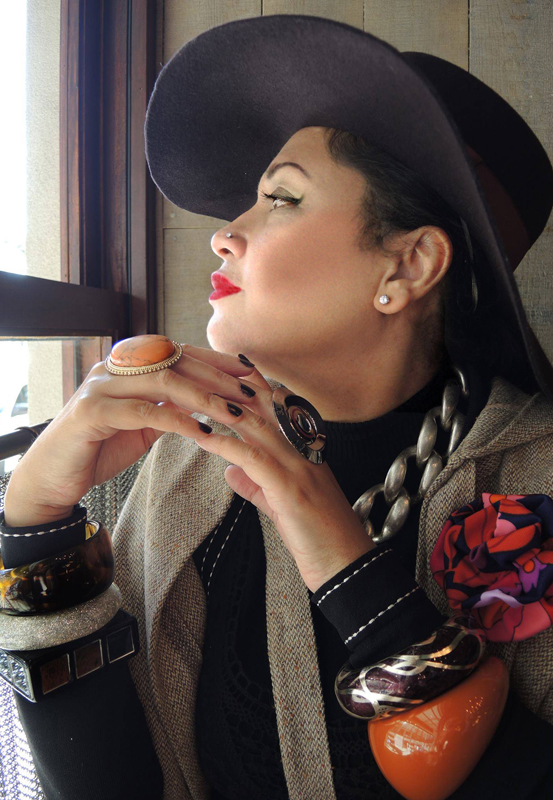 I discovered the fabulous style of Mrs Maya Plays on Instagram a few years back and have been following her ever since, enjoying her unique take on style and so was delighted when she agreed to share her Stylish Thoughts with Inside Out Style readers. Maya lives in Perth, Western Australia. And for those of you who are always asking how to make your outfits stylish when you have to wear comfortable shoes – please do take note of Maya's shoes!
What is the secret to great style?
I think, when a person aspires to look stylish and does not view the process of getting dressed as a chore … they are on their way to achieving great style.
Women might have beautiful clothes, accessories and makeup but many only dress up if there is an occasion. This might find them feeling self-conscious and a little awkward because they are out of their comfort zone. The art of dressing, adornment and carrying the look with confidence and panache is really just practice. I believe the secret lies is in normalising the whole process.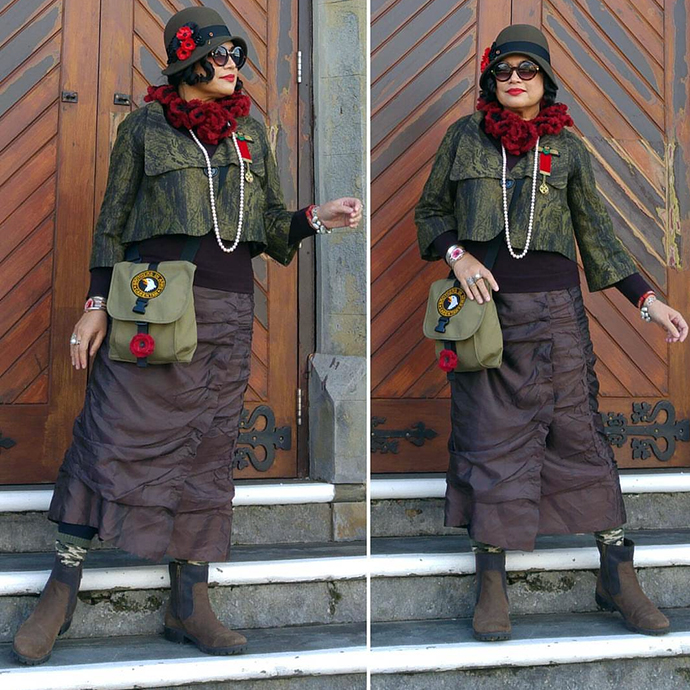 Great personal style is an extension of you.; People who want to look stylish and to re-evaluate their look often ask me, where should they start? I never say begin with a good haircut. If one's attitude to getting dressed remains unchanged, that gorgeous new haircut is not going to cut it. Pun intended! There is so much information available now on how to dress to suit our different shapes and sizes. But in the end, it is really up to each individual to find what works best for them.
Step 1: Study your whole body and your wardrobe. Take your time, have fun. Be kind and honest with yourself. Look at your shape and try out various lengths, silhouettes and styles.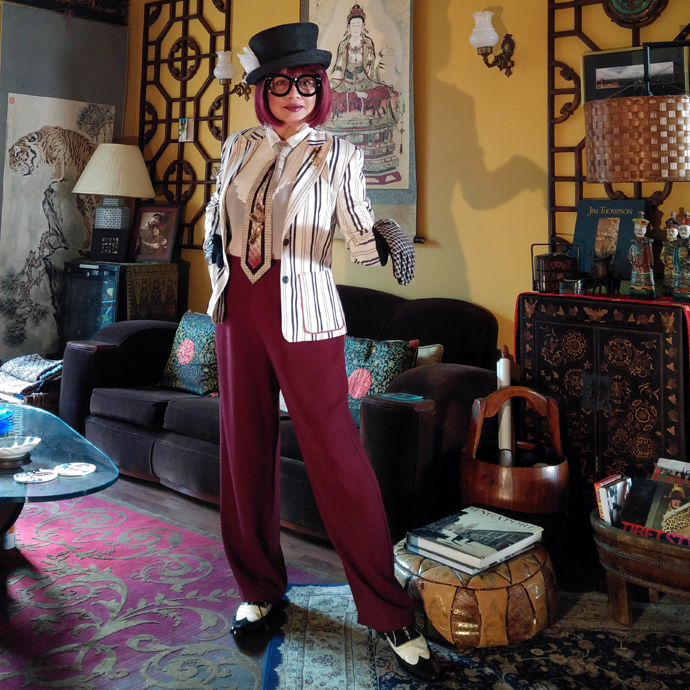 Step 2: Have the flexibility and courage to change and experiment. Break the so-called fashion rules, I am nearly 56 and reject silly rules that direct 'older' women on how they should dress. Aim to highlight your best features and play the game of camouflage and illusion as you dress yourself. Include accessories; they are very helpful at creating focal points. Seek what attracts and invigorates your imagination. I repeat, have fun. Dressing up a wonderful adventure of self-discovery.
Step 3: Go out, show the world your experiments, and don't feel self-conscious. Do not skip this vital part. Let your style blossom and feel a sense of fulfilment without questioning how others might react. When we experience change and growth, it gives us our place in the world. Enjoy every opportunity.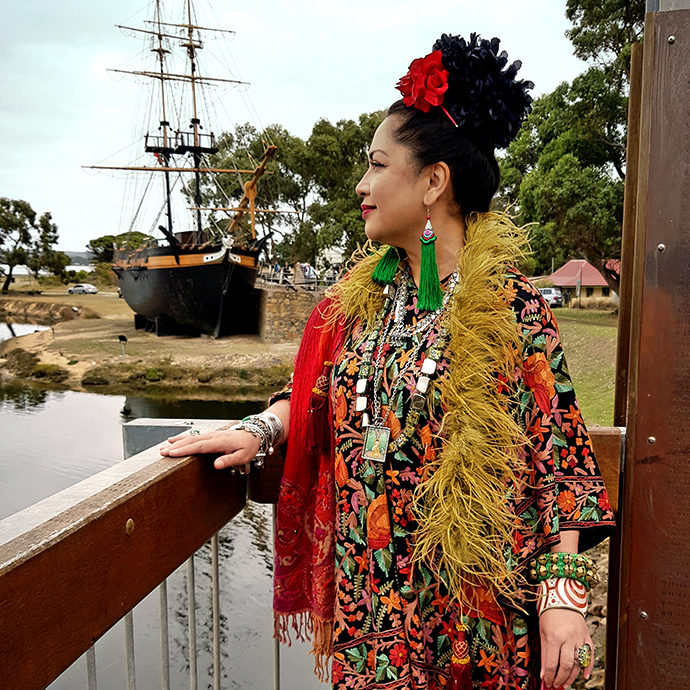 There are clothes in my closet that I have enjoyed for over twenty years and yet I almost never wear anything in the exact same way again – there is something positively energising about the challenge of adapting old favourites.
Finding, blending and creating contemporary outfits that I can somehow turn into a tribute to the various periods in history has always been my methodology. Foraging through the pages of history, and gazing for long periods at paintings or at the traditional clothing of other cultures for style inspiration, is my normal.

What are your top tips for looking stylish when travelling?
Oh, how I love travelling. My first tip to anyone who wishes to look stylish on their travels, please avoid dressing in baggy T-shirts or strangely coloured windcheaters over rumpled khaki three-quarter pants. Khaki is an excellent option when travelling and there are stylish ways to wear it. Think Meryl Streep in Out of Africa, for example.
We can all be stylishly attired and still be comfortable. I am pretty sure there are a lot of beautiful clothes that move with ease that are already in all our closets. Also, a good pair of walking shoes, does not necessarily just mean sports shoes. There are some very comfortable walking shoes available at pharmacies. A good pair of Mary-Janes may be worn with socks while exploring a cave; then after a good clean with a wet-wipe, they can be worn sockless or with a pair of trendy fish-next socks to dinner somewhere fancy. That's my trick. I do a lot of sightseeing and exploring while on holidays and find that Mary-Janes work a treat for me.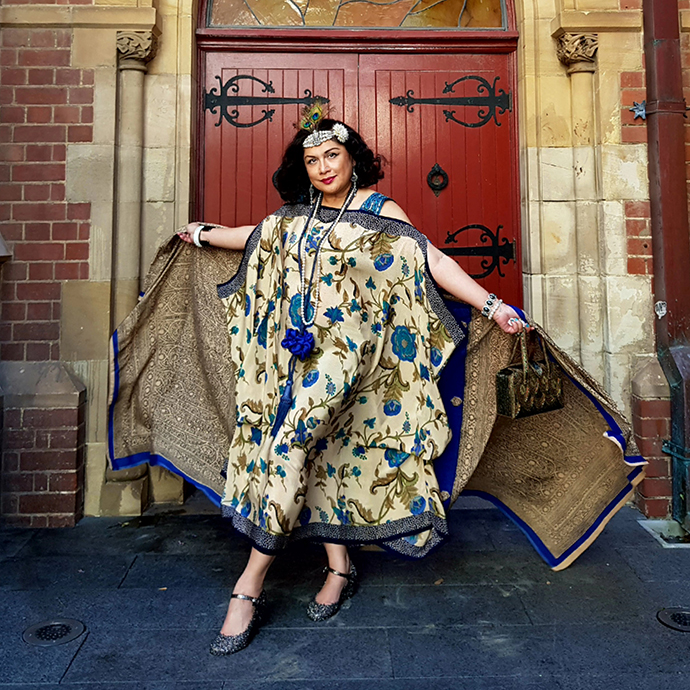 Plan your wardrobe well ahead. If you a packing for somewhere warm, pick a few wispy pretty tops, colourful georgette kimonos, good looking pants, shorts or skirts. For somewhere cold, pack good thermals as they are lightweight and you will not end up looking bulked up. Pack colourful tights and a couple of scarves and gloves. I like to match the colours of my tights and gloves. There will probably be a whole range of winter jackets which you already have, go ahead and pick from your stylish items. My travel dressing is really not very different to what I would wear here. Layer comfortably wherever you travel as weather can change.
Put your outfits on hangers next to each other and look at them over a few days. Remove and add as ideas come to mind. I am a very visual person, and this method allows me to visualise several looks, to easily mix and match every item by linking patterns and colours. Then with my staples like a couple of t-shirts and leggings for instance, I tend to favour black. That said, I always bring one pair of pants or a skirt in khaki as it stands dust and grime splendidly.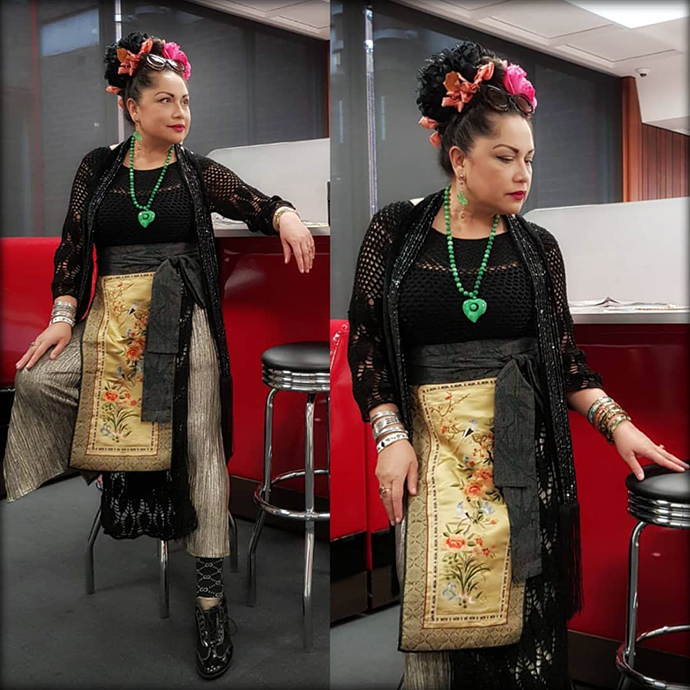 Once you become adept at this method of selecting pieces by staring at the hangers, no matter how you mix and combine the pieces or how you layer for warmth etc. items will always match-up, and you will look stylish on your travels. Don't forget to include a couple of easy fold but pretty hats and accessories. Plus you will probably be shopping … so enjoy wearing the new with the items you bring!
How do you balance new trends with a more timeless look?
Oh such enjoyment to be had walking through shops and going through Pinterest to look at new collections! However, I seldom buy anything new. I have a very sustainable wardrobe which I continually re-imagine. Plus I am always finding something in an op-shop that I can upcycle to look like the new trends. But it will be an original.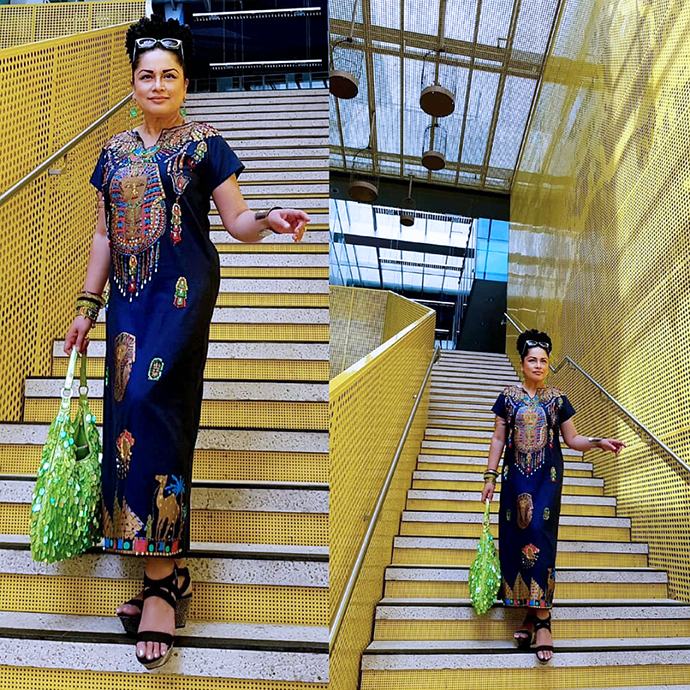 I am hooked on the embroidery and sequinned embellishments of the past 18 months, and have bought several patches and trimmings online, and on my recent holiday to India and Vietnam. These have embellished some of my existing jackets and tops. I have also made a few kimonos from my saree fabrics and adorned them with flowers and sequins. All these are worn with the other timeless outfits that live in my closet. As I have already mentioned, some of my clothes have been with me for over twenty years.
There is a silk velvet dress with long sleeves that has seen twenty-four winters. Every year, I wear a different layer or layers over it, and/or and under it. This winter, one of the ways I plan to wear it is with a black tulle petticoat under the skirt, and a velvet kimono that was my mother's. I recently embellished it with a magnificent sequinned phoenix and fringing. This same velvet kimono has been re- embellished three times over the years. It is a sentimental favourite.

What's your secret to making yourself stand out?
People smile at me all the time, it is so lovely. I receive compliments as well as stares of surprise and it makes me giggle. Strangers stop to converse; staff in shops know me by name. Standing out has somehow even provided me with discounts at shopping centres and upgrades at airports. I have never asked for any these, they just happen. My secret besides the love of dressing up is my quest to live in the moment. I smile when people catch my eye and women often stop to have a chat. I enjoy it for it has brought me a deeper awareness of others and myself.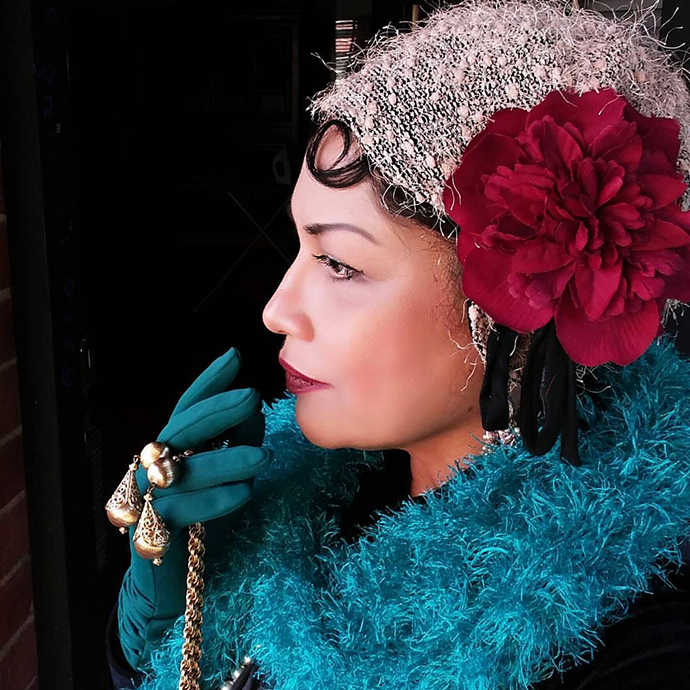 There is a lot of discussion these days about the invisibility of older women. I think that it's not just true of older women. I know for a fact that I would have turned invisible at 25 if I had stopped caring about how I looked. If I had abandoned my hats and taken on a more 'can't be bothered' outlook with my appearance, I would have disappeared. I conducted my first experiment on this in my mid-20s, and then again off and on over the years. I was invisible each time I went out that way, and it can be a bit of a jolting Pretty Woman moment. This has nothing to do with vanity, even though I often joke about being vain. Looking good is about self-care, building self-confidence and taking pride in oneself.
A piece of advice most women need but don't get?
I recently read about a woman whose husband had left her for a younger woman, and how she immediately upped her game. She started exercising and eating in a healthier manner, bought new clothes and had a brand new outlook. Her photos were absolutely amazing. She did herself a favour, she remembered who she could be, and she moved on.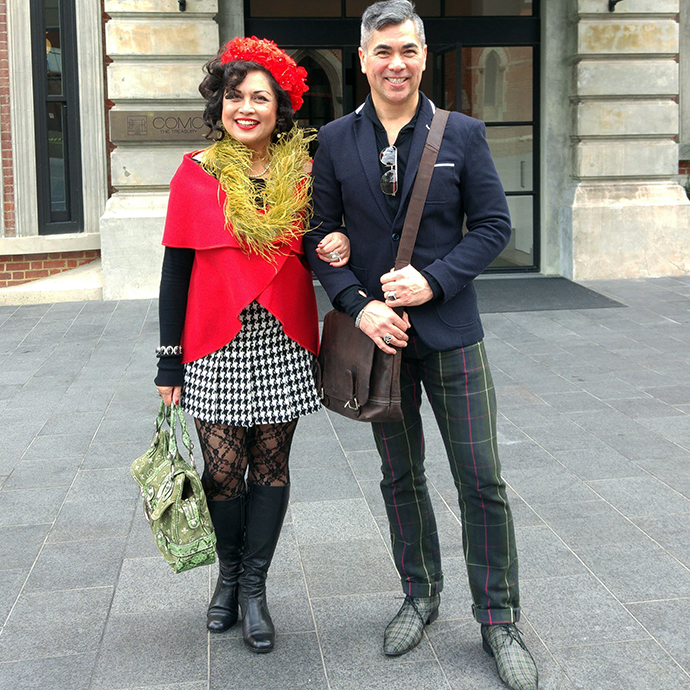 My advice is, if you haven't already … do not wait to up your game. Let's flex our memories. Remember what you used to do that kept you fit and healthy? Do you continue to care for your health and fitness? Awesome if you do. Next, summon up those feelings of excitement as you got ready to go on dates. Think about how you felt when your date, probably your spouse today could not keep his or her eyes off you. And remember too, how your date looked, the effort that was made to impress you. There was pleasure in dressing up and feeling desirable.
Do not lose yourself; do not let the years of being together, having children, mopping up sick and all the other realities of life that we face get in the way of losing touch with who you are. Make time for you. Make time to exercise or practice yoga or tai chi or whatever you can manage at this time in your life without causing you injury. There is no need to obsess about your body proportions or your weight; it's about health and fitness. And make time to look stylish.
You do not need an occasion to wear beautiful things. Every day that we wake up is special, worth celebrating and living well. Go ahead and wear something that you might wear at night to a cocktail party, during the day. Wear it with sneakers, and a jolly backpack. I do that a lot, and I almost always travel on public transport – no hiding the fact that I am this confident woman. Remember what I said about letting your style blossom and feeling a sense of fulfilment and not questioning yourself about how others might react? I promise you, your spirits will be lifted as people smile at you and stop to compliment you on the train or street. Enjoy the whole process. We are beautiful inside, let's not forget the outside. Those people out there are not going to see your inner beauty if you don't smile warmly at them when you catch them giving you a second look! That second look came about because you brought a sparkle into that moment.
And encourage your partner to join in. Rekindle that flame, each do it for yourselves. And do it for each other.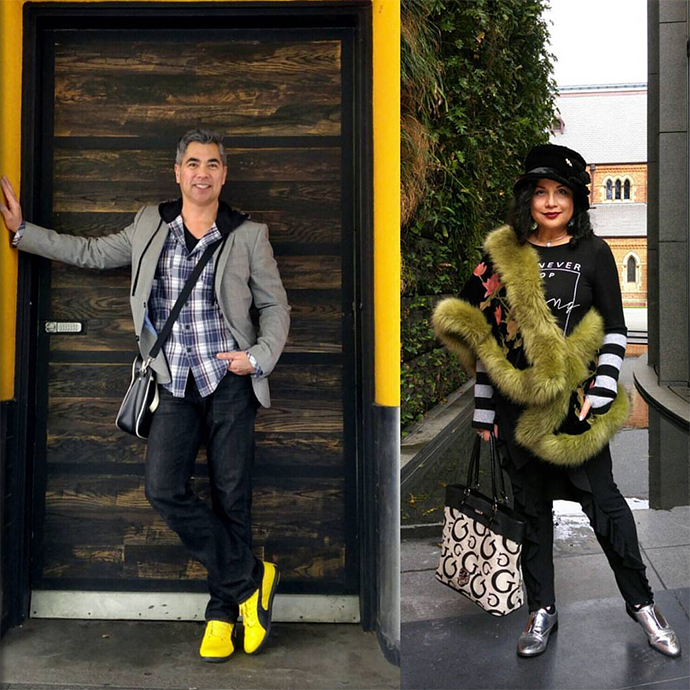 My husband and I get dressed up every single Saturday, and we catch the train somewhere to ramble. We also often bring a little lunchbox, buy coffees and sit in the park to eat our sandwiches while people-watching. There is something very romantic about sitting in the park, all dressed up with your partner … eating sandwiches. I utterly love it.
What's the best piece of style wisdom you've ever received?
"You don't have to spend big to look fabulous." And I never do. Around 90% of my wardrobe is recycled or upcycled or made by me. The only exceptions would be clothes bought overseas, like my saree collection.
When we first moved to Australia 31 years ago, we had very little. I was desperate for new clothes. One day I passed a Good Sammy's (charity thrift) store in the city. My pulse quickened when I realised that a wonderful world of great style and lost treasures could be found in there if I just let my imagination take flight. I have never looked back. I enjoy the thrill of a bargain so greatly and have found the most incredible branded items in op-shops, many often hardly worn and even new with tags.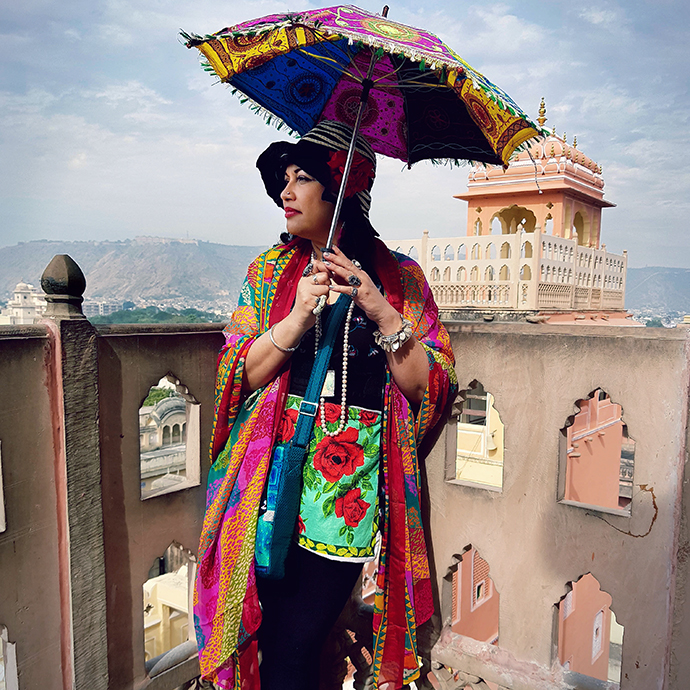 How would you describe your personal style?
Probably eclectic and rather eccentric, I like saying, "Excess within control." (A quote from the movie "Somewhere in Time".)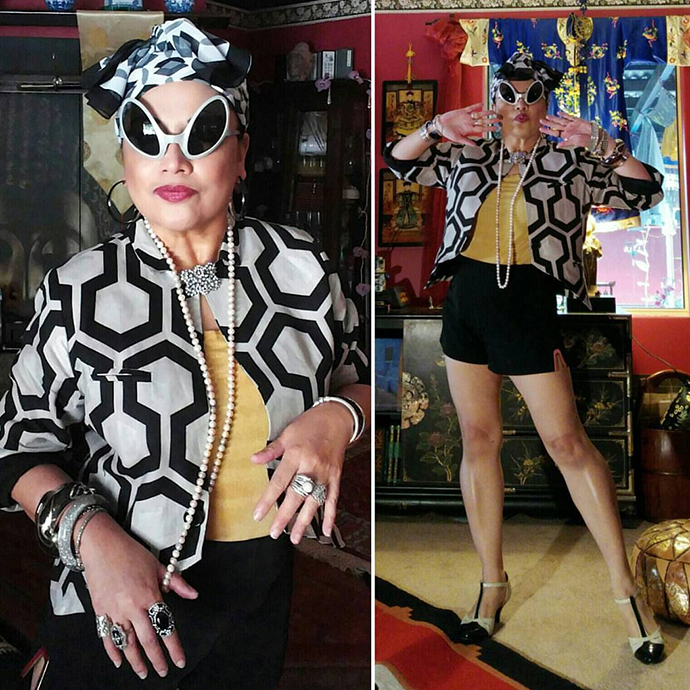 I am a known millinophiliac. Hats and headpieces are my absolute weakness. Hats call to me and my current collection stands at around 115, mostly rescued and re-loved. I clean and embellish them and it gives me such a thrill to create a showpiece. Friends and family often give me hats and other headpieces that they find. Some in a sorry state and I have never refused a challenge.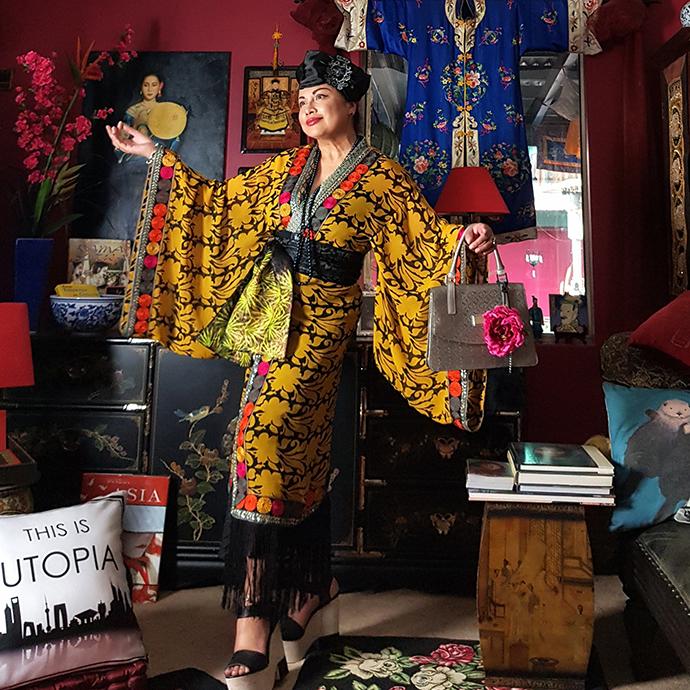 My style is about mixing everything together and pushing the envelope. Even if I am not sure if the pieces go together, I will give it a go. Sometimes all that might be needed to encourage a friendship between the items is the addition of a scarf, a pair of gloves or necklace that picks up a colour or form/shape/pattern that might be on both items. I love balancing shapes to create interesting silhouettes.