Sponsored by Godfreys
Welcome to my studio, come inside and I'll show you around as I road test the Vorwerk Kobold VK200 Upright Vacuum
Since you're coming over, I thought I'd better just give the place a quick tidy up!
Welcome to Inside Out Style Headquarters
Today I thought I'd share with you a little more behind the scenes at Inside Out Style Headquarters and give you a glimpse into my recently renovated home.  I've got some pictures to share with you here!
Many assume that the life of a personal stylist and style blogger is all glamour and glitz.  Let me tell you it's definitely not, and just like for you, there is always cleaning up to be done.
Road Testing the Vorwerk Kobold VK200 Upright Vacuum
Fortunately, I've got a trusty friend who makes the cleaning up easy.  From my studio, to the stairs to the wooden floors of the living areas in my house, my Vorwerk Kobold  VK200 Upright Vacuum makes short work of all the tiny colour confetti dots that litter my studio (from punching the holes in the cards to make my colour swatches) and the pet hair from Cleo (my faithful whippet-shaped shadow) as she lives up here with me which makes it ideal if I have any clients who are asthma or allergy sufferers as her hair is gone in a jiffy and 99% of allergen-inducing particles are captured.
This vacuum has the strongest sucking power of any I've ever tried (like seriously it's as strong as ox that has decided to enter the Olympics as a power lifter).  Yes, it's that powerful, it lifts not only the dirt as you glide around it also lifts your carpet pile making it look new again, and still gentle as it has automatic floor detection, so when you move from carpet to a hard floor surface, the amount of suction automatically changes to suit the surface.
It's also versatile, we have two sets of stairs in our house, one leads up to my studio, the other to the kid's bedrooms.  When we renovated last year, we decided to have them carpeted as it both keeps the noise of people running up and down the stairs whisper quiet, plus poor Cleo had slipped and fallen down the old wooden stairs a few times and she's much more comfortable on the carpet.  The problem is, your regular upright vacuum cleaner isn't the best option for cleaning these, which is why I love that you can turn the Kobold VK200 into a vacuum-shaped handbag with its shoulder strap and extendable telescopic tube with the Flexo Nozzle head that is designed to getting right into the corners of your stairs without having to kneel down and bend over to vacuum them.
Our living areas, the open plan lounge, dining and kitchen, plus the entrance hallway are all beautiful Grey Ironbark (it's an Australian Eucalypt variety) and even though the wood is hard, the finish does scratch, which is why I love the variable speeds and the versatile hard floor head that pivots as it encounters obstacles such as chair and table legs.
And then, of course, there is all the lunch I make in my kitchen,
but  ends up in my computer keyboard (yes I often eat lunch at my desk, never stopping to rest as the blog is a monster who also demands constant feeding), so the additional soft nozzle with its adjustable furry brush end which is also great for cleaning the books on the bookshelf) is the ideal attachment to keep my keyboard working.
There are so many attachments for this vacuum:
ones to clean upholstery
ones to vacuum up the spiders (yes that's how I like to get rid of the big hairy huntsman spiders that sometimes come into the house)
one that you can use on curtains, wall fabrics, fabric upholstery joints and corners and between the cushions on your couch
extenders to make the heads go further
and nozzles to vacuum the skirting boards and spider webs
even a nozzle to suck up drilling dust as you drill a hole
The Vorwerk Kobold VK200 is a total cleaning solution and is approved by the National Asthma Council.  It's from the makers of Thermomix, so it's an all-in-one solution for your vacuuming needs.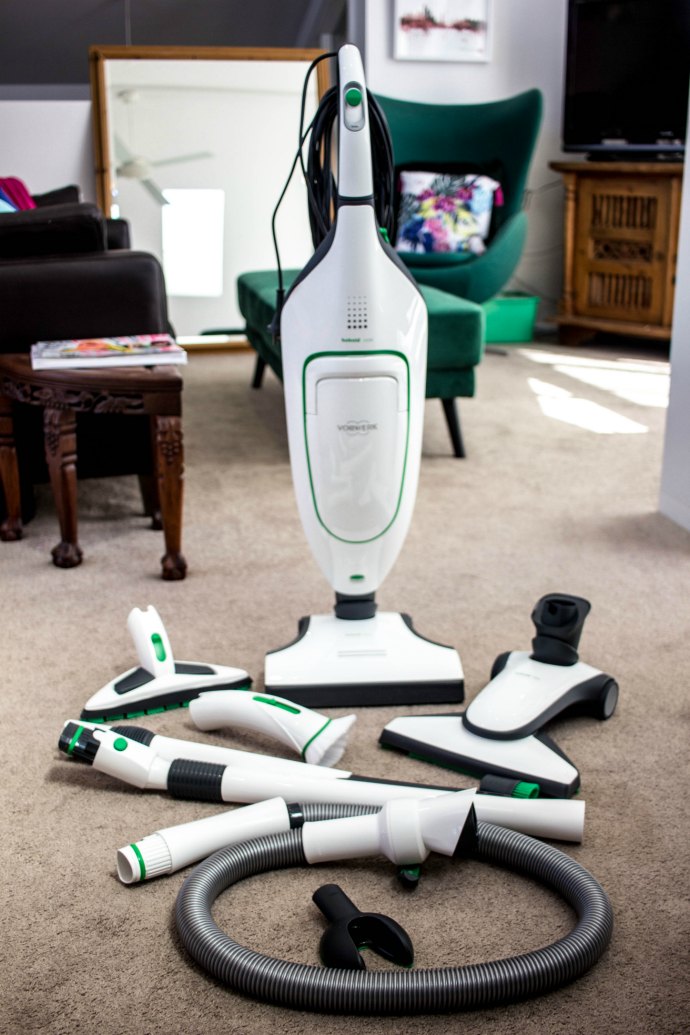 If you'd like to try it out, you can book an obligation free in-store demo, you can do so at Godfreys stores and online so you can experience it for yourself.  It's really solidly built and will last and last (unlike many of the cheaper machines which you have to replace every few years) which is why it retails at $1999 and is honestly the most powerful vacuum I've ever used, hands down.
Thanks for stopping by!
Vorwerk Kobold VK200 Upright Vacuum RRP $1999. Available at all Godfreys stores and online.  Find your local Godfreys store or for more information on the vacuum check it out here.