The style that those with a highly relaxed, natural and more casual personality style find hardest to wear is evening wear. All that fuss, uncomfortable clothing (and possibly underwear required), high heels, highly groomed.
Do you really have to dress up? Does it really matter?
Are these a couple of questions you ask yourself?
If this is you, it can be hard to dress up enough to fit in (and you're likely to end up underdressed as it just doesn't feel like you).
So what to wear to be appropriate, fulfill the host's desired dress code and still feel like you?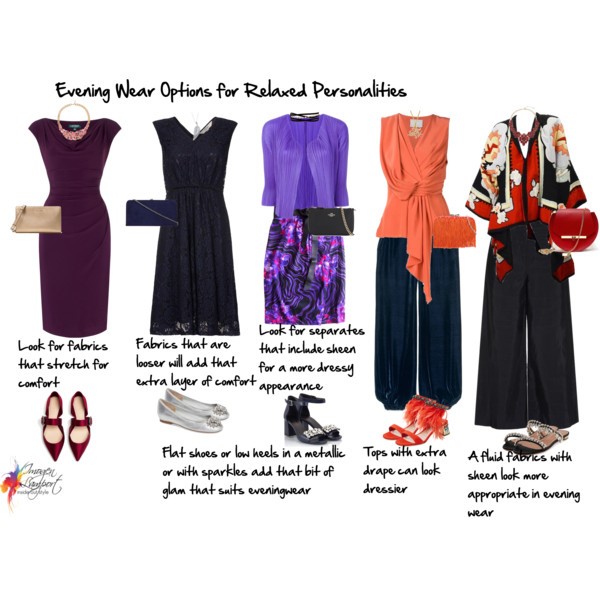 7 Dressing Tips for the Dominantly Relaxed Personality For Evening Wear
Look for stretch fabrics in styles that express evening wear
Looser styles may be more comfortable, but ensure that the fabrics are still dressy, think lace or something with sheen such as silk.
Styles that have extra drape (they are less 'purely practical') in design can feel more dressy than something that is plain. Detail adds interest to garments and makes them more formal.
Shoes that have sheen, either a metallic finish or a satin finish always look dressier.
Shoes with embellishment and crystal decoration add an evening look to your outfit.
Make sure you include a bag that is smaller (clutch size) that has a strap so you can have your hands free.
Add sparkle with jewellery that will finish off your outfit.