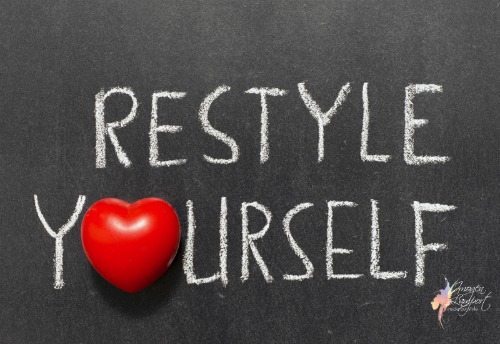 The other day I was having a conversation with my very talented dressmaker/designer/illustrator friend Alfia (who made my wedding dress) and we were talking about how hard it is for women 'of a certain age' to find interesting, flattering and non-frumpy clothing if you're not someone who shops regularly or widely (and many women over 40 are stumped by where to shop as they are worried about looking too young in the "mutton dressed as lamb" (MDAL) way).
One of the things I've noticed is that often women who are not sure what to wear, haven't defined their personal style end up doing what I call "hiding behind blandness" for fear of standing out (and looking foolish I'm guessing). They dress in 'classic' clothes, the ubiquitous black pant and some sort of solid coloured top. No details, not accessorized and very little in the way of personality. They don't love their wardrobe, but they are "not naked" and have settled on so many "it'll do" clothing purchases when shopping to cover themselves, without stopping to think about whether or not this is the right purchase to make.
Why do so many women worry about looking MDAL? I know I was brought up with it as a commonly heard saying as if women who dressed youthfully or maybe a touch too young were of loose moral character and that was a terrible thing to be. I have discovered that it's:
pretty rare
comes from a rebellious personality
and in fact, if you worry about it, it's never going to happen to you. You are more likely to dress too old or just hide in that blandness rather than project the exciting and interesting woman you really are through your clothing. Dressing youthfully will make you look more modern and up-to-date, it won't make you look foolish or silly.
For me, one of the most interesting things about watching all the fantastic women undertaking my Evolve Your Style challenge is just how often "stuck in a style rut" equates to "hiding behind blandness" and once they start doing the challenges and get out of that boring comfort zone, they get compliments and discover their style (or at least a little more about what they do and don't like). This was one of the reasons I wrote the program. Our ruts are habits, and our brains need to be shaken out of those habits every now and again if they are not serving us well (some habits like cleaning your teeth and exercising regularly are great habits, but some habits like wearing the same clothes or something very similar each day are not so good for your brain or body).
If you are bored with your wardrobe, bored with your style or are worried about looking like a MDAL victim, then I want you to do my Evolve Your Style challenge. It's important as adults that we continue to grow and change through our lives. Playing with clothes, discovering your creative side (and you have one hiding inside you somewhere I know!) and enjoying the process of dressing is something I want for you (otherwise why would you come to my blog and read my posts?) and I'm here to help you.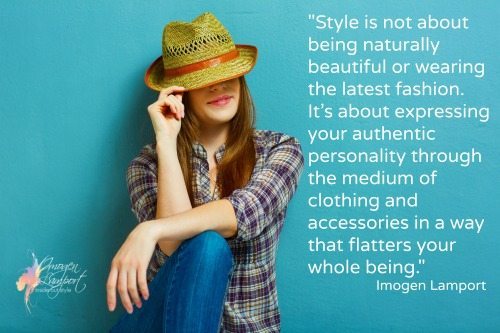 There are some aspects of our life we need safety – a roof over our head, a meal on the table. But dressing safely and too blandly for fear of standing out is not making us safe, but invisible or even inconsequential and I know that you are valuable, you are important and I know that feeling good about how you look helps to improve your confidence and self-esteem. And as someone said on the Evolve Your Style Facebook secret group "nobody died from wearing and accessory" as they got up the courage and donned their hat for the day and received compliments from many (to their utter surprise).
Will you keep hiding behind blandness or take a step towards a more positive image and maybe an exciting future?