This week for Frocktober (raising money for the Ovarian Cancer Research Foundation please donate here) I wore:
Well we had a super lovely spring day so out came a summer frock that I bought at the end of Autumn on sale, it's not something I ever could have worn before the anti-boob-job that I had in April, gathered neckline and a strapless bra, so I was excited to be able to wear something completely different than I've ever worn before. The dress is by Jane Lamerton, and I love that tummy hiding twist at the front, and the shoes are super comfy Croc sandals (can you believe it). I've wrapped a necklace around my wrist lots of times to make it a bracelet.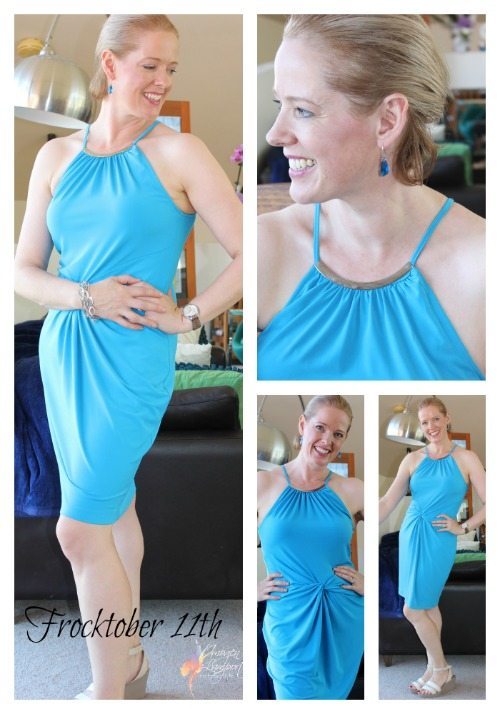 This outfit was inspired by one of my Frocktober style challenges -which was to style a shirtdress for summer at the office. I don't own a shirtdress so this was the best I could create. I'm wearing a tank dress underneath a shirt, which I've belted with super skinny belt (to give it the shirtdress vibe). Notice how I chose a necklace that has a similar feel to the shape of the pattern on the shirt (that's related shapes for you!). Now these shoes I've owned since about 1997 when I used to wear them to the office at Penguin Books Australia (all those years ago when I was a publicist there).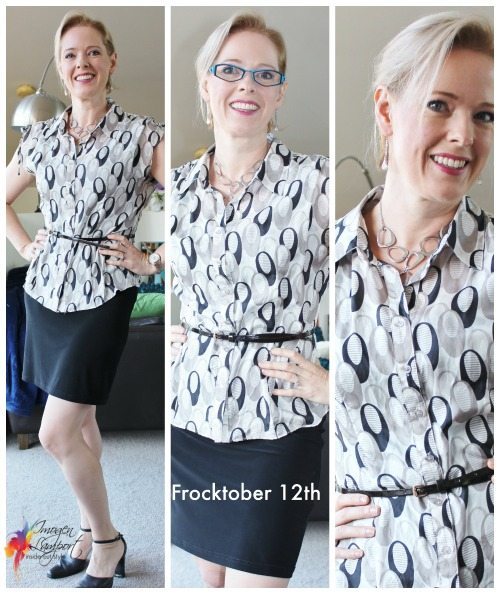 Another office challenge, but this was to inspire those of you in the Northern Hemisphere who are approaching winter. We had a cold snap so I thought it was a good day to 'winterise' a summer dress for work. This dress was made for me about 5 years ago by a bespoke tailor friend (Oscar and Oscar), it's actually a charcoal grey, not black. I've layered a long sleeve cobalt blue top (Valley Girl) underneath, a necklace (from Lovisa) and then added a beautiful 3/4 length sleeve brocade jacket (Bally, from Paris 99) with gorgeous frog closures.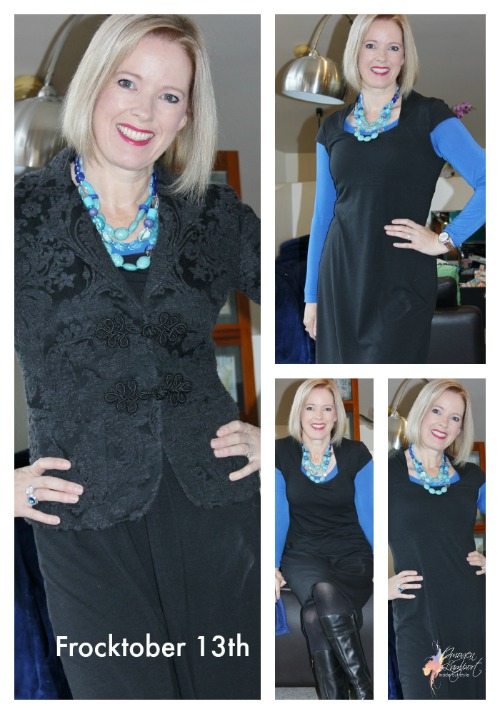 No style challenge today, but I felt that I'd channel a retro vibe and gone all Marilyn curled hair. Still cool here in Melbourne so wearing a long split sleeve Leona Edmiston dress with a fur vest to keep me warm. It's a bit large, so I've belted it to give it a bit of shape. The necklace was a gorgeous gift from one of my divine past students and now image consultant colleagues, Jo Shiers (The Style Adviser) and is Marc by Marc Jacobs, though I had to make a new necklace for it (the square elements) as the one that came with it was the wrong length for me. Boots are from the wardrobe of Penny, who has inspired me to raise money for Ovarian Cancer Research, she was a stylish woman and is sorely missed by all who knew her.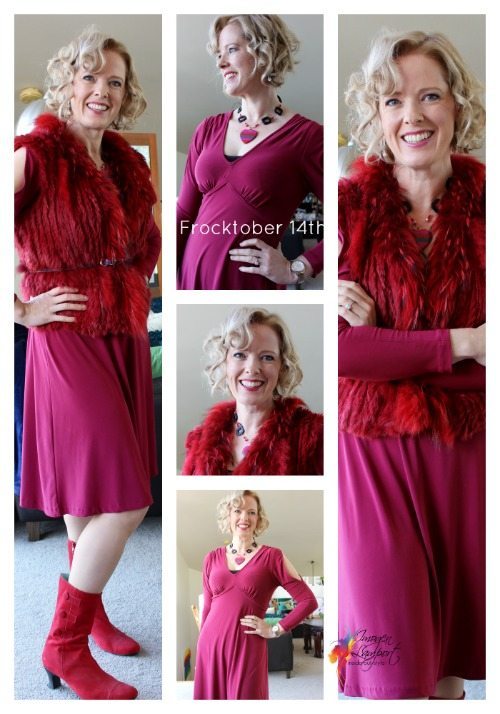 That's all the photos I have as I'm now away in Thailand with very limit internet and computer equipment.