This Stylish Thoughts post is from Debbie of Recovering Shopaholic who is based in San Diego, California
How would you define your personal style?
My style has evolved considerably over the past few years as I've worked to recover from a decades-long compulsive shopping problem. For longer than I can remember, I bought so many new pieces (upwards of 200 per year!) that I didn't take the time to really define my personal style. I would have likely defined my style as "eclectic," but in truth it was more chaotic and haphazard.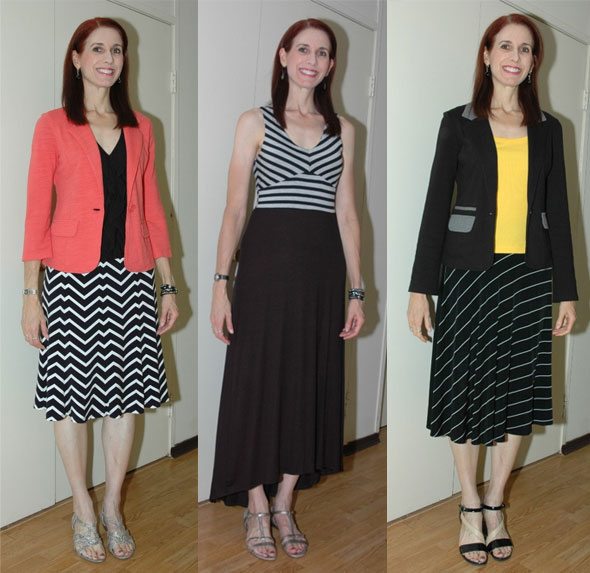 As I've started to buy less and shop more consciously and mindfully, I've come to better understand the image I want to portray to the world. I've found that I prefer a more classic and minimalist style with some touches of creative flair thrown in, mainly through the use of color, some strategic print, and accessories. Although I wear a lot of black, grey, and white, I also love to add pops of jewel tones to my ensembles. I love scarves and jewelry and have a carefully curated collection of those types of pieces that I love to wear.
Do you have a signature piece or style?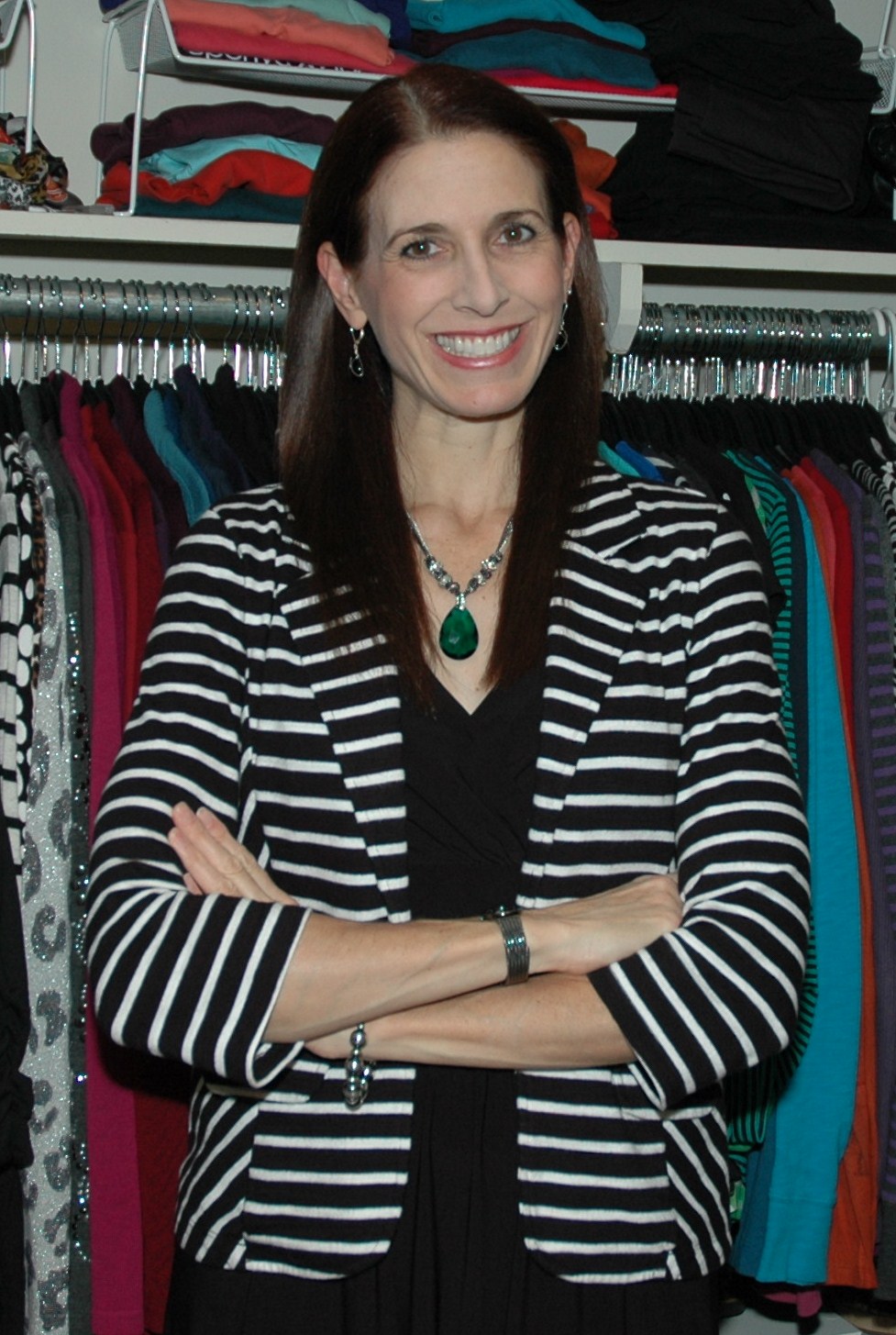 I consider stripes to be my signature style. I love to wear stripes of all different colors and styles and have a number of striped pieces in my wardrobe. While my favorite stripe combination is black and white horizontal stripes, I also love blue, green, grey, as well as diagonal and vertical stripes. I have striped tops, jackets, cardigans, skirts, and dresses, and love them all. Another thing I'm known for are my brightly-colored jackets and coats. I love to wear bright, jewel-toned toppers to draw attention to my face and make my outfits pop.
What is the secret to great style?
Although there are many contributing factors for having great style, I would say the most important secrets are self-awareness and confidence. It's critical to understand who you are and what you like and to unabashedly wear what you love. The most stylish women I know have a very keen awareness of what they like to wear and what works best for their bodies and lifestyles. They are able to seemingly effortlessly combine timeless pieces with carefully selected trends to create a look that resonates with who they are. They aren't afraid to take risks and to make mistakes on occasion. They carry themselves with confidence and truly "own" their personal style. I'm still a work in progress in terms of my style, but what's helping me the most is to better understand myself and what makes me tick, and to work on cultivating a greater degree of self-assuredness in what I wear.

What is the one thing you would spend a lot of money on?
For years, I focused more on quantity than on quality when I shopped. I believed the "more is more" adage for most of my life, but I've gradually started to aim for better quality in my purchases. The first place where I started to spend more was for handbags. While I don't buy ultra-high-end designer bags, I regularly spend several hundred dollars on a good bag. My bags receive more use than any other pieces I own (with the exception of perhaps watches – I will spend more there, too), so the cost-per-wear/use ends up being very low. Most of my bags are either black or metallic (I love a pewter-toned bag), but I plan to invest in a brightly-colored handbag sometime this year. I'm thinking perhaps cobalt blue or emerald green.
What is the one thing you won't spend a lot of money on?
I definitely won't spend much money on anything that I perceive as a passing trend. While some trends, such as leopard print or military, cycle in and out of fashion from time to time, many trends vanish from the scene after just a season or two. If I like a trend but think it won't last long, I'll try to buy a few pieces either on sale or from a lower-priced retailer. I've had to learn the hard way to purchase trend pieces sparingly, as I used to go "hog wild" buying things that struck my fancy only to find they became obsolete in short order. I now feel it's best to limit trend purchases to just two or three items per season and to wear those pieces "to death" while they are still in style (and I still love wearing them).
What's the worst current trend?
I absolutely do not like the current ankle-length pants trend! As a tall woman (5'10") with long legs, I've struggled for most of my life to find pants and jeans that are long enough for me. When I was young and tall sizes were in short supply, I frequently had to settle for pants that could be termed "floods" in the vernacular of the day. I was shocked when this "high-water" length became trendy and am dismayed that the trend has lasted as long as it has. I don't feel that pants that hit a few inches above the ankle are flattering on most women. Even long, lithe models look better in full-length pants, in my humble opinion. I look forward to this trend fading into the background and longer-length pants becoming easier to find in stores once again.
What one piece of advice do most women need but don't get?
The one piece of advice most women don't get is that alterations have the power to greatly enhance our style and appearance. I've found that most women do not tailor their clothes, save for simple alterations like pants hems. This is unfortunate, as impeccable fit can make our clothes look much more flattering and expensive. While some women are lucky enough to fit into clothes "off the rack," most of us can benefit from some nips and tucks courtesy of a skilled tailor. In my case, for example, I have almost all of my tops and jackets taken in at the sides, as I have broad shoulders and a slim torso. I like to show off what I see as one of my best features and this relatively inexpensive alteration allows me to do just that. I also have most of my pants taken in at the waist, as my waistline is small relative to the size of my hips and thighs. These alterations help my clothes to fit better, feel more comfortable, and enhance my appearance. I feel that virtually all women can benefit from having their clothes tailored for a more perfect fit.
What are your top tips for looking stylish while traveling?
I used to be a major over-the-top packer and brought, as my husband termed it, "everything but the kitchen sink" with me when I travelled. Since it was cumbersome to carry so much stuff on my trips and because airlines have enacted stricter weight limits for baggage, I've had to come up with a better packing strategy. I now decide upon a color palette as the first step in the process and usually select two neutrals and one bright color which coordinate well with each other. I limit printed pieces in my travel wardrobe and instead use scarves and jewelry to add visual interest to my outfits. I generally try to pack garments that are wrinkle-resistant and which can be worn more than once without having to be washed and/or ironed.
Before I select my clothing, I first choose my shoes, as these are the heaviest items and most critical in terms of comfort. I find that once I have the shoes and color palette down, I can easily determine which items to pack in my suitcase. I select my travel pieces based upon my likely activities during my trip and always pack my favorite, tried-and-true pieces rather than new or untested items. That way, I'm assured of being comfortable and happy in what I'm wearing and I can concentrate the majority of my attention on enjoying my trip!
What are your favorite websites?
Well, your wonderful site and blog are definitely high on my list, but I also love the following sites: Bridgette Raes, You Look Fab, Shop Your Wardrobe, Already Pretty, Putting Me Together, Wardrobe Oxygen, The Vivienne Files, 40+ Style, Project 333, Into Mind, and This Kind Choice. As you can tell, I enjoy reading style blogs and especially love bloggers who write about wardrobe management and smart shopping as well as style advice and fashion trends. I could mention numerous sites, but the ones above are among my favorites and definitely worth checking out!