I have a red plaid blazer that I adore but I am getting really bored with what I wear underneath it since I read the only appropriate items are neutrals or colors in the plaid.
I've worn leopard print shoes with it and loved the look. Leopard print top underneath.. .not so much which I now understand is due to the scale of the pattern and the colors thanks to your blog.
I'd love it if you could make a post about what can be worn with plaid besides neutrals or a matching color.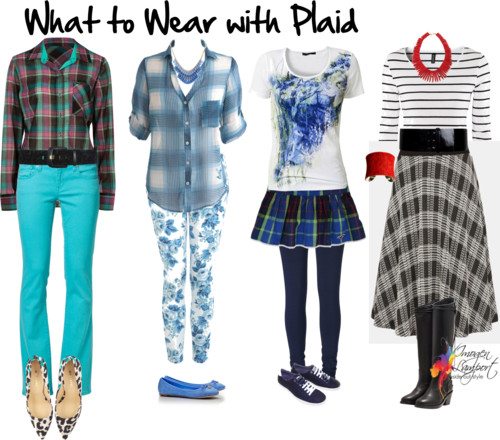 What to Wear with Plaid by imogenl featuring peter lang
Yes the easiest option to wear with plaid is to pick a colour out from the plaid.
Then you can mix it with other patterns with related colours.
Plaid is a very ordered print so it works well with ordred prints like stripes, or large graphic prints. Alternatively you could mix it with a floral print that is more sparse, or a very dense print like the leopard that you're wearing it with.
The further away from the plaid garment, you can be less specific with the colours and how related it is to the pattern, there is a little more leeway.
Just remember to relate the intensity of the colours, so if it's more muted, then the pattern you mix it with needs to be more muted. If it's bright, mix it with bright.