One of my Southern Hemisphere readers asked me to do a post on key trends for Autumn/Winter 2010, so after looking at plenty of magazines and forecasts these are the key looks I've noticed that I think will be an integral part of the fashions these coming months.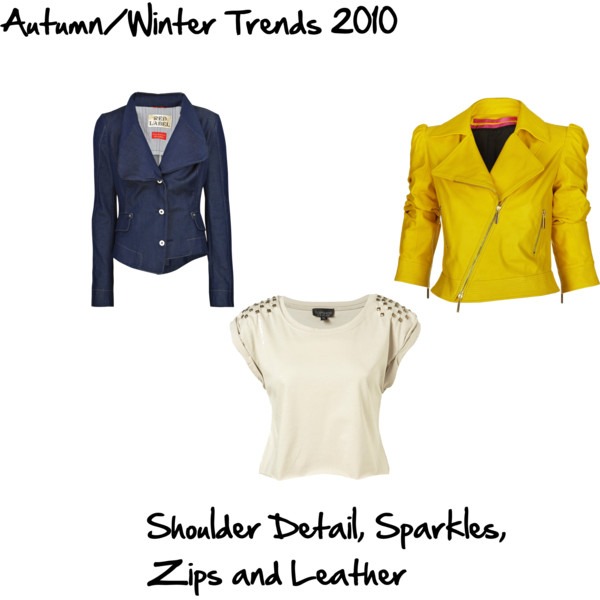 Leather – whether it's in an over the knee boot ( mid-thigh are best for the younger set) or a pair of pants (only if you have great legs), or a jacket (now that's an easier option) leather is back in a big way.
Zips – I think because of the leather and hardware that tends to go with it, zips are featured not only on jackets, but also shoes and tops.
Shoulder Detail – Thanks to Balmain last season, shoulders are back, from puffed sleeves, to sharp shoulder pads, to bling or sequins, detail on shoulders is a stand out trend this season. If you don't want to look like a fashion victim, don't go to the extremes, but adding in a piece or two with something on the shoulders will modernise your wardrobe. If you already have broad shoulders and don't want to emphasise, avoid the pads and puffed sleeves and stick to softer versions of detail.
Bling – there are bling collars, bling detail on shoulders and the 'bib' necklace in bling are all key trends. Just remember, if the neckline of your top is already blinged up, no need to add lots more jewellery.
Motorcycle style jackets – These are everywhere, they may come in leather, they may come in cotton. A soft version is great for the curvalicious body. Just remember, cropped works for I, A and 8 shapes, hip length is better for H shapes. Look for one that has a little feminine detail – from a puffed sleeve to waist shaping, for the most flattering effect.
And don't forget Denim – it's back in jackets, they fash mags tell you that denim on denim is cool again, but my advice, avoid it, a denim jacket with a frock is a much easier way to incorporate the denim jacket than with a pair of jeans. It's also a key trend for Spring 2010.
And of course with all advice about including trends in your wardrobe, there are exceptions to every rule, and your personality may make something work that doesn't work for others.
Which trends will you be adding to your wardrobe this season?