What to you were some of the best and worst fashion moments of the noughties? What do you want to see more of, what never again?
Fashion Trends I'd Rather Not See Again this Decade
Crocs (except on little kids) – not attractive. They are fine to wear as a footwear to go boating in, to wear when gardening or some other 'practical' use function, but as an everyday shoe, please don't.
Low, Low Rise Jeans – sorry, don't like muffin tops. So many young women decided to squeeze themselves into too tight, low rise jeans, show off their underwear and way too much flesh.
Denim suits – yes I know it's back in fashion, but I don't like denim jackets with denim jeans, my personal taste, but then this is my blog.
Pegged/Tapered jeans – the boyfriend look is not a favourite of mine. The tapered look is less than flattering on many women, and pegging (rolling up the cuffs) shortens your legs, makes you look stumpy.
Pleated Pants – they tend to flare over the hips and spread creating extra bulk, not usually flattering.
Large Plaid Patterns – maybe this is the Australian in me, but large plaid patterns remind me of 'flannies' which are typically worn by 'bogans' and farmers here. They just look cheap, no matter how they're fabricated. Plus they're a fairly unflattering pattern to wear for many.
Ugg boots as everyday footwear – yep they're warm and keep your toes toasty, but they were always meant to be slippers, and that is where they should stay.
Leggings worn as pants – leggings are not pants, they are great to wear under skirts and dresses, but please, keep your tops to mid-thigh or longer when wearing them. The worst example I saw one day was in Melbourne CBD, a middle-aged woman wearing black control top tights (not even like a legging), with a short white leather jacket and white booties, and you could see her floral underwear peeking through the hosiery.
Obvious advertising – whether it's the LV or CC or any sort of logo or label on the outside of clothing or accessories, I don't like it. I think that if they want me to advertise their product, they should pay me to wear it, rather than me pay them for the 'privilege'.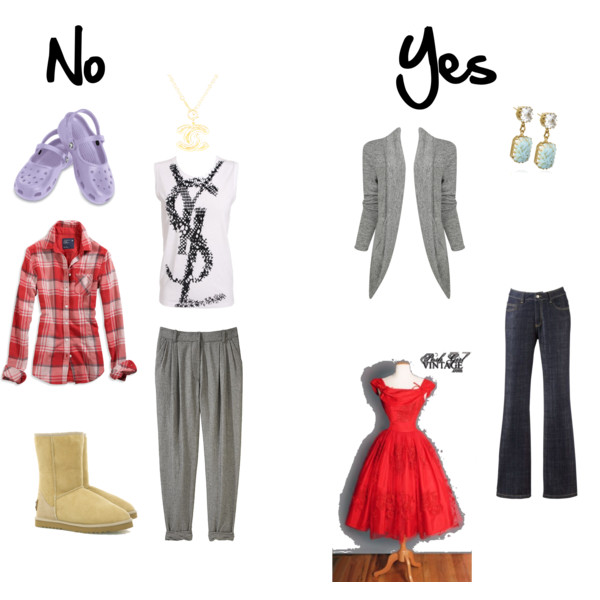 More Fashion Trends I'd Like to See This Decade
Bootleg jeans – flattering on so many, always happy to see this style revived.
Longer length cardigans – the kind that go down to mid thigh or just above your knees – can work instead of a jacket, and can create a lovely long line. If they are shaped and fitted I especially like them.
Mid-rise Jeans and Trousers – not too high, not too low, generally flattering, less muffin top, and less pouch, the way to go.
Vintage and vintage-inspired pieces – this is a great environmental trend, recycle the old to become new again. Appreciating the past, plus adding some quirk or personality to your look.
So tell me, what do you want to see more and less of in fashion this next decade?