Reading through some keywords on my site statistics I discovered that this topic is popular as a search term that brings people to my blog, so I thought, to make future visitors happy when they get here, I'll write a post on it so there are some answers!
Ankle length pants are hard to wear for many women as they shorten (and often widen) the legs.
If you want longer legs:
Go for a high heel or wedge that blends with the trouser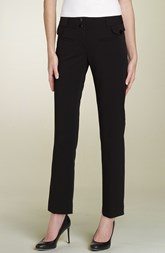 Alternatively, you can wear a 'nude' or skin coloured shoe to avoid distracting the eye to your feet.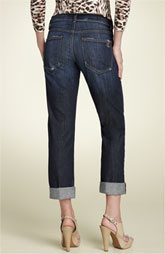 Notice how an alternate shoe colour is more shortening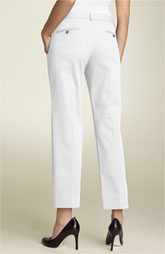 than a similar shoes colour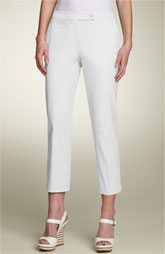 or a boot (though cuffing the pant as pictured also shortens your legs).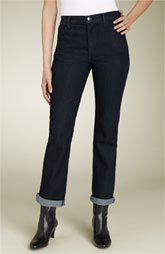 If you want to shorten your legs:
A flat shoe with a
high vamp
or horizontal detail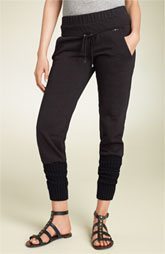 or an alternative coloured shoe will draw attention and shorten your legs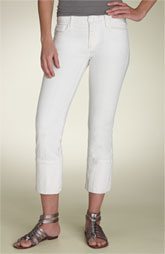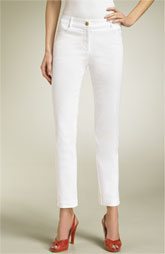 When choosing a cropped pant be aware that a wider hem, is more shortenin
g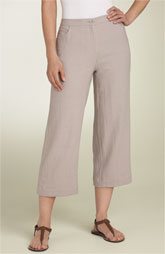 than a narrower hem.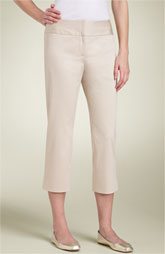 All these pictures are of models (who have long legs and are taller than average) so they are not an ideal representation of how ankle length pants appear on many women. If you look on shopping websites at cropped trousers they are mostly styled with heels because of their ability to shorten the legs.