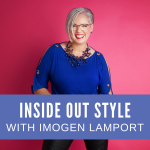 What has your style got to do with your worth?
Well as a kid wearing my brothers and others hand-me-down clothes made me feel not-worthy, or that I was not valuable enough to spend any money on.
This is why I'm so passionate about helping smart women find their own style as I know that it has a positive impact on their whole lives (not just their wardrobes). And this is why I've developed my online style programs – from my entry level Visualise Your Style program (only $27
https://insideoutstyleblog.com/visualise-your-style
) which is a great starting point, right up to my complete style education program that answers all your style questions 7 Steps to Style ($497
https://insideoutstyleblog.com/7-steps-to-style-system
). I want to empower you to be in control and in charge of your style so that you stop wasting money on the wrong things and your style gives you the confidence you crave to be able to do the things you want to do without holding yourself back, like I did as a child.
If You'd Like to Define Your Style and Discover Your Colours
If you're sick of wasting money on clothes that don't work and you know there is a better way, then join my 7 Steps to Style program and get the right information for you and your style.
Subscribe to my Podcast
You can now get these videos as podcasts subscribe and never miss an episode
Send me Your Questions
Please email me your questions to be included in my Q&A Lucky Dip!