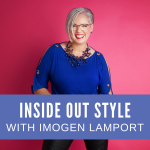 Unlock Your Fashion Confidence with My Outfit Masterclass
Imagine a world where getting dressed is a breeze and every outfit you put together reflects your unique personality and makes you feel incredible. With my Outfit Masterclass, this dream becomes a reality. Imagine having a personal stylist at your fingertips, ready to guide you through the art and science of putting together stylish ensembles that reflect your individuality, rather than simply copying someone else's style. Through engaging video lessons, a comprehensive workbook, I will reveal the simple principles and techniques that will revolutionize your approach to fashion. No longer will you feel overwhelmed or uncertain about your outfit choices. Instead, you'll gain the confidence to effortlessly create stylish ensembles that turn heads and leave you feeling like the best version of yourself.
If You'd Like to Define Your Style and Discover Your Colours
If you're sick of wasting money on clothes that don't work and you know there is a better way, then join my 7 Steps to Style program and get the right information for you and your style.
Subscribe to my Podcast
You can now get these videos as podcasts subscribe and never miss an episode
Send me Your Questions
Please email me your questions to be included in my Q&A Lucky Dip!