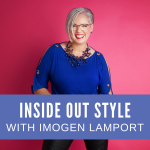 Are you stuck on style rules?
Do you follow style rules closely or do not believe in style rules at all, that everyone can wear anything they want?
Both of these are extreme views, and I believe that your best personal style sits somewhere in the middle.
I don't believe in rules, I believe in principles and the science behind why something does or doesn't work, and these are then guidelines or suggestions which you can try on for size, and then decide what does or doesn't work for you.
You get to be in charge as it means your style aligns with your personality, your lifestyle, your colouring and your unique body.
Everything I suggest should be seen as a handrail, to help you get to where you want to go. Not handcuffs that keep you boxed in or feeling like you don't have any choice.
If you'd like to get a solid style foundation, to have a handrail that you can use to assist you to uplevel your style, then I'd love to have you in my
7 Steps to Style program
which will give you the style education you never got at school. You'll discover your best colours, how to create harmony with your body using clothing styles and expressing your personality as well. That way you feel both comfortable and confident in your style and will have the courage to do whatever it is that you want to do with your life.
I can't wait to be your style guide!
If You'd Like to Define Your Style and Discover Your Colours
If you're sick of wasting money on clothes that don't work and you know there is a better way, then join my 7 Steps to Style program and get the right information for you and your style.
Subscribe to my Podcast
You can now get these videos as podcasts subscribe and never miss an episode
Send me Your Questions
Please email me your questions to be included in my Q&A Lucky Dip!