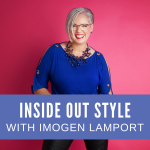 Have you had a colour analysis and found that the colours that flatter you were not the ones you love? That maybe you have a different undertone, or they are more muted than you have always worn?
Here I'm sharing tips on how to approach a new palette, and why you may have had a different result than you thought. And how you can start playing with your new palette in a way that works for you.
Read the accompanying blog post here.
Subscribe to my Podcast
You can now get these videos as podcasts subscribe and never miss an episode
Send Me Your Colour and Style Questions
Please do email me your colour and style questions to answer on upcoming videos!