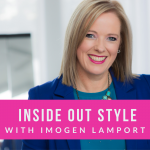 Reader's question: "I'm am at a weird place in life where I get to 'start over' with my wardrobe after kids and losing almost everything due to black mold exposure. I am trying to have a plan for how to start on a wardrobe that better reflects the real 'me' to the world.
I am a mom, but also a lead singer/songwriter and web designer. I have sung as a lead singer for rock bands, but I am not much into the skulls and crossbones/snakeskin stuff. I love natural materials (cotton, wool) and my coloring is medium in value.
My question is: how do you dress more Rebellious when black all over is a little overpowering for your coloring? Do I stick with black on the bottom and grays up top? I still love rock band T-shirts, leather stuff, metals, etc. but I don't want to look like I'm trying too hard. I also have elements of Creative, Natural personality styles and am a hopeless romantic. I am a hodgepodge!"
If You'd Like to Define Your Style and Discover Your Colours
If you're sick of wasting money on clothes that don't work and you know there is a better way, then join my 7 Steps to Style program and get the right information for you and your style.
Subscribe to my Podcast
You can now get these videos as podcasts subscribe and never miss an episode
Send me Your Questions
Please email me your questions to be included in my Q&A Lucky Dip!