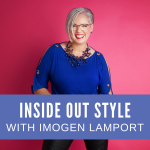 In This Episode
0.08 How do I find my classic signature look without falling for fads and trends?
3.55 I've always put comfort over style, I want to change that mentatlity but I'm finding it challenging to put together a beautiful outfit. Most of the times I'm not happy with the results.
6.40 How do I be critical enough to resist piece that end up not being versatile or interesting or not passing up pieces that have potential but I wasn't sure about
Discover your Signature Style
Style is a Journey Not a Destination – 7 Ways to Define Your Style
Comfort with Style
How to Put Together a Practical, Comfortable and Elegantly Stylish Wardrobe and Outfits
6 Top Tips for Choosing a Handbag That's Both Practical and Beautiful
Have a Style Education
Personal Online Colour Analysis
If You'd Like to Define Your Style and Discover Your Colours
If you're sick of wasting money on clothes that don't work and you know there is a better way, then join my 7 Steps to Style program and get the right information for you and your style.
Subscribe to my Podcast
You can now get these videos as podcasts subscribe and never miss an episode
Send me Your Questions
Please email me your questions to be included in my Q&A Lucky Dip!