Jill Chivers of 16 Style Types recently shared with me some of her denim upcycling projects and I asked her to share with me some of her processes as it's a great way to create your own custom items as well as reduce landfill from garments that you no longer wear.
Sustainability is important to Jill and all her garments were made from items she already owned, or thrifted pieces (or a combination of the two).
We decided to get together and Jill talks you through in this video what she used, how she did her projects and some of the pitfalls and techniques she used to make her creations.
Watch the Video on How to Upcycle and Refashion Your Denim
Simple Skirt – 2 Pairs of Jeans
Here's Jill's first project, 2 pairs of jeans – one a straight leg, the other a bootcut that have been turned into a fabulous maxi skirt.
Leopard Straight Skirt – 1 Pair of Jeans
This was a pair of jeans that Jill turned into a straight knee-length skirt.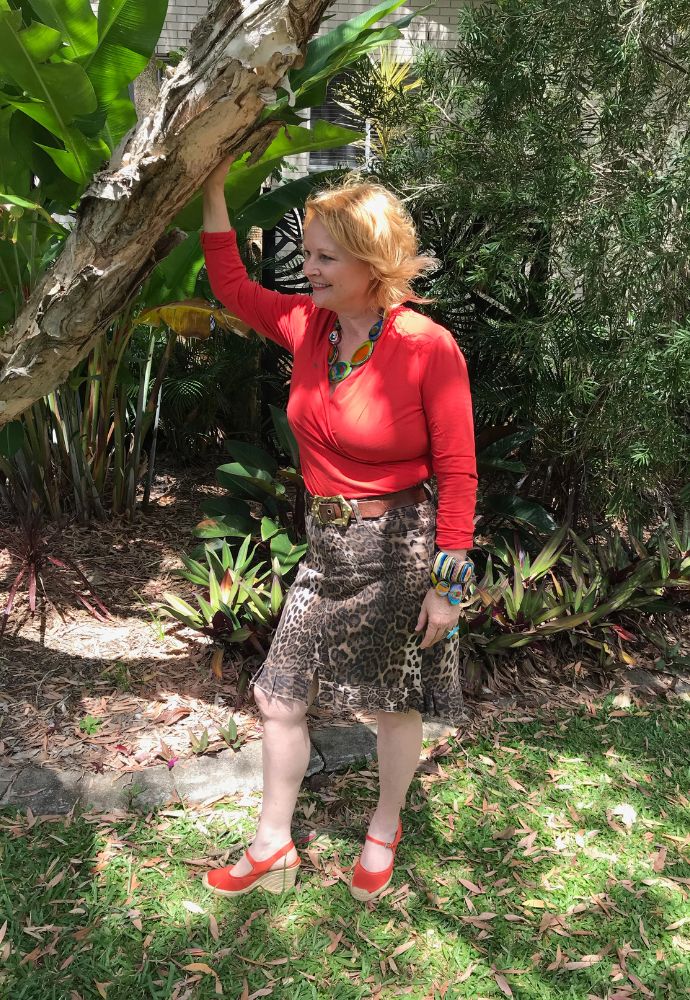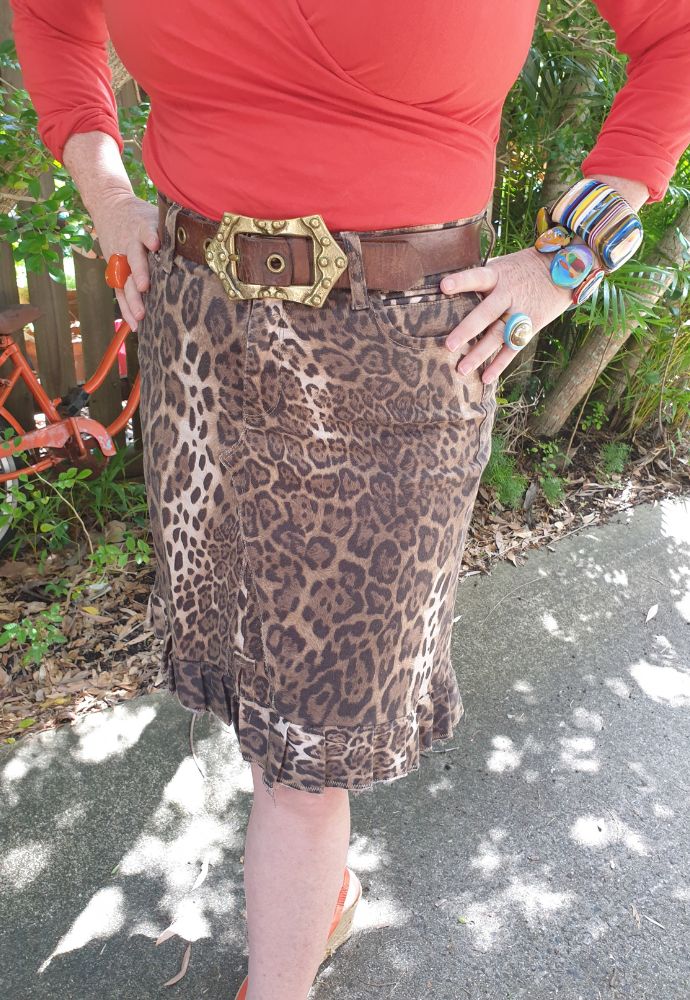 Dark Denim Skirt – 2 Pairs Jeans + Denim Skirt
Starting with a denim skirt then adding using 2 pairs of jeans to create a longer fluted shape.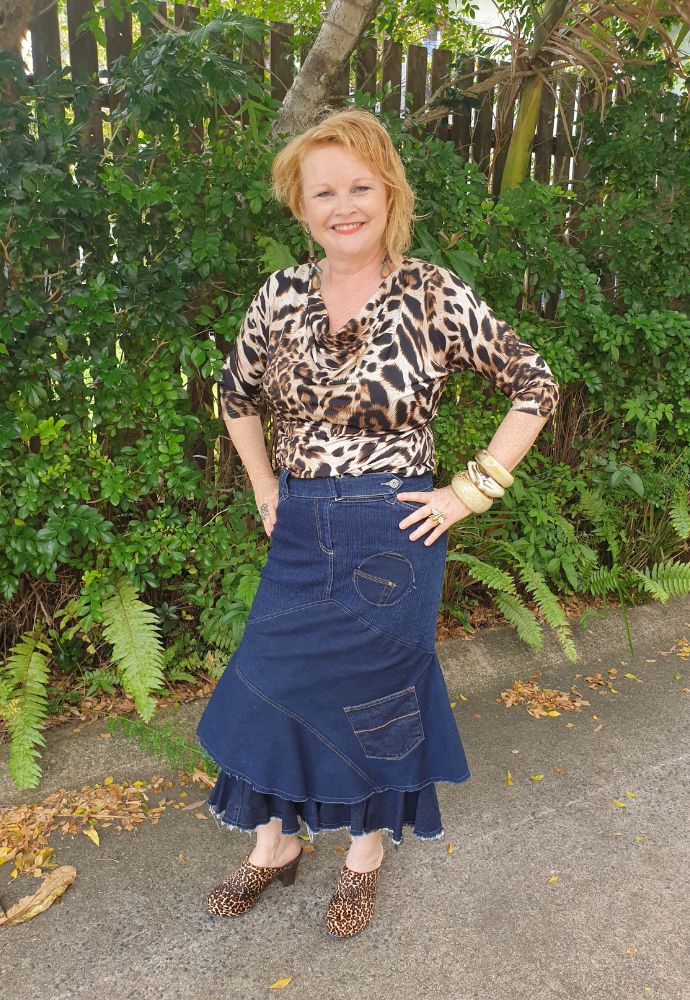 Taking the pockets and details from the jeans to embellish and create interest.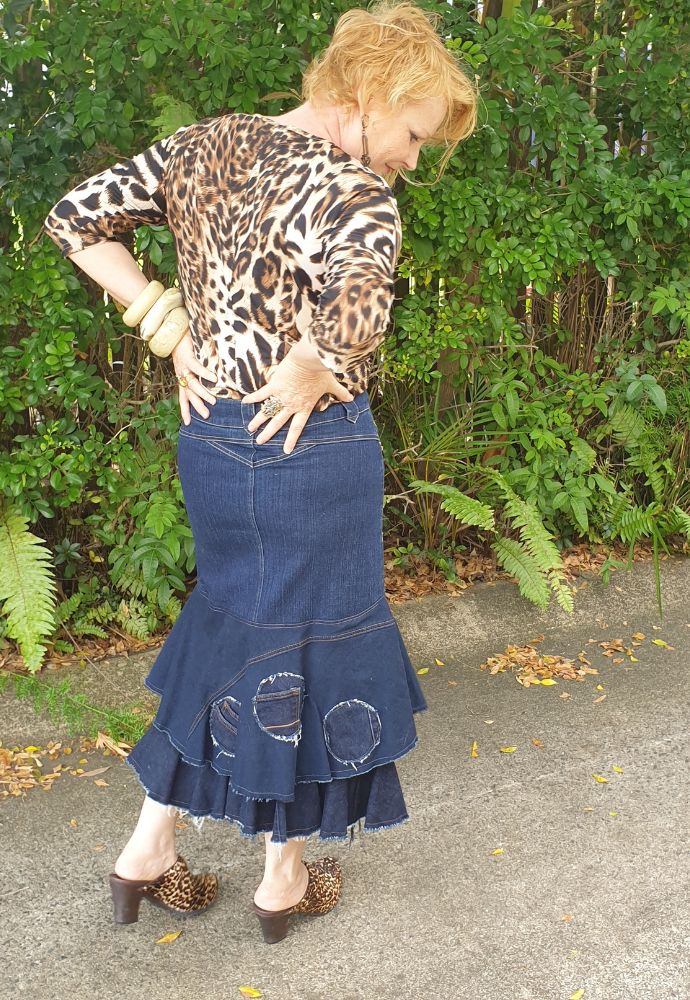 Denim Bolero Jacket – made from denim jacket and pocket from jeans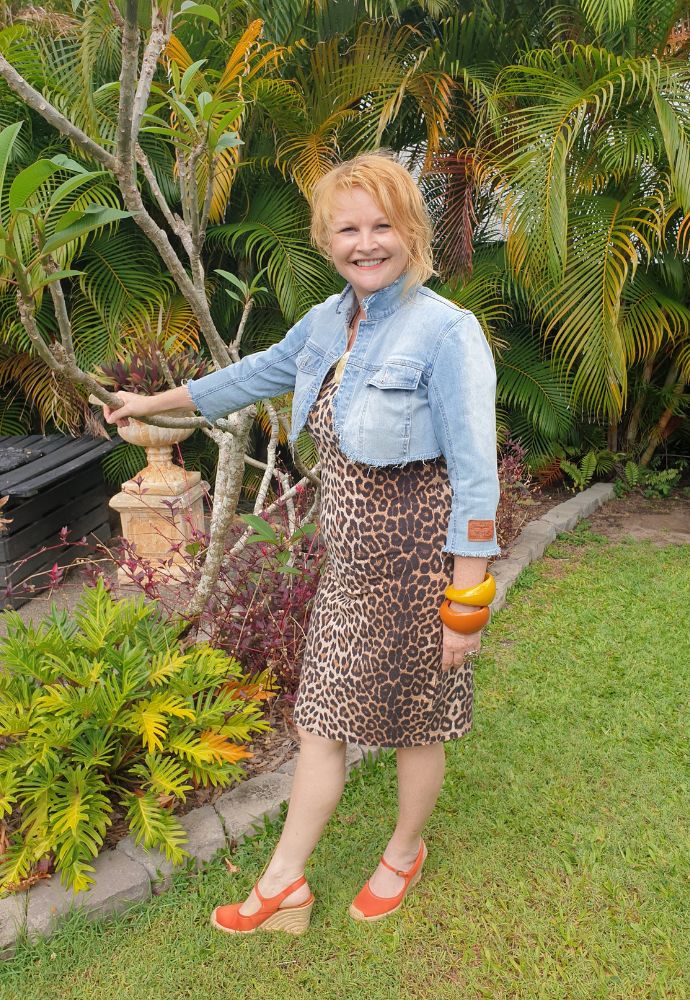 6 Jean Skirt
6 pairs of jeans in different colours and washes were used in this upcycle project.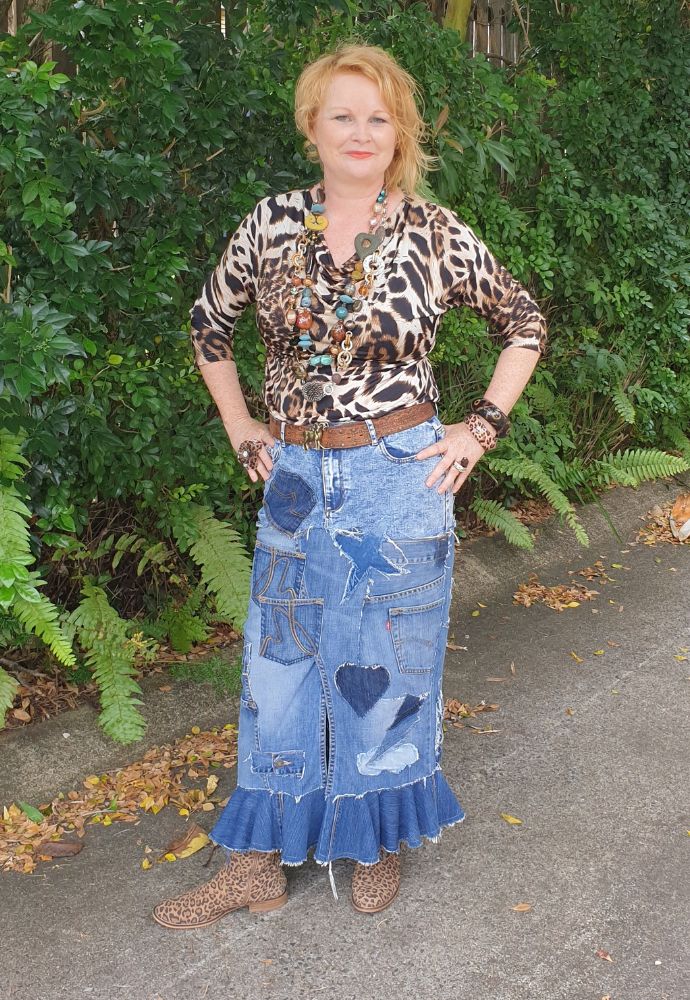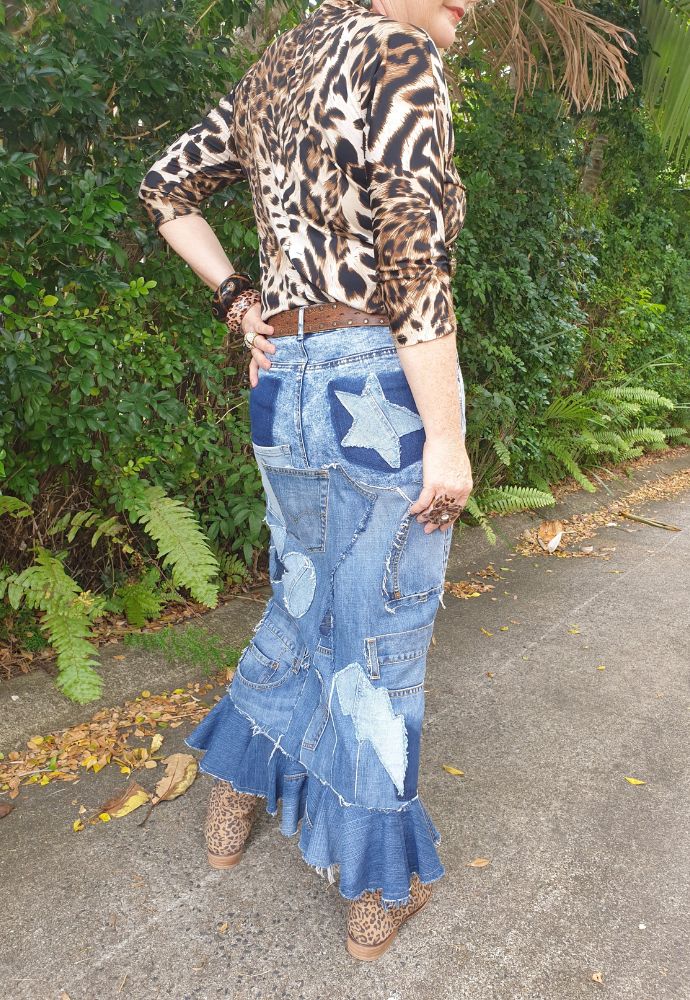 Turquoise Dyed Jean Jacket
This jacket had been pre-dyed (but you could easily do this yourself) before Jill cut it to become a bolero with 3/4 sleeves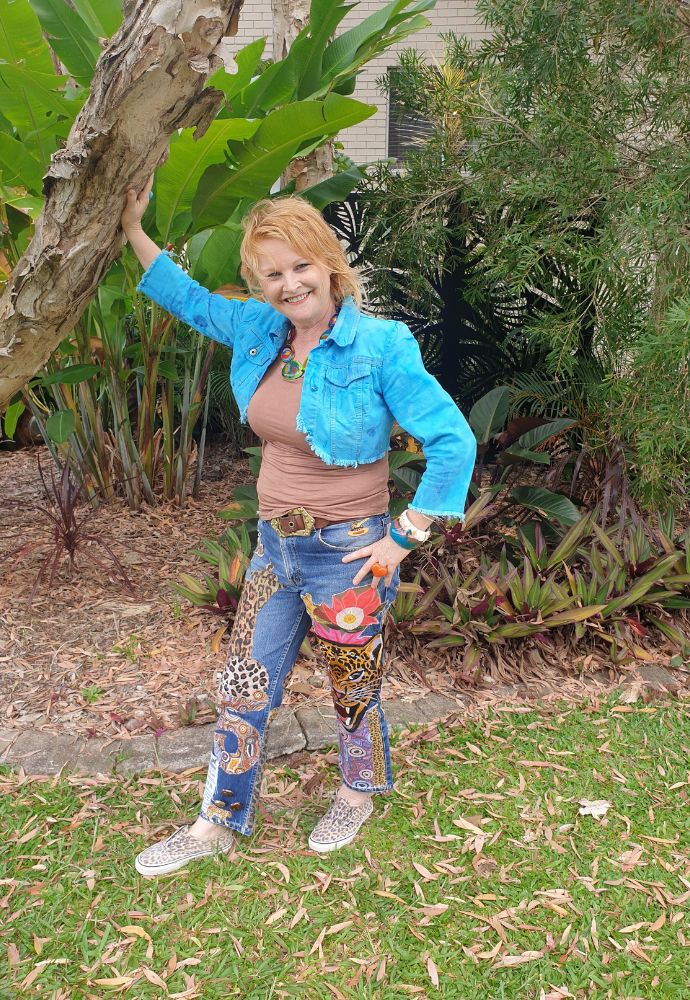 Embellished Jeans
Jill picked up these cropped jeans at the thrift store, then used scraps of fabric as well as applique leopards and other items such as buttons to embellish them.
Leopards and leopard print fabrics plus a few floral elements and buttons have all been used to turn these jeans into a one-of-a-kind garment.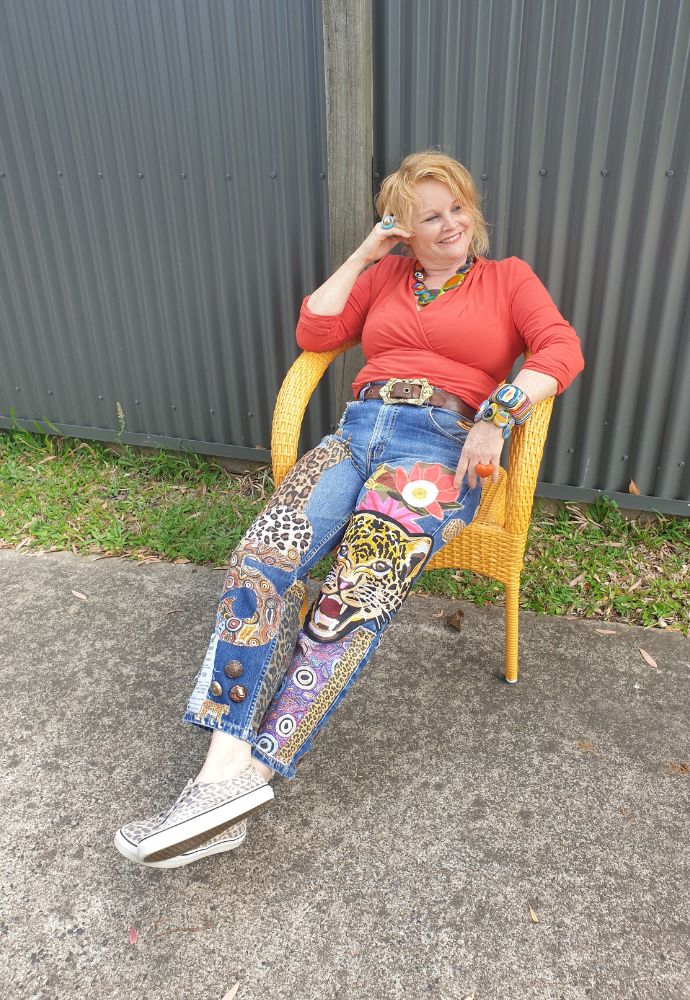 Apart from the buttons (on the front) the only piece not sewn on by machine was the leopard on the right leg that you can see below.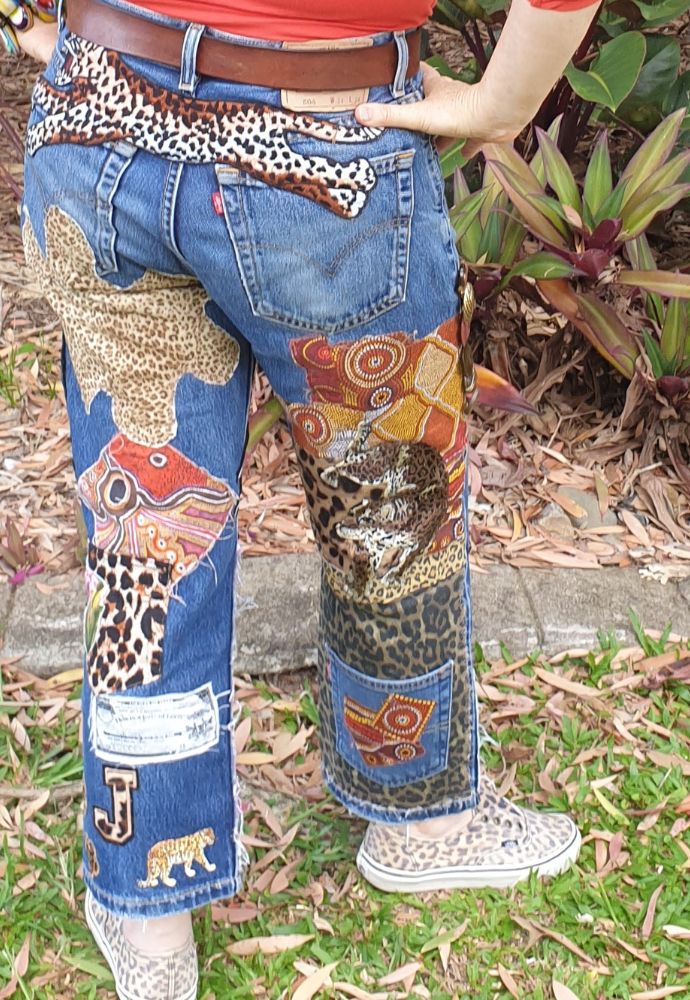 Lessons / Inspiration for Upcycling Denim
Give it a go…have a light, playful attitude… it's supposed to be fun! It can even be therapeutic…treat it as an experiment…
Start out with 'low consequence' pieces… you don't want to be afraid of ruining something expensive or precious. Start with op shop finds, something from your wardrobe you were going to let go (give away)…
Know your limitations (eg for me, no precise sewing requiring actual skill !) – focus on projects that use your abilities and don't challenge you uncomfortably and put too much pressure on you… that said, be prepared to try something that's outside your comfort zone…
Use online research for the two I's – Inspiration (use images as a jumping-off point for your own creations) and Instruction (search for tutorials to show you various ways of doing almost anything)…
Let the garment tell you what needs to be done… Be aware of any preconceptions… yes have a vision but don't try to force it… work with what you've got and allow it to evolve and emerge…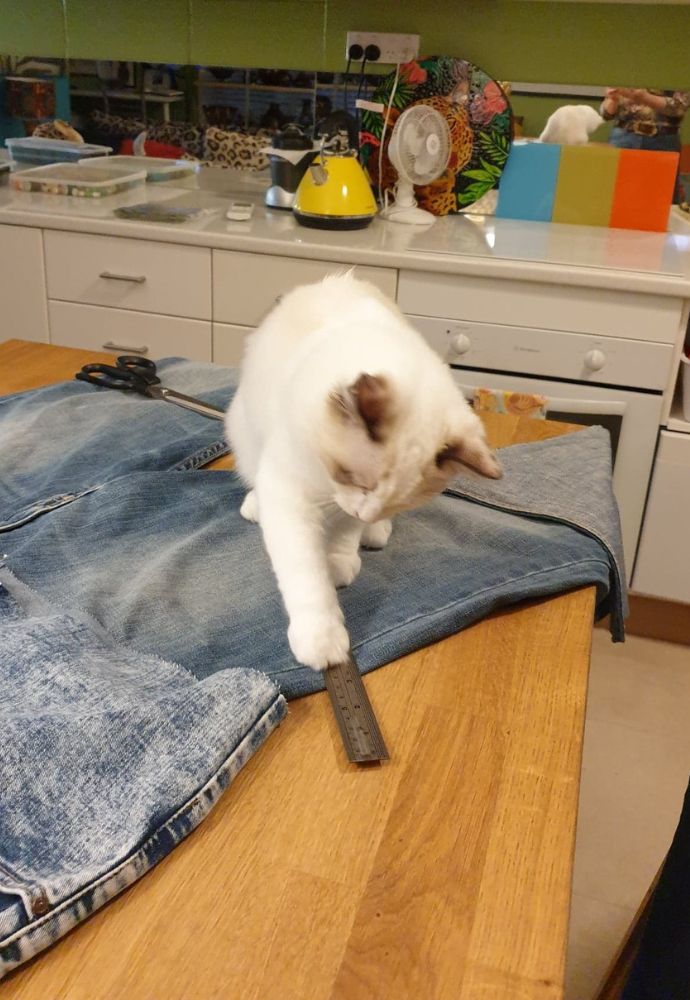 Before you cut, make sure you get your measurements right!