Do you have Lymphedema or another condition that requires you to wear compression socks or stockings all the time? It's an issue that has come up (and I've had a few emails about this style issue) so I wanted to share some tips to help you still feel stylish even when the compression garments and shoes you need to wear for your health are the opposite of what you'd normally wear to look stylish.
I asked one of my fabulous and stylish 7 Steppers Lana Chu (who is an amazing artist – check out her website here) who has this issue shares with you here how she deals with this and also where to get compression socks and stockings that have a little more style! Here are her thoughts:
Take Your Doctor's Advice
If compression is for a medical condition it is so important to wear them as directed by your physician to avoid complications. I personally wear them all the time unless I am home with my leg elevated. Since my condition is mild I prefer to wear compression socks from Sockwell which are in my compression level. They are cute and come in various colors and patterns.
For people who need higher-level medical-grade compression, these will not be enough. Other manufacturers are making Medical grade colorful or patterned compression tights but these can be expensive.
Medical grade compression legwear retailers:
Winter Style
Winter is usually not a problem, because one can wear tights with a dress or compression under jeans or trousers. For dresses, I wear skin tone compression or another pair of regular fun tights or leggings worn over the plain compression garment for a fun change.
What to Wear in Summer With Your Compression Stockings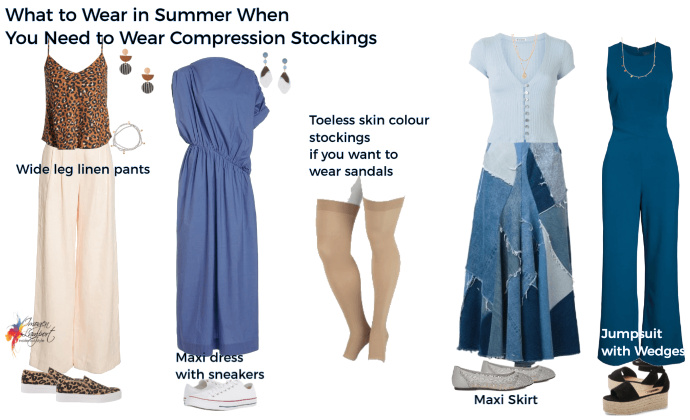 In the hot summer, I find it best to wear my compression socks with loose-fitting linen or other breathable trousers.
Skin tone will obviously be the least visible.
There are compression garments that are toeless, which will be great to wear with sandals, or thigh highs which will be cooler than tights.
Another option is to wear a maxi dress with a toeless compression garment and sandals.
Cooler compression for summer is available from Bright Life Direct
What About Shoes
Lana finds that high tops or a high vamp add additional support to control swelling. Shoes with ties or with stretch are more practical because they allow for fluctuations in swelling throughout the day. She typically prefer high top sneakers, lace-up booties, slip-on shoes with stretch or sandals with Velcro for easy adjustability.
Some cute ideas for outfits:
https://www.brightlifedirect.com/blogs/news/official-brightlife-look-book