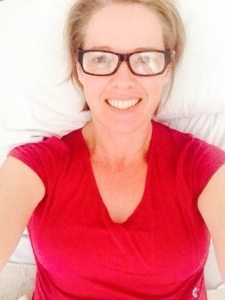 I'm writing this sitting in my hospital bed, the night after my breast reduction surgery. I'm still mentally coming to terms with what I've done, after a lifetime of overly large breasts and in many ways my breasts have defined part of who I am (just as I was a brunette and am now a blonde). I have only experienced adult life as a large busted woman. This journey of changing my image has been quite quick in some respects. When I joined the waiting list for a reduction I was told to expect to wait 3 years and it's been only 1 1/2 years, so, I'm not mentally prepared as I only got a weeks notice.
Day One:
So far I'm not experiencing much pain, I'm sure due to the excellent pain management available here in hospital. I gave some swelling beside my breasts, under my arms where the drains come out. I'm having difficulty sleeping as I have some anti-deep vein thrombosis contraptions strapped to my legs which constantly inflate and deflate to massage my legs and keeps the blood flowing, but they sure are noisy. Plus I spent the first 7 hours post-surgery asleep as the remaining anaesthetic left my system.
My breasts feel very tight and a bit swollen. If you've had kids, it feels a bit like when your milk comes in for the first time. I have a drain tube coming from each breast under my arm to drain any excess fluid and blood which keeps the swelling down.
I'm wearing a elasticised bandage around my torso called a tubi-grip, which will be my bra for the next week til the swelling goes down and the scars can heal a little. It will be soft cup brad only for the next 6 weeks or so.
Day two: and I'm still in hospital, starting to get bored. Fortunately I've had visits from my kids and family and partner to keep me a little amused. Managed to get more sleep overnight, but awake at 4am. Hospitals are noisy places and they do come and check your vitals frequently, not conducive to sleep really. The nurse said they'd been really busy, and I do vaguely remember hearing what sounded like a cocktail party of people talking outside my room, fortunately I always bring an eye mask and ear plugs to help dull my senses so that I can actually get some sleep.
I've been told I should be getting out today provided I'm not still draining too much fluid.