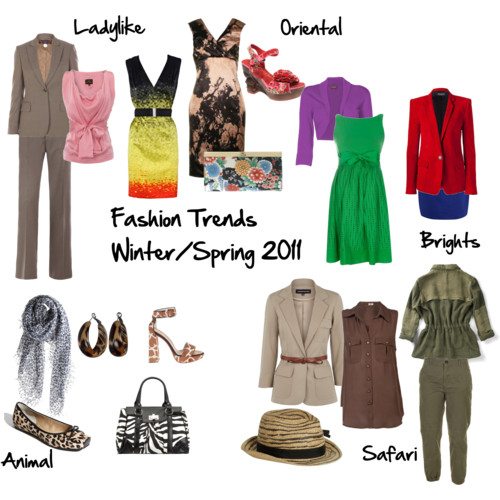 Brights
Bright accessories pack a punch and work in a really exciting way to make your neutrals work in a whole new way. Look for a bright statement bag or shoe to create some zing. Alternatively think about adding in some block colour to your neutrals, try green and pink together with navy, red and purple with brown.
Safari
There is lots of camel and khaki out in the stores right now. Pair various neutrals together to create an interesting monochromatic look. Try warm browns with camel, shades of khaki with green grey and tan.
Oriental Blush
Chinoiserie is back, if you want to add some glam pattern to your wardrobe why not pick an oriental inspired piece. Dress it down with jeans, or go all out with this trend for evening.
Ladylike Elegance
Silk is everywhere, it's beautiful sheen and drape make it a sensational fabric to wear. Ever chic it dresses up a blouse for work to give you a softly feminine look whilst still being professional. It can make a pair of dark jeans and heels more formal. For that masculine/feminine Katherine Hepburn inspired feel, pair a silk shirt with silk pants in simple low detail styling together with a chunky metal necklace and cuff.
The Animal Inside
Animal prints are everywhere, if you are cool in your colouring look for rose brown or grey based leopard, rather than the camel inspired traditional leopard tones. Zebra is also an easy choice for those with cool colouring.
Not sure this trend is for you? Don't go all out, instead look for a little animal detail, whether it's snake, leopard, zebra or giraffe, maybe it's just the strap on a shoe rather than a whole garment or accessory.
Notice how trends merge together and cross over, safari with animal or alternatively with ladylike elegance, ladylike silk dresses with bright colour blocking or oriental inspired pieces. Don't be afraid to mix it up and try a couple of trends at once.